NAIROBI -- As Russia's invasion of Ukraine enters its second year, observers are urging African countries to remain vigilant over the Kremlin's propaganda and disinformation efforts.
February 24 marked one year since the start of Russian President Vladimir Putin's so-called "special military operation" in Ukraine.
As Moscow stares at a stalemate on the battleground and increasing isolation on the global stage, it has shifted its disinformation and propaganda campaign to gain support in Africa.
Russian bloggers and military propagandists have ramped up efforts to change the narrative on the Ukraine war and create online disinformation in Africa and elsewhere, said Mumo D. Kizito, a lecturer at the Institute of Diplomacy and International Studies in Nairobi.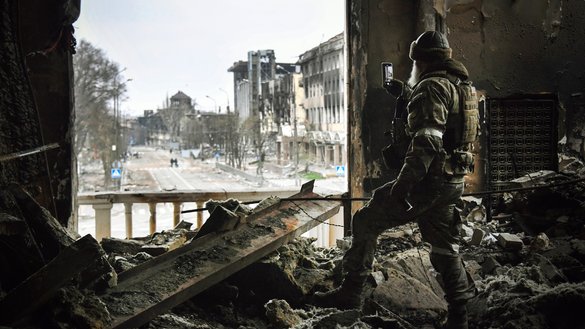 Russia is particularly keen to control perceptions in Africa because most African nations have avoided taking sides in regard to the war, he said.
"The calculation is that by courting Africans, [Russia] will attract more global friends in a period when it is suffering from global isolation and crippling EU [European Union] and US sanctions."
Russia has pioneered a model of disinformation to gain political influence in Africa, according to research by the Washington-based Africa Centre for Strategic Studies.
"Russia has been the leading purveyor of disinformation campaigns in Africa with at least 16 known operations on the continent", according to a report titled "Mapping Disinformation in Africa" published last April.
"The objective often is less to convince as [sic] to confuse citizens -- thereby creating false equivalences between democratic and nondemocratic political actors, precipitating disillusion and apathy," the report said.
'Russia wants to misinform Africa'
Misinformation and fake news are a serious problem in Africa, said Muriithi Gatenjwa, director of Midsun Technologies, a printing and logistics company in Nairobi.
He urged African governments to invest in personnel and cutting-edge technology that will help in the timely fact-checking of content.
Since factual and timely information is power, Africa should not become a dumping ground for concocted propaganda content on social media platforms such as Twitter, Facebook, Telegram and TikTok, he said.
The Communications Authority of Kenya should crack down on false information intended to advance negative social or political objectives in the country, Gatenjwa said.
"Our online social media pages and platforms should be free from propaganda, lies, confusion and contradictory content so that our people can make wise and informed decisions without basing it on untruths," he said.
Russia's main intention is to use as many social media proxies as possible to support its foreign policy, especially its justification of the war in Ukraine, said Job Mutai, co-founder of Nairobi-based communication agency New Age Media.
"It is Putin's invasion of Ukraine last year that led to sharp food, fuel and fertiliser price increases," he said.
"But Russia -- through its Foreign Ministry, its state-funded media and social media influencers -- wants to misinform Africa, by blaming Western sanctions for worsening food insecurity on the continent or the subsequent hardships being experienced by Africans," he said.
The Russian leadership is trying to spin a narrative that NATO, not the Kremlin's expansionist policies, is to blame for the war in Ukraine, Mutai added.
Battling Kremlin propaganda
Russia is also trying to hide the war crimes it has committed, according to Joseph Baraka, a political science student at the University of Dar es Saalam in Tanzania.
A September 2022 report by United Nations-appointed independent human rights investigators found that Russian forces had committed war crimes in Ukraine, including summary executions of civilians in more than 30 settlements.
Russia would rather hide these atrocities than have the truth reach the world, said Baraka.
The war has gotten out of hand and Russia is now seeking support in Africa via a campaign of disinformation, he said.
"I cannot forget either the cold blooded massacre of innocent kids sheltering at a theatre in Mariupol or the hundreds killed at Kramatorsk rail station, Baraka said. "What about the sickening torture, deaths and evil activities done by Russian soldiers at Bucha?"
He urged Africans to "sift truth and factual news from a mountain of lies, propaganda and disinformation".
Lydia Nyaboke, a travel agent in Nairobi, urged African youth to get behind their keyboards and help liberate the world from Russia's disinformation campaigns by tweeting and posting accurate and verified information about the war in Ukraine.
The best way to counter suffocating lies is by overwhelming it with truth and facts, she said.
"We should join the battalion of bloggers, writers, influencers and reporters and try to disarm Putin and his propagandists."