TASHKENT -- Russia's year-long war in Ukraine is taking a toll on Uzbekistan.
At first, this took the form of political and economic pressure from the sanctioned and internationally isolated Kremlin. But now, the war is touching the lives and safety of ordinary citizens: coffins are arriving in Uzbekistan.
The number of Uzbeks killed fighting for the Kremlin is unknown, but observers have seen news from various sources indicating five to seven such deaths.
Duped into death
On January 19, two villages in Bulungur district, Samarkand province, received the bodies of two young locals.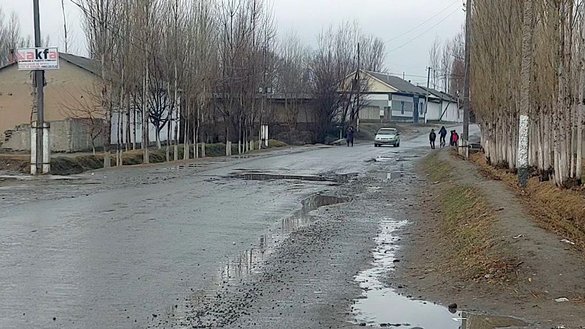 Like tens of thousands of his compatriots, Babur Abdumuminov, the son of farmers in the village of Karakamar, left his homeland to work in Russia.
"He was a good guy. Before he left, he worked in the field. He grew vegetables," said Sanobar Ishmatova, chairwoman of Abdumuminov's mahalla (neighbourhood), home to more than 4,000 inhabitants.
"Not so many people from our village have become migrant workers," she said. "Everyone has a job, livestock and good conditions."
Still, Abdumuminov decided to leave for Russia. How the young man ended up in Ukraine came to light only after his death.
Eight months ago, Abdumuminov landed in jail. Speaking to his father by phone, Abdumuminov said his detention was allegedly due to an expired passport. Then the connection broke, and his parents knew nothing about what happened to their son.
It was his friend who learned that Abdumuminov, while imprisoned, was promised $3,000 by the Wagner Group mercenary force for a month-long contract to fight in Ukraine.
After that, theoretically, his criminal record would be expunged, and he would be free to return home.
But Abdumuminov, 26, returned to his homeland in a box. He died on December 15. His mother and father lost their only son, and his four sisters are left without a brother.
From Russian prisons to coffins
Abdumuminov's funeral was on January 19, the same day the village of Robot held the funeral of another young man, Shakhriyor Jalolov, who turned 23 in October.
Jalolov's short life story in many ways mirrors Abdumuminov's, especially the final routes they took: from prison in Russia to death in Ukraine.
Jalolov since childhood aspired to become a computer programmer, said Zafar Nazarov, 49, his father.
He went to Russia for work in September 2018 after failing to gain admission to university.
"He wanted to save money and, as he put it, gain life experience," Nazarov said. "He was good with computers. I told him to come back and go to university. But he said he still had time, especially since his older brother was studying and he needed to help him with his earnings."
Jalolov did "give his brother 7 million UZS [about $600 now] for tuition", the father said.
After earning some extra money and settling down in Penza, Russia, Jalolov took up work as a taxi driver, as his father had.
Then he was arrested in December 2021.
"They [police] found some psychotropic drugs in his car. I think he was framed," Nazarov said. "It is also strange that the investigation lasted several months."
The trial was in Penza, but Nazarov said he was unable to go there because of his poor health.
On June 20, the Russian court sentenced Jalolov, an Uzbek citizen, to prison. His parents said Uzbek authorities failed to inform them that their son was imprisoned.
Only two days before the coffin with their son's body arrived did an official from the Uzbek State Security Service come to their home and say that Jalolov had died.
"But I still didn't believe it then," recalled the heartbroken father.
The local vital records office issued a death certificate to his parents. The document cited "severe blood loss" as the cause. "Place of death: Russian Federation, Donetsk People's Republic, city of Artemovsk. Date of death: December 16."
Sending "non-Slavs" to the war
Russian media uses the term Artemovsk for the Ukrainian city of Bakhmut, which regained its historical name in 2015 through a process of de-Sovietisation.
The area around Bakhmut has seen fierce fighting since last August, as struggling Russian forces try to nail down an elusive victory. Combatants there include Wagner Group mercenaries who were openly recruited as inmates in Russian prisons.
More than 30,000 of those mercenaries have been killed or wounded since the invasion began last February 24, US National Security Council spokesman John Kirby said February 17, citing intelligence.
About 90% of the mercenaries killed in December were recruited from Russian prisons, he said. Specifically, 4,500 died after mid-December, when Abdumuminov and Jalolov were killed.
Russian authorities have a simple scheme for sending migrants to war, according to Valentina Chupik, a human rights activist in Yerevan, Armenia, who works with migrant workers from Central Asian countries.
Authorities can easily plant drugs on a migrant worker or accuse him of pedophilia if he knows little about his rights and is far from home, she said.
Then either Wagner or the authorities can suggest he pay his debt to society by going to war.
"Wagnerites have been recruited using physical and sexual violence. But the Russian Defence Ministry does not recruit at all," Chupik said. "It just brings a paddy wagon and commands 'so-and-so and such-and-such, get in', and... off they go to the front. It doesn't need any signed contract."
This technique is used to send only "non-Slavs" to the war, given Russian authorities' indifference to their fate, she said.
Central Asians comprise the first echelon (of cannon fodder), followed by Caucasus natives and then all remaining ethnic minorities, she added.
'More migrants will die'
"There are plenty of these cases," said Botirjon Shermukhammedov, a lawyer who works with migrant workers in Moscow. "The general public simply doesn't know about them."
"What's more, several thousand of our compatriots are serving sentences in Russian prisons," he said. "The war continues, and there is a high probability that more migrants will die."
No official statistics exist on the number of Uzbek citizens behind bars in Russia today, but human rights activists estimate there are about 7,000.
Uzbekistan needs to conclude an agreement with Russia allowing each country's citizens to serve their prison sentences in their homeland, said Shermukhammedov, noting there has been no movement on a draft agreement since 2016.
"Tashkent definitely needs to pay a lot of attention to combating Russian propaganda so that under no circumstances Uzbeks go to fight," said Yevgeny Dyakonov, an Uzbek human rights activist who lives in Norway.
"This is not your war, and they [Uzbeks] have absolutely no business there," he said.
Nazarov, father of the late Jalolov, said letting his son go to work in Russia was the biggest mistake of his life.
"If young people in my village say they are going to Russia to work, I will advise them: 'Stay here until the war ends over there.' And I want to tell parents not to let their sons go because they may lose them forever," he said.