KYIV -- As the rest of the world celebrated International Women's Day on March 8, a 13-year-old Russian girl was being denied contact with her father, whom police placed under house arrest for comments critical of Moscow's offensive in Ukraine, a rights group reported.
It is the latest sign of growing authoritarianism in Russia.
Since the beginning of the offensive in February 2022, legislation has targeted Russian opposition voices. The authorities use that legislation to stamp out criticism of the conflict, say foes of the Kremlin.
The girl, who drew a pro-Ukrainian sketch in school, was moved to a "juvenile rehabilitation centre" after investigations of her father's comments had begun, said OVD-Info, a human rights monitor.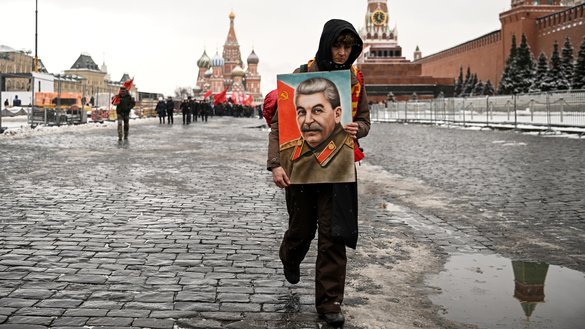 "Maria Moskalyeva ... is not allowed phone calls with her father," OVD-Info reported after speaking to the family's lawyer.
An independent lawmaker also could not gain access to the girl, the NGO said.
According to the rights group, authorities first targeted the family after Maria drew a picture critical of Moscow's military campaign in Ukraine at school last April.
Maria disobeyed her teacher's instructions to make drawings in support of the offensive, instead drawing Ukraine under bombardment and writing "No to War" and "Glory to Ukraine", the independent news website Meduza reported.
Her father, Alexei Moskalyev, a single parent, was later fined 32,000 RUB ($420) for discrediting the army in a post on social media.
This month, authorities accused him of repeating the offence and placed him under house arrest, OVD said.
His daughter was sent to a "social-rehabilitation centre" in Yefremov, in Tula province just south of Moscow, the state-run news agency RIA Novosti said.
"The child is being prepared to return to normal educational activities," the Ministry of Labour and Social Protection of Tula province told RIA Novosti.
A petition demanding her release has gathered more than 106,000 signatures.
'More authoritarian and militarised'
Russia's growing authoritarianism is being accompanied by an increasing preference for militancy, which is raising concern in nearby nations.
"The European Security Order as we know it has ceased to exist ... and with that the risks for Swedish security have also increased," Lena Hallin, director of the Swedish Military Intelligence and Security Service (MUST), said on February 20 at a news conference in Stockholm.
A Norwegian official a week earlier during the nation's annual risk assessment put Russia in the same category as China, calling the countries "the main threats to Norway's security" and that of all of Europe.
"The Russian state will be more authoritarian and militarised," Lars Nordrum, deputy director of the Norwegian Intelligence Service, said while presenting the assessment on February 13.
From its position of total isolation, Russia could carry out "acts of sabotage" on Norway's energy infrastructure because Norway's role in Europe's energy security has escalated in the wake of Russia's full-scale invasion of Ukraine, Nordrum said.
Norway currently supplies 25% of the European Union's gas, according to analysts.
"In practice, Russia is truly sliding toward authoritarianism and militarism," Valeriy Klochok, a political analyst and director of the Vezha Public Analytics Centre, told Caravanserai.
He compared Russia to North Korea, one of the most repressive and militaristic nations of the world.
Russian propaganda is hardening militaristic sentiments by convincing the Russian public that it is in a perpetual state of war, according to Klochok.
"NATO is bombing us: that's a constant theme on Russian TV," he said, while also pointing to militarised children's organisations.
"From the perspective of statehood, these things are proper and patriotic, but only if you portray them as a method of defence, not for aggression. In Russia, they [officials] are blatantly spreading the propaganda that carrying out military actions abroad and conducting wars of invasion are totally normal," Klochok said.
This policy is accompanied by an intensive crackdown inside the country.
"If you make any attempt to speak out against the state's policies, you get thrown in prison -- that's typical Nazi Germany of the 1930s. Dissent is persecuted."
"The next step is to deal with YouTube. I'm sure that sooner or later they [officials] will pull the plug on it so there will be only a Russian internet where the government will shape the opinion it needs, because it's much easier to manipulate the public that way," Klochok said.
A dark future
The situation in Russia will only worsen in the future, say analysts.
"[Russian President Vladimir] Putin is deliberately constructing a closed society on the model of Iran or North Korea, and psychologically he has several motivations for that," Maxim Razumny, a political scientist, told Caravanserai.
"Mainly, he's afraid of suffering the same fate as [Serbian dictator Slobodan] Milošević, [Libyan dictator Muammar] Qaddafi and all the other dictators," Razumny said.
Such a policy is spurring an exodus of progressive young Russians who do not want to live in a country increasingly similar to North Korea.
"Russia will lose the most active part of society, which under the current conditions could create added value and could work in high-tech manufacturing -- in other words, those who are most valuable in these conditions are going to leave," said Petro Oleshchuk, a political analyst at the think tank United Ukraine.
"And they're going to leave very zealously. This is already happening on a large scale in big cities," Oleshchuk said.
"This is the overall trend in the development of modern Russia," he said.
"Essentially, there are two possible ways things can play out in Russia: one is that Putin's authoritarian regime falls and transformations begin, but it's not clear how or in what direction."
"The other possibility is that they [officials] will totally drop the mask of 'democracy' and say openly that they're like North Korea but on a much bigger scale," Oleshchuk said.