KYIV -- Anti-tank traps along the border of Poland have become the latest indication of strained ties with its eastern neighbour Belarus.
The already extremely tense relations between Belarus and Poland have deteriorated since the beginning of the year to a nadir not seen before in the post-Soviet era.
Polish Minister of National Defence Mariusz Blaszczak tweeted on March 9 that Poland is now placing anti-tank "hedgehogs" to reinforce its borders with Belarus.
"This is part of our defence and deterrence strategy," he wrote.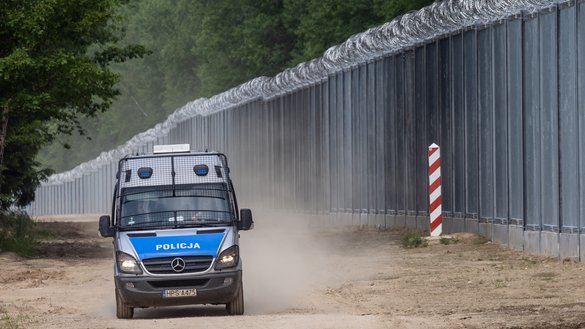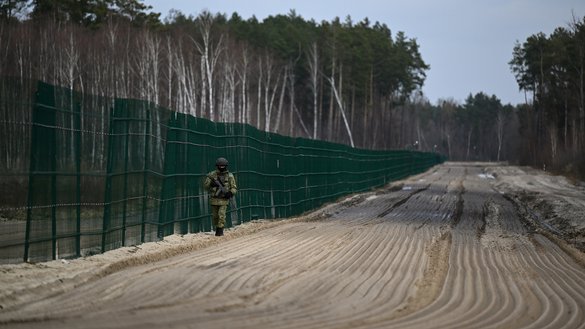 One reason for the strained relations is Belarusian President Alyaksandr Lukashenka's "intensifying tyranny", say observers.
"Relations between Poland and Belarus have been poor for quite some time. For example, there is no Belarusian ambassador in Warsaw. There is no Polish ambassador in Minsk," Aleksy Dzikawicki, director of Belsat, an independent Belarusian satellite TV channel based in Poland, told Caravanserai.
"Now everything has become very bad," Dzikawicki said.
In February, the Lukashenka regime sentenced Andrzej Poczobut, a Polish-Belarusian journalist and activist, to prison for eight years after he was arrested on charges of "calling for actions aimed at harming national security", distributing materials containing such calls, and inciting hatred.
Poczobut was known for exposing crimes of the Soviet regime and for covering rallies against the Lukashenka regime.
Poland called the sentence "politically motivated" and responded by restricting movement across the border, a move that will inflict huge economic damage on Belarus.
"In response to Andrzej Poczobut's sentencing, one of the two border crossings in Grodno province was closed. Now there is only one crossing through which Belarusians can get to Poland, and Poles to Belarus -- the Warsaw bridge in Brest," said Dzikawicki.
About 3% of the Belarusian population is ethnic Polish like the imprisoned Poczobut, compounding Warsaw's concerns about whatever happens in Belarus.
Growing repression
Repression has continued to grow worse in Belarus, with a new law that allows officials and soldiers to be executed for treason marking "the point of no return", according to observers.
Lukashenka's press office announced March 9 that he had signed the bill into law.
Belarus is the only country in Europe today with capital punishment. It already had it for crimes like murder and terrorism.
"This didn't start today, and it certainly won't end tomorrow. There is a powerful police state in Belarus," said Yevhen Mahda of Kyiv, director of the Institute of World Policy and analyst with the International Strategic Action Network for Security (iSANS), an international initiative to counter hybrid threats to democracy.
"For example, for following a Telegram channel recognised as extremist, you can go to jail for six months ... 200–300 people a month land in jail there. And the machinery of repression is very extensive because Belarus has Europe's highest number of police officers per capita," Mahda told Caravanserai.
The State Security Committee (still called the KGB) and the Main Directorate for Combating Organised Crime and Corruption even compete somewhat over which agency puts more people in prison, according to Mahda.
Mahda pointed to the March 3 sentence of 2022 Nobel Peace Prize laureate Ales Bialiatski to 10 years in prison on widely disputed charges of smuggling cash into Belarus to fund the opposition and "financing actions and groups that grossly violated public order", as reported by the BBC.
A court also convicted two of Bialiatski's associates.
"The charges and trial were a farce," tweeted German Foreign Minister Annalena Baerbock on March 3.
Recreating Russia
Lukashenka, who is completely under Putin's control, has no choice but to harshly suppress any signs of disagreement with state policy, say observers.
"Russia's direct influence is evident here," Dzikawicki said.
"Lukashenka is preparing for the Kremlin to decide that Belarus will make a full-scale entry into the war against Ukraine," he said, adding that such a step means dead Belarusians.
"At the moment, this is the only thing that could provoke protests. That is why Lukashenka is already purging everything and engaging in such terrible repression," said Dzikawicki.
Lukashenka's actions represent an attempt to recreate the Russian model for relations between the state and its people, according to Eduard Bagirov of Kyiv, a human rights activist and director of the International League for the Protection of the Rights of Citizens of Ukraine.
Regarding "these harsh legal norms, like the death penalty for treason... Mr. Lukashenka has started to believe that he's the owner of Belarus ... and accordingly, whoever opposes him is behaving as a traitor to the motherland," Bagirov said.
"This is an important moment in the history of the Belarusian people because [Lukashenka] decided that he is now a Belarusian prince. And so he began to build his own totalitarian, dictatorial regime."
"It's no secret that the key factor here is fear," he said.
For many Belarusians, prison means their lives are effectively over, Bagirov said. That is why Belarusians humbly resign themselves to repression and do not resist.
On the other hand, only the support of Russian intelligence agencies props up the regime of the self-proclaimed Belarusian president. And that is Lukashenka's weakness, he said.
"It is clear that Lukashenka is clinging to Putin's apron strings. And when Putin loses power in Russia ... we will undoubtedly see Lukashenka immediately sink to the bottom with him. This story cannot end differently," said Bagirov.