KYIV -- The pro-Ukrainian underground in Russia-occupied Crimea has been ramping up activities as Ukrainian forces approach the peninsula, say observers and officials.
Russia illegally annexed Crimea in 2014.
"The closer Ukrainian Crimea gets to liberation, the more the resistance grows," Kateryna Didenko, spokeswoman of the Kyiv-based Prosecutor's Office of the Autonomous Republic of Crimea and the City of Sevastopol, told Caravanserai.
"Remember that there are still people in Crimea who don't support the Russian regime, the occupation authorities. Those people are waiting for Ukraine," Didenko said.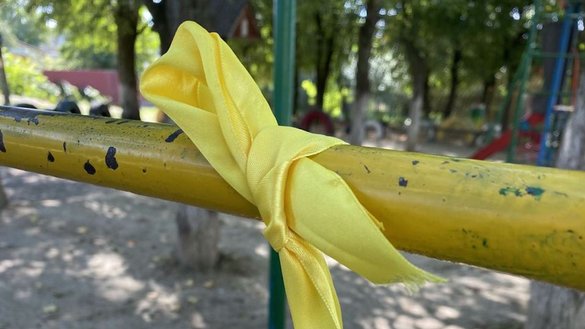 There have been visible signs of resistance since the start of Russia's full-scale invasion of Ukraine in February 2022.
A photo taken on the anniversary of the start of the invasion and posted on a Telegram channel operated by Crimean partisans showed a Ukrainian flag that someone planted overnight on Count's Jetty in central Sevastopol.
Count's Jetty is notably directly across the bay from a significant portion of Russia's Black Sea Fleet.
Underground movements in Crimea have also announced that they are preparing an armed resistance.
One such group, Atesh, posted on its Telegram channel a video in which activists armed with Kalashnikov rifles say that they are in Dzhankoi and laying the groundwork for a resistance.
Members in the video say they have already created dozens of hiding places with explosives, weapons and munitions.
"We're now going to mine the railway behind us. As soon as the Ukrainian armed forces cross the administrative border with Crimea, we'll seize the government buildings and military facilities," one fighter says in the video.
'Gathering steam'
"The occupiers said that after nine years, they'd completely incorporated Crimea into their territory, but that doesn't reflect reality," Denys Chistikov, Ukrainian President Volodymyr Zelenskyy's deputy permanent representative for Crimea, told Caravanserai.
"The resistance movement in Crimea is gathering steam," he said.
One sign of growing resistance is a corresponding increase in the number of cases in Crimea brought against defendants for "discrediting the Russian army", according to Chistikov.
Such cases, which can encompass those displaying Ukrainian symbols, have numbered 270 since March 2022, when the law took effect.
"Right now we're aware of three resistance movements in Crimea that are actively publicising their activity," Chistikov said.
Atesh, the newest of the three, is carrying out operations not only in Crimea but also in Russia. Its main efforts are directed against Russian mobilisation efforts, and its tactics have included sabotage acts.
Two other organisations -- the Crimean Fighting Seagulls and Yellow Ribbon -- largely carry out information campaigns by distributing pro-Ukraine content, hanging yellow-and-blue ribbons in occupied towns and providing Ukrainian forces with the co-ordinates of important Russian military facilities.
Yellow Ribbon claims to have as many as 5,000 followers, Chistikov noted.
"They may be the last people you'd expect. The occupiers are already afraid that members of these organisations could be [planted] within the occupying government agencies," he said.
"During the night, they draw Ukrainian flags [on walls and other surfaces] and fly actual flags over facilities, but then in the morning they become ordinary people you wouldn't suspect," Oleksiy Hetman, a military analyst, veteran of the Russia-Ukraine war and reservist major, told Caravanserai.
"This is very dangerous work. If they're caught, we know that no one will hold any trials -- they'll just be executed. These are true heroes," he said.
"Despite all its efforts, Russia cannot quash the underground movement," said Didenko the spokeswoman.
"It's very bold considering that the peninsula is teeming with Russian intelligence and law enforcement agencies, and Russia is truly scared of this resistance," he said.
Impending fight
The increasing activity of the underground movement demonstrates that residents of Crimea are losing their fear of the Russian regime and expect Ukrainian armed forces to launch an operation soon to liberate the peninsula.
"The co-ordinators of these movements are indicating that right now they even need to keep their own activists in check because they're willing to do more radical and more aggressive things -- but all of that needs to happen at the right time," Chistikov said.
The Russian occupiers are also preparing for a fight.
"The Russians are now digging trenches in Crimea and preparing to go on the defensive," Hetman said.
"We've already seen what happened in Armyansk and Nova Kakhovka," he said, referring to explosions at Russian military sites in Crimea in 2022 and 2023.
"In other words, they already know that we have weapons that can reach any point in Crimea, so there's no place there where the Russians aren't in danger."
"We know that the Russian military personnel are already starting to covertly evacuate their families. They're doing it secretly because their leaders aren't encouraging it ... but soldiers are quietly evacuating their wives, children and parents to continental Russia," Hetman said.
The Ukrainian flags cropping up all over Crimea are only reinforcing the psychological effect, he added.