TBILISI -- When thousands of Georgians protested in March to demand the scrapping of a bill similar to controversial Kremlin legislation, some Russian exiles joined rallies that would have been unthinkable in their homeland.
Viktor Lyagushkin, 52, is one of tens of thousands of Russians who fled to Georgia in the aftermath of Moscow's invasion of Ukraine last year.
He joined the mass protests in Tbilisi that erupted after parliament gave initial backing to a bill on "foreign agents" reminiscent of Russian legislation used to suppress Kremlin critics.
Lyagushkin said "many" Russians but also Ukrainians had joined several days of the anti-government protests in Tbilisi this week.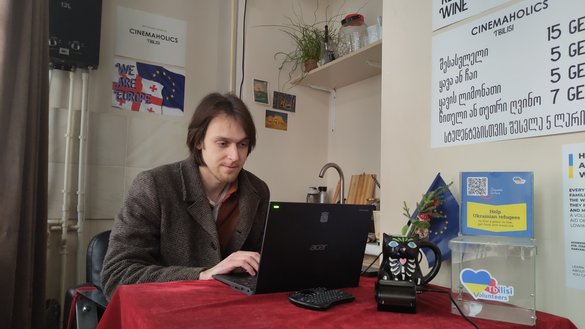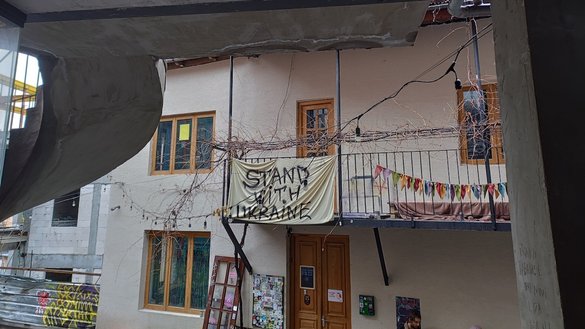 "The possibility of going out and expressing disagreement is important for them because that's what they were deprived of in Russia," he said.
The legislation was dropped after three days of youth-led protests and an outcry from the West.
"I decided to participate because I am not indifferent to the fate of Georgia," Lyagushkin added.
"I have many Georgian friends, and I wanted to support them," said the National Geographic photographer, dressed in Ukrainian yellow and blue.
A year in exile
Since Russian President Vladimir Putin sent troops into Ukraine, Russian authorities have cracked down hard on dissent, jailing opposition activists or forcing them into exile.
Since the beginning of the war, thousands of cases were opened against Russians for "discrediting" Moscow's army. Some of them were jailed.
Andrey Lemzyakov, 33, an information technology (IT) specialist from Moscow, relocated to Tbilisi in early March 2022, right after Russia invaded its neighbour. Before escaping, he participated in many anti-government demonstrations, protested against the war and supported Ukraine.
However, once he found fewer and fewer like-minded people still free and he knew arrest was a matter of time, he fled to Georgia. There is no point in going back home, at least as long as Putin is in power, he said.
"Since 2011, Putin's usurpation of power has become especially obvious," Lemzyakov said.
"Many people around me came out against his power," he said. "There were many of them at first. Later, when the repression ramped up, they were fewer and fewer."
"[Boris] Nemtsov's assassination had a strong impact. It was a cynical act. Everyone understood that it was outrageous," he told Caravanserai, citing the brazen 2015 assassination of an opposition leader near Red Square.
"Then there were the statutes. If they catch you at a rally several times, that is now characterised as a criminal offence. That's what people were afraid of."
Russian spies in Georgia
Lemzyakov is well aware that Putin invaded Georgia first, before turning on Ukraine. Back then in 2008, he was a teenager and indifferent to politics, he said.
However, he always doubted that a country with a population of 3.5 million could attack Russia as Kremlin propaganda claimed then. He also disliked Russian TV channels' coverage of the war.
When he arrived in Tbilisi, he clearly felt the consequences of the invasion of Ukraine: "RUSSIANS GO HOME" written on walls in the capital, as well as Georgians demanding to know his political worldview or expressing displeasure when they heard him speaking Russian, etc.
"If I could choose to press a button so that Georgians would have no questions for Russians, I say it would be better to destroy the button than to press it," said Lemzyakov.
"Dozens" of Russian Interior Ministry (MVD) agents crossed into Georgia in 2022 along with the Russian men fleeing Putin's draft, said Lemzyakov.
Since the invasion of Ukraine began in February 2022, about 1.5 million Russians have crossed into Georgia, according to the Georgian MVD. The country's population in 2021 was an estimated 3.7 million.
"These are agents who deal with repression. Spies. They are definitely known to be here. I don't think that they have designs on Georgia. They are more watching those who came here and what they are doing, in order to grab them later in Russia if something happens or to deal with their loved ones."
Learning Georgian
"If Georgia is khachapuri and wine for someone, for me it is history, books, museums, street musicians," said Lemzyakov.
From the moment of his arrival in Georgia, Lemzyakov started working at several charities. The goal is to help refugees from Ukraine. One year on, he has transitioned from worker to donor.
A few months after his arrival in Tbilisi, the Moscow native opened a small cinema at 18 Atoneli Street downtown.
With fewer than 15 seats, the screening room is decorated with posters that exhort "**** USSR" and "SUPPORT UKRAINE" or promote various movies.
The cinema shows mainly classic films in the original language, with Georgian subtitles. The weekend box office take goes to charity.
Lemzyakov has since launched a Georgian language initiative.
"Because Russian is now considered a toxic language, there are many complaints about it. Our position is not to renounce the language. I don't support bans. I think it's better to give a leg up to something good than to block what you think is bad."
"That's why we launched an initiative to encourage our Russian-speaking patrons to learn Georgian. Someone who comes in for Georgian subtitles and says the phrase 'Me kartuls vstsasvlob', which means 'I'm studying Georgian', gets the student price of 5 GEL [$2] instead of 15 [$6]," said Lemzyakov.
In the near future, he plans to expand his charitable goals and send money not only to Ukrainians but also to Georgians who suffered from the 2008 Russian invasion.