TASHKENT -- Severe outages of electricity, gas and heat in cities and rural areas of Uzbekistan this January are increasing impetus for the nation to improve its energy infrastructure and develop alternative energy sources.
Uzbekistan this winter faced power outages as temperatures in some regions plunged below -20ºC, leaving many without heat or water.
The cold briefly shuttered all natural-gas stations in the country, forcing factories that use gas to also reduce capacity or suspend operations.
Uzbekistan faces a power shortage of about 8%–10% of its needs.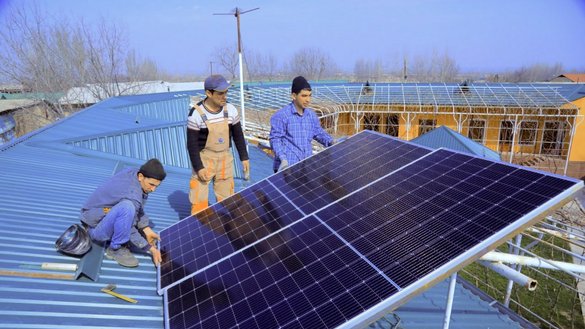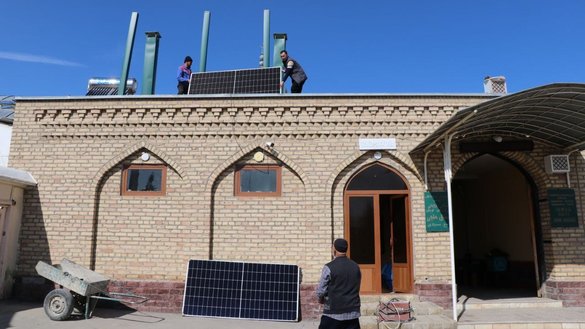 However, the country will need even more gas and electricity, given population and industrial growth.
As of early 2023, Uzbekistan's population was 36 million -- up 753,600, or 2.1%, from last year. If the birthrate remains steady, in 2035 the population will exceed 45 million.
Demand for electrical power will rise by 6.2% to 6.5% annually, according to the country's Institute of Forecasting and Macroeconomic Research.
By 2030, generating capacity will need to be at least 1.8–1.9 times higher than it is now.
Uzbekistan "has more than 250,000 km of electricity transmission and distribution lines, most of which were built during the Soviet period and are now past their useful economic life," according to a 2021 World Bank report.
"The obsolete infrastructure results in high electricity losses, estimated at 20 percent of net generation, and frequent power outages undermining economic activities and the well-being of citizens across the country," it says.
Developing alternative energy
To meet demand and reduce carbon emissions, Uzbekistan plans to reduce the share of electricity generation at thermal power plants to 58% by 2030, according to a biennial report first published in 2021 by the government.
Thermal power plants burning natural gas and coal generated 85% of all electricity in the country, while hydroelectric power plants produced only 14%, according to the Ministry of Energy in 2019.
Renewable energy's share will rise to 26%, or 32 billion kWh per year by 2030, according to the report.
President Shavkat Mirziyoyev wants the figure to be at 30%, though, and efforts are already under way to meet it.
In August 2021, Uzbekistan's first solar power plant, built by United Arab Emirates (UAE) company Masdar, came online in Navoi province.
Last July, the Tutly Solar Farm, designed by the French company Total Eren, began operations 100km outside Samarkand.
The facility, created with about €100 million (1.2 trillion UZS) in foreign investment, supplies electricity to 140,000 households.
On March 4, Saudi company ACWA Power, the Uzbek Ministry of Investment, Industry and Trade, and the Uzbek power grid company signed agreements for two solar photovoltaic stations in Tashkent and Samarkand provinces as well as for three energy storage systems.
Twenty-seven solar and wind power plants are slated for construction in 2023.
The new alternative energy facilities will add a total of 4,300MW of capacity, according to a February resolution issued by Mirziyoyev regarding the accelerated introduction of renewable energy sources and energy-saving technologies.
Some $15.4 billion (175 trillion UZS) will be allocated for these purposes, in the form of foreign investment, bank loans and money from foreign financial institutions.
By the end of 2026, 25 power plants with a total capacity of 11,954MW will come online in Uzbekistan: nine thermal, nine solar, and seven wind, according to Ministry of Energy spokesperson Obidjon Kodyrov.
"Our domestic market for alternative energy sources already includes global companies such as France's Total Eren, the UAE's Masdar and Saudi Arabia's ACWA Power. In all, this sector has attracted investments of $10.148 billion," he told Caravanserai.
Solar panels are appearing in cities.
The company Yashil Energia (Green Energy) has been created to install low-capacity renewable energy systems on the buildings of social facilities and government agencies.
Additionally, from May 1, solar panels will be mandatory on new multi-storey buildings. At least 50% of the available roof area must be allocated to them.
Incentivising citizens
In addition to building new power plants, the Uzbek government is trying to motivate the public to adopt alternative energy sources. Citizens who install renewable energy systems at home will be exempt from certain taxes.
Beginning on April 1, the Solar House programme will incentivise the installation of low-capacity solar panels on private homes.
Citizens may transfer surplus electricity to the national power grid and earn a state subsidy of 1,000 UZS (9 cents) for each kilowatt-hour.
Shavkat Sharipov, director of a large fruit and horticultural processing complex in Samarkand, installed solar panels on his farm eight years ago, becoming one of the country's first to do so.
Today, his mini-solar power plant generates 280 kilowatts each day, enough to supply well water to irrigate 6,000 hectares of orchards and vegetables.
"I've recouped all the costs. These technologies are very apropos for Uzbekistan's agricultural sector," Sharipov told Caravanserai.
"Our mini-station works mainly to water trees and vegetables. If you consider that our country uses irrigation farming, solar panels make it possible to deliver water. This has saved us a lot of money that we previously paid to power companies," Sharipov said.
Doniyor Egamov, who manages a small farm in Jizzakh province, also uses solar and wind power to irrigate and illuminate greenhouses and outbuildings throughout the 100 hectares he owns. He has a nursery for seedlings as well as strawberry fields.
His farm presently draws 8–10 kilowatts of electricity per day from alternative energy sources, or about a third of his electricity consumption.
"We are planning to increase the capacity of solar and wind generators so we can expand the irrigated area on our farmland," Egamov told Caravanserai.
"This became possible thanks to the government's latest decision regarding renewable energy. We can get a soft loan for it," Egamov said.