KYIV -- One of the bitterest political conflicts in Moldova's history is showing no signs of abating, as Moldovan President Maia Sandu continues to buck Russian influence and reorient foreign policy towards the West.
As she does so, Sandu is facing frantic opposition from pro-Russian groups fearing their own downfall.
US National Security Council spokesman John Kirby addressed the issue in a March 10 briefing.
"As Moldova continues to integrate with Europe, we believe Russia is pursuing options to weaken the Moldovan government, probably with the eventual goal of seeing a more Russian friendly administration in the capital," he said.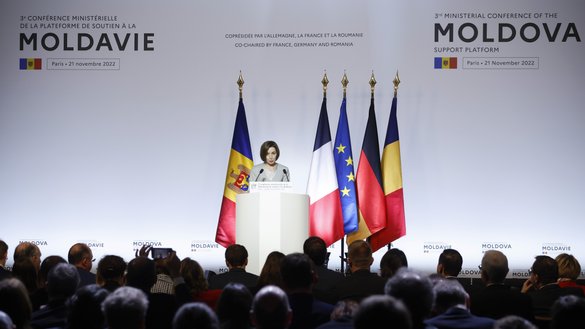 Two days after Kirby's remarks, anti-government protests organised by the pro-Russian Șor party broke out in the Moldovan capital, Chisinau.
Holding signs written in Russian, demonstrators mobilised to demand that the government pay their winter gas bills.
Șor party leader Ilan Shor, a Moldovan billionaire married to a Russian pop singer, was in 2017 convicted of stealing $1 billion from Moldovan banks in 2014. He fled to Israel in 2019. His children and wife, Jasmine, live in Russia.
Shor and his wife are under US sanctions for corruption and alleged work with Russia to undermine Moldovan democracy.
"Șor is a populist party. It's called pro-Russian because it's obvious that its financing comes from Russia," said Valery Honcharuk, a political scientist at Taras Shevchenko National University of Kyiv.
"The protests in Moldova were organised by using a bribed and marginal part of the population," he said. "These demonstrations look a lot like the ones that were organised in the past in Ukraine by the [pro-Russian] Party of Regions and [pro-Russian former president] Viktor Yanukovych."
"The Șor party doesn't have a lot of support," he added. "It's associated with organised crime -- people who have a criminal past and a criminal future."
"They're very often recruited [online from] Russia. Russia finances and uses them, and they're willing to voice pro-Russian ideas," Honcharuk said.
Secret plan to rock Moldova
A consortium of journalists taking part in a Yahoo News investigation in March revealed they had obtained a secret 2021 "internal strategy document" in which Russia's intelligence agencies set out a plan to destabilise Moldova.
They said the plan aims to fight the strengthening of support for NATO in Moldova and to neutralise Chisinau's attempts to push Russian forces out of Transnistria, a separatist region that the Kremlin has backed since 1992.
The plan attests to Russia's deeper interests in Moldova, said Sergiy Gerasymchuk, deputy executive director of the Ukrainian Prism Foreign Policy Council.
"The document has a sort of strategic character," said Gerasymchuk, who has been studying Moldova for 20 years. "We can see that it was written over many years."
The document seeks to counter Western influence in the former Soviet states via various means, he noted, including by focusing on the network of non-governmental organisations (NGOs) it perceives to be pro-Western.
"Russia started paying more attention to those organisations in 2004 because the Kremlin thinks that NGOs were behind the successful staging of the Orange Revolution in Ukraine," Gerasymchuk said.
The document also seeks to leverage the price of Russian natural gas -- upon which Moldova is almost entirely dependent -- and make use of Russian TV channels that push the Kremlin's anti-Western propaganda.
"After the information about these plans came to light, Moldova announced the creation of a special government agency to fight disinformation and Russian propaganda influence," Gerasymchuk said.
A stark warning
Russian President Vladimir Putin's unprovoked war in Ukraine serves as an urgent warning for the rest of the region, said political analyst Ihor Petrenko of the Kyiv-based think tank United Ukraine.
"We need to operate on the premise that Putin views the post-Soviet space as truly a part of Russia," he said.
"It goes without saying that his main goal in his guise of 'gatherer of the Russian lands' is to incorporate them into Russia in some form or other," he said. "That pertains to Moldova too."
"In general Moldova has long been a driver of Russia's anger, especially with Sandu's accession to power, and with Moldova's shift from a pro-Russia to a pro-Europe policy," Petrenko added.
"Putin therefore needs to destabilise the government, and he needs to mobilise pro-Russian forces, the Șor party, socialists and communists, in order to try to overthrow Sandu, crush it by withholding energy and install a puppet government," he said.
The publication of the erstwhile secret document and Russia's plans to destabilise Moldova provoked a sharp response from Sandu, who addressed the matter March 17 on Moldova 1's Bună Seara (Good Evening) programme.
"We've known that Russia is trying to interfere in Moldova's domestic affairs. We've known about the propaganda and disinformation; we've talked about it and tried to protect ourselves," Sandu said.
"But when we saw convincing evidence that they [the Kremlin] are trying to overthrow the government in Chisinau, which was democratically elected by the citizens of Moldova, we came out and spoke publicly so that our people know who our friends are and who our enemies are," she said.
No return to Kremlin's orbit
The Kremlin's actions to neutralise Western influence in Moldova and Ukraine have only galvanised leaders in those countries to free themselves from the "Russian bear", analysts say.
"After this document was disclosed, Sandu publicly acknowledged that plans were in motion in Moldova for a revolution against her," Gerasymchuk said. "And after that she declared war on the pro-Russian political forces."
"She shepherded through a law on replacing the term 'Moldovan language' with 'Romanian language', and that move infuriated the pro-Russian forces and the Kremlin itself," he said.
Sandu signed that bill into law on Wednesday (March 22).
The language issue has been a point of contention for many years since there is no Moldovan language, strictly speaking: Moldovan citizens speak Romanian. Their country was part of Romania until the Soviet Union cleaved it off in 1940.
The Soviets imposed the Cyrillic alphabet on the language, redefining it as "Moldovan" in order to refocus the population on Moscow.
But now it is unlikely the Kremlin will be able to return Moldova to its orbit.
"As I see it, both the [European Union] and Romania are willing to support Moldova so this pivot doesn't happen," Petrenko said.
"An important gesture happened when Biden visited Poland," he added, referring to US President Joe Biden's February trip. "Sandu was there, and that means the United States views Moldova as an integral part of the democratic camp."
"And Putin really doesn't like that. He's aware that he's losing control," Petrenko said. "My take is that everything that's happening in Moldova is one of Russia's last battles to cling to its influence in the region."