WARSAW -- Alexander Ogiyenko, a Moscow resident, left Russia after he received a notice from the draft bureau late last year.
He travelled by train to St. Petersburg and then took a bus across the border into Finland before heading on into Poland and eventually its capital, Warsaw.
He has since become one of the many Russians who have signed up with volunteer groups to help Ukrainians suffering because of the Kremlin's invasion, having joined Warmth for Ukraine and Russians for Ukraine.
As part of Warmth for Ukraine, citizens of various countries donate generators to be passed on to those in need in Ukraine.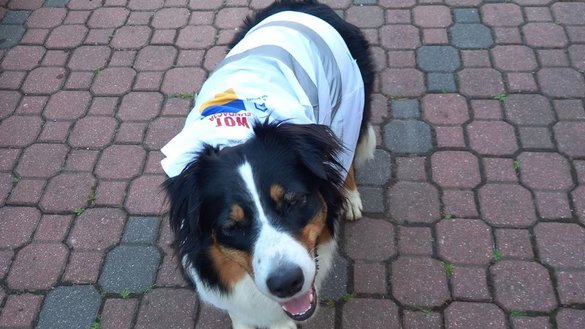 Ogiyenko says he is not the only Russian.
He pointed to Yekaterina Sursyakova of Yekaterinburg, another member of Warmth for Ukraine. She moved to Poland with her children.
In Russia, she was hit with the maximum fine for demonstrating against the war, or 530,000 RUB ($6,925), and faced the danger of criminal prosecution and of her children's potential placement in an orphanage.
The human rights organisation Memorial evacuated her to Poland.
"It's sad that so many people who could have built a different future for their own country have left Russia," Ogiyenko told Caravanserai.
Volunteer groups greet Ukrainian refugees and send humanitarian aid to Ukraine from two small border cities, Przemyśl and Medyka.
Ivan Zaikovsky, who made his way to Poland from Kaliningrad, Russia, last spring, also joined up with Warmth for Ukraine.
An electrician by trade, he has the expertise to determine which generators should be purchased and from which manufacturing firm.
Both Zaikovsky and his dog, Vesta, are well known in Medyka.
"She's excellent at picking up on people's moods, and she approaches those who need some moral support. Vesta is amazing, and if I didn't have her, I don't know how I'd cope with all of this," Zaikovsky told Caravanserai.
Alleviating suffering
One of the driving forces behind the Warmth for Ukraine project is Maria Solenova, former member of the Sokol district council in Moscow.
No Russians who emigrated to Poland since the start of the war have needed to be coaxed to join the volunteer group and help Ukrainians, she said.
"We didn't publicise anywhere that we needed volunteers. Everyone approached us on their own," she told Caravanserai.
"People offered to help translate the websites because we have versions in eight languages, which is quite labor intensive," she said.
"Whenever another vehicle with cargo arrived, there was never any question of who would help unload it -- everyone would come out at once," she added.
"Of course, not everything is ideal: we're not logistics specialists, and initially we didn't understand where to get vehicles or how to look for drivers. And we learned a lot through trial and error."
Despite those issues, between November 2022 and the end of February 2023, Warmth for Ukraine collected and delivered goods worth nearly €400,000 ($434,000) to Ukraine.
Solenova in particular recalled the successful purchase and delivery to Kharkiv of a 100-watt generator, which completely took care of the power needs of a blood donation centre.
"When we found out that everything had worked out, we rejoiced like excited kids -- we knew that this thing that's like a big iron box had gotten to where it was supposed to go, and that it will make the centre's work much easier, and many people who need blood transfusions will survive."
Someone recently sent her a video in which Ukrainians standing in front of a burned-down house thank the Russian volunteers for sending an electrical generator.
"I realise that we're not even experiencing one-hundredth of the suffering that has struck the people living in Ukraine."
"And I'm positive that we won't fully understand it until we go there and experience something similar," Solenova said.
Countering Russian aggression
Alina Ivanova, who lives in Cambridge, England, works remotely to support Warmth for Ukraine.
She is a volunteer for the Russian Democratic Society (RDS), a UK-based group of Russian speakers who are committed to promoting democracy and raising awareness of human rights violations in Russia.
RDS has about 20 active participants, plus a roster of those who lend occasional support. Ivanova, 35, laughingly described herself as "a member of the older generation".
The organisation is made up of people who live in the United Kingdom and work in different professions: there are businesspeople, information technology specialists, artists, photographers, marketing consultants, university researchers and students.
"We support Ukraine, and part of our mission is to help Ukraine combat the Russian aggression," Ivanova told Caravanserai.
She added that the group was created after the Russian army started its full-scale invasion of Ukraine. The group's participants spearhead antiwar actions in London and raise money for Ukraine.
In pursuing this objective, RDS members have come up with a variety of ways to collect donations to buy generators for Ukrainian cities. They have posted information on social networks and urged their followers to tell their friends and relatives about the initiative.
At one point they were contacted with a proposal to raise money for equipment to detect internal bleeding for a clinic at Vinnytsia National Medical University.
They spent several weeks looking for manufacturers of all the required equipment. Once they had the complete list, they found that they would need to raise £22,000 ($27,110) to buy all the items.
One young artist of Ukrainian origin living in the United Kingdom offered to auction off two of his paintings to raise the funds for the equipment.
Ksenia Maximova, director of the RDS, donated another painting. Other members made additional offers.
There are "different reactions" when Ukrainians find out that they are getting help from holders of Russian passports, said Ivanova.
"There have been cases when vehicles carrying humanitarian aid have arrived in Ukraine and the medical director didn't accept the equipment. But it's very important to us that all our help gets to where it's meant to go," she said.