KYIV -- A feud between a resort town's city hall and Wagner Group founder Yevgeny Prigozhin has become the latest sign of the mercenary group's growing casualties.
Sergey Belopolsky, the mayor of Goryachiy Klyuch, a resort town in Krasnodar territory and the location of the largest Wagner cemetery, earlier this month declared that a resort is no place for a mass grave of combatants.
"I can't help but listen to public opinion that it's wrong to make the resort town of Goryachiy Klyuch the location of a mass grave for fighters," Belopolsky wrote on his Telegram channel on March 18.
Prigozhin reacted to Belopolsky's statement later the same day.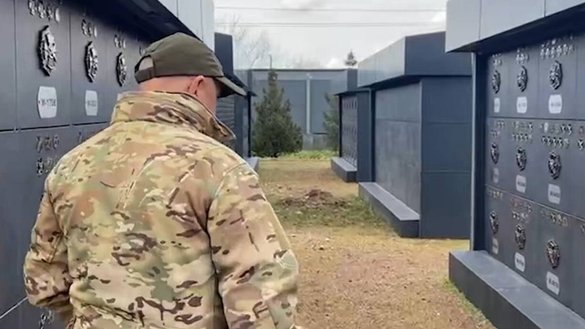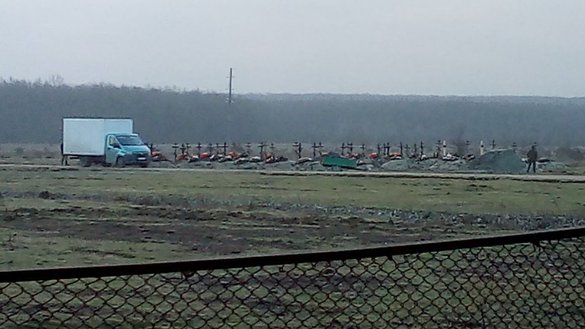 "If Goryachiy Klyuch's administration is going to oppose us burying our comrades in arms, then we will take appropriate measures and decisions," his press office announced on Telegram.
City authorities have since faced threats.
In one video posted on the Wagner Relief Telegram channel also on March 18, masked and armed Wagner fighters can be seen threatening revenge on the Goryachiy Klyuch municipal government.
"You animals, wait until we come and deal with you. Because you bitches inflict more harm than the Ukrainian army does," says one of the fighters.
The cemetery in Goryachiy Klyuch is the final resting place of Wagnerites who failed to indicate a preferred burial location before they were killed.
"Goryachiy Klyuch is land that Prigozhin once bought for his PMC [private military company], and he is very proud that there is a chapel there," Olga Romanova, director of Russia Behind Bars, which works to protect the rights of prisoners in Russia, told Caravanserai.
"To the left of the chapel, memorials are lined up in three rows. That is where the mercenaries' ashes lie," Romanova said.
"As far as I know, workers have expanded the cemetery in Goryachiy Klyuch alone seven times in the past month. Fresh graves appear there again and again."
"And it isn't a private cemetery. It was just land for a chapel. But with the help of his thugs, Prigozhin has deflected all this, and continues to bury [bodies] there," said Romanova.
"The position of city authorities is clear. The mayor said, 'I do not want the city to turn into a cemetery. It's a resort town. We don't want to turn into a graveyard for bandits'," said Umidbek Bobomatov, a journalist for Radio Ozodlik (Radio Free Europe/Radio Liberty's Uzbek service) who has investigated the group's burial sites.
Despite the discontent of the residents and mayor, burials of Wagner Group mercenaries continue in Goryachiy Klyuch, he told Caravanserai.
'Secret' cemeteries
Goryachiy Klyuch is the not the only Wagner burial site, according to Bobomatov.
One such "secret" cemetery is near Moscow, said Bobomatov, who asked his cameraman to investigate.
"When my cameraman got to the Shchelkovo cemetery, a car with tinted windows was parked there. Two men approached him and demanded to see his documents. They were military guys, possibly from the security agencies," he said.
"They demanded that he erase the tape. The cemetery is being protected from video recording."
Nevertheless, Bobomatov's cameraman managed to capture some footage of the recent graves of six Wagner mercenaries, four of whom, judging by their names, were from Central Asia: two Uzbeks, one Tajik and one Kyrgyz.
A search of court records revealed files for five of the six, indicating that they had been convicted of crimes in Russia.
"Now we can say for sure ... that most Asians fighting for Russia are prison inmates. They get recruited. They get tortured in prison, and ultimately, they realise it is better to go and die in war than in prison."
"But practically no ordinary migrants from Central Asia go to war to fight for Russia. Above all, because the government, say, of Uzbekistan, does everything in its power to repeatedly remind them about the law against mercenary work," said Bobomatov.
Refused by their relatives, Wagner fighters from Central Asia end up buried in these "hidden" cemeteries.
Even if relatives in Uzbekistan know that a loved one died in Ukraine, they refuse to accept the body in order to avoid later problems with law enforcement and security agencies, according to Bobomatov.
"Imagine these guys from Asia who are imprisoned in Russia for robbery, murder or drugs, who are from very poor, unhappy families."
"If relatives bring the deceased, for example, to Uzbekistan, and bury him, [personnel] from security agencies immediately come and ask why he was fighting there. And fearing this, most relatives in Uzbekistan refuse to accept the bodies," Bobomatov said.
More burial sites
Cemeteries with Wagnerites have appeared in cities beyond Krasnodar territory and Moscow province.
For example, outside Yekaterinburg, residents noticed a Wagner cemetery that multiplied in size over the course of a week, as the number of graves approached 100.
The deceased were 25- to 50-year-old men, many of whom were imprisoned for murder, theft and robbery.
"I think that there are and will continue to be such burials, but the graves of the deceased will simply be scattered across Russia's vast territory to avoid social tension," Yuriy Atanov, a political scientist now serving in the Ukrainian military, told Caravanserai.
Wagner has been suffering significant losses near Bakhmut, where the group has used its convict recruits as cannon fodder.
According to a military intelligence update tweeted by the UK Defence Ministry on March 21, approximately half of the convicts recruited six months ago have been killed or wounded in hostilities in Ukraine.
A large number of the Wagner members' bodies are not retrieved from the battlefield but instead are left there.
"I think the Wagnerites have many corpses. They have been attacking Bakhmut for several months, so they are taking huge losses," Atanov said.
"And if you consider that criminals, not professionals, are fighting there, and that they're short of artillery, then all you have left is the tactic of inundating the Ukrainian Armed Forces with corpses."