NAIROBI, Kenya -- As Russia ramps up efforts to sway opinion on its motives for invading Ukraine, a group of Ukrainian and Kenyan graffiti artists armed with paint have taken to the streets of Nairobi to preach peace.
The artists have joined hands to urge Russia to end its hostilities against Ukraine by painting anti-war street art and murals on minibuses and strategically situated buildings in central Nairobi.
"Art has a deep language and the world over is a democratic tool that provides a voice for the voiceless," said Katya Taylor, the leader of the visiting Ukrainian artists.
"The graffiti on matatus [minibuses used as ride-share taxis] are 'mobile loudspeakers' that get onlookers to ponder the current situation in Ukraine," she said. "It helps people to put pressure on Russian leadership to end the war."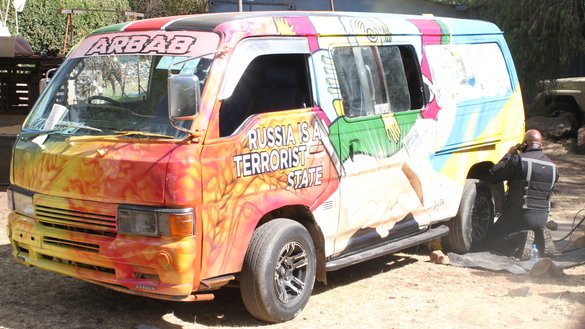 Some of the messages painted by the artists read: "Russia Is a Terrorist State", "Support Ukraine" and "Stop War in Ukraine".
The Ukrainian delegation in Kenya consists of four artists, a project manager and a co-ordinator, while the Kenyan team is led by Nairobi's premier matatu graffiti artist, Mohamed Kartarchand, better known as Moha, who is in charge of more than 20 young Kenyan artists.
As part of the project, two matatus in Kenya were painted with messages pleading for help for Ukrainian victims as well as calling for peace and an end to war.
The two matatus ply a busy route in Kenya's capital, ensuring the message is seen by as many bystanders as possible.
'Art gives us a powerful voice'
"The Nairobi Kyiv Graffiti project was planned over three months ago as part of a project called Straight Art Project Hall," said Taylor, who is accompanied by Alina Konyk, Andriv Kovtun and Mykyta Kravtsov.
Apart from matatu graffiti, the group also painted a message of peace on a wall on Nairobi's busiest street, Kenyatta Avenue, named after Kenya's founding president, Jomo Kenyatta.
"We are condemning Russia's attack of Ukraine in the best and vocal way we know," said Joy Maina, 27, a graffiti artist. "Art gives us a powerful voice to speak up against injustices, and we believe it has the ability to influence others to take a collective action."
Maina said her brushes, paints and her creative mind are all the "weapons" she needs to express her opinion on this brutal war.
"I call upon the attention of world leaders to take note of the atrocities being meted on the people of Ukraine by merciless and egocentric President [Vladimir] Putin."
Maina welcomed the International Criminal Court's March 18 announcement of an arrest warrant for Putin on the war crime accusation of unlawfully deporting Ukrainian children.
The move shows no one is above the law and whoever commits crime against humanity must pay, she said.
"In fact, I am planning on drawing a mural on a strategic estate building in Nairobi's South B Estate simulating the arrest of Putin," Maina said.
Standing with Ukraine
The artists hope the collaboration witnessed between Kenyans and Ukrainians will inspire other artists around the world to engage in similar projects.
"War is terrible and has no winner," Kartarchand said. "A building flattened by a missile, bomb or artillery may later be rebuilt, but not a life that is lost. The suffering of innocent children, women, the old and all people in Ukraine is not justifiable by any cause of this war."
"I join the rest of the artists here in Nairobi to call for an end to it," he said.
"Our graffiti will definitely serve as posters for peace and dialogue," Kartarchand said, adding that he hopes the artists "have added our little contribution to the global voices that are growing louder every day calling for the end of the blatant and irresponsible aggression on Ukrainians."
It is not only in the streets of Nairobi where graffiti artists have raised their voices to denounce the war in Ukraine.
Other cities where graffiti artists have conducted pro-Ukraine campaigns are in Sweden, Germany, Italy, Wales, the United States, United Kingdom, France, Finland, Indonesia, Scotland, Lithuania and many more countries.
Peter Ndwiga, 47, a Nairobi matatu driver and an enthusiastic graffiti lover, supports the artists' use of the city walls as a canvas to communicate their dislike of the war.
"Graffiti have been used world over for thousands of years to pass nonverbal messages. It is a rich language that is cleverly encoded in urban culture, and I am happy we are able to use it here in Kenya to show our brothers and sisters in Ukraine that we care and think about them," he said.
Kartarchand urged powerful nations not to tire until peace talks with Russia materialise.
"As we play our little role using paint and brush, we hope leaders of these countries will use the power of diplomacy and international pressure on Russians to reach a ceasefire and eventually end the war," he said.