ALMATY -- The Chinese cars that have arrived in recent months to replace Western and Japanese brands on Russian streets have generated a slew of gripes, but Russians have no choice.
Amid Russia's invasion of Ukraine and ensuing sanctions imposed last spring, car manufacturers started exiting Russia.
Major companies such as Toyota, Mercedes-Benz and General Motors have curtailed their long-standing production in Russia and also stopped deliveries to its local market.
Instead, Chinese brands such as Haval, Chery and Geely now account for almost 40% of new car sales in Russia, up from less than 10% in January-February 2022, Reuters reported Friday (March 24), citing data from the Autostat analytical firm and PPK consultancy.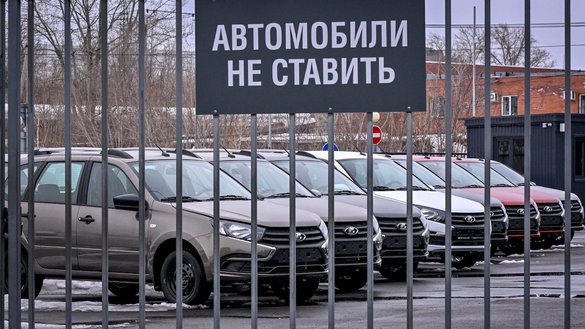 Russia's LADA and Chinese car brands, which at the beginning of last year combined for less than 30% of the Russian market, approached a combined 80% in January, said Autostat director Sergey Tselikov, speaking at an auto industry forum in February.
'Coffins on wheels'
It is easy to imagine Chinese auto executives relishing their conquest of the Russian market.
As of January, their market share in Moscow increased from 8.6% to 59.6% (almost sevenfold) compared to last year. In St. Petersburg, the Chinese already own more than 60% of the auto market.
Perhaps these achievements would be even more impressive if not for the widespread public perception in Russia, and indeed in other countries, that cars made in China are low quality and unreliable.
In Russia, Chinese cars are often called "tin cans" for their flimsy body and uncomfortable, rattling interiors. They are also known as "coffins on wheels" for their low safety standards.
Russian authorities and local dealers are trying to change Russian attitudes toward Chinese cars.
Dmitry Medvedev, deputy chairman of the Russian Security Council and former president of Russia, shared his own rave reviews after a trip to China.
"We used to laugh at some of their models, but I drove around there in a domestic car. I looked at other cars," Medvedev told reporters, according to a TASS report Friday. "I'll say frankly: the car I drove in is definitely no worse than a Mercedes."
'I will never switch to a Chinese car'
However, scepticism among the Russian car-buying community is hard to overcome.
"I'd rather buy an old Mercedes than a new Chinese car whose name I can't even pronounce," said Alexander Smolin, who lives in Yekaterinburg. "I will never switch to a Chinese car."
Ilya Korbutyak, a car owner from Moscow, told Caravanserai about his disappointment after recently driving a brand new Chery Tiggo 7 crossover.
"Imagine you are in the front passenger seat, and you're feeling air on your legs, even though the ventilator is turned off," he said, explaining that he felt the air circulation because of "gaps in the door".
"That means dust and exhaust fumes in the passenger compartment, and in winter you really better get into this car dressed in warm shoes and clothing."
He attributed the problem to a silly defect -- a loose rubber seal.
"Regardless, it's quite unpleasant," he said. "I'm convinced that many who buy Chinese models are 100% guaranteed to face various unpleasant 'surprises'."
Despite their low quality, Chinese cars in the Russian market are selling for twice their price in China -- even Chinese cars produced by factories inside the Russian-dominated Eurasian Economic Union (EEU or EAEU), which should not be subject to customs duties.
"The price difference is explained by the greed of Chinese manufacturers and of the Russian customs bureau," said Sergey Klimov, a member of the board of directors of Dolavto Group, official dealer in Russia of the Chinese brands FAW and Brilliance.
"There is no other explanation, just as there is no justification," he said in an Autostat article published in February. 'They, and others, took advantage of the unfolding situation in the Russian auto market."
'Smells like China'
Yet Russians seem to have no choice. Even previously cheap domestically produced models are slowly rising in price, following the example of Chinese cars.
The Moskvich 3 crossover, which Kremlin propagandists promote as the rebirth of the Soviet-era Moskvich brand and a success story for the Russian auto industry, unpleasantly surprised fans with a price tag starting at almost 2 million RUB ($26,000) -- an unthinkable figure for a Russian car.
The car first reached the market last November.
In his Friday interview with TASS, even Medvedev was forced to admit that the price of a Moskvich 3 is "kind of high".
Moscow mayor Sergey Sobyanin fuelled consumer interest in the new model by announcing the Russian car's launch at Made in Russia 2022, an international export forum held in Moscow last October.
But the Moskvich 3 turned out to be a clone of the Chinese model Jac JS4 -- only with a Moskvich emblem.
In contrast with its European counterparts, the Moskvich 3 "looks like a misunderstanding", auto analyst Sergey Tsyganov wrote on Russian Automobile, an insider Telegram channel.
After test driving the new model, Tsyganov said the interior "smells like China", the steering wheel angle is not adjustable and acceleration is weak.
"Very noisy, very. The blame all goes to the thin glass, which external noise penetrates like it's going straight into your brain," Tsyganov said.
The blogger noted that he did not experience the "feel of the car", and criticised its handling and stability, which, in his opinion, are practically nonexistent.
"I have no idea how Moskvich plans to sell tens of thousands of these junky cars," said Tsyganov.
'Tin cans' from Iran
The Russian car market is attractive for another country under sanctions: Iran.
Iranian automaker Saipa signed a $450 million contract in February to export 45,000 vehicles to Russia over the next three years, TASS reported.
"We planned to initiate sales from June 1. According to our plan ... we want to bring in 1,000 cars [by June]," Alexander Stepanov, CEO of Russian company Best-Motors, told reporters on Monday.
The company plans to sell at least 10,000 cars and open up to 120 dealerships across Russia during the first year, he said.
But the Russian-Iranian car partnership may violate EAEU regulations.
According to a Russian Automobile post on Monday, despite Saipa's claim that the company certified its cars in Belarus for sale in Russia, the relevant database has no proof of such certificates.
"The fact is that [Belarus] has no test laboratory that can do crash tests... That means that the cars were not tested for compliance with technical regulations," Tsyganov wrote.
If that is true, then a new stream of "tin cans" will flood into the Russian market, this time from Iran.
The Russian auto industry will face difficult times involving a decline in quality and a slowing of development of advanced manufacturing technologies, said Yermek Syzdykov, an Astana resident and member of Kazakhstan's National Chamber of Entrepreneurs.
"There is no doubt that they will try to breathe new life into their own auto industry, which essentially failed after the collapse of the Soviet Union," he said.
"However, I don't see any prospects of that happening," Syzdykov added.