The AH-64E Apache Guardian, the most modern configuration of the well known US military helicopter, can be equipped with a wide variety of armaments, enabling it to strike numerous targets simultaneously both on the ground and in the air.
For ground targets, the helicopter is equipped with a chain gun and typically carries a combination of general-purpose rockets and anti-tank missiles.
The M230 chain gun uses an electric motor to fire 30mm ammunition at a rate of about 625 rounds per minute.
The Apache is capable of carrying up to 1,200 rounds for the gun.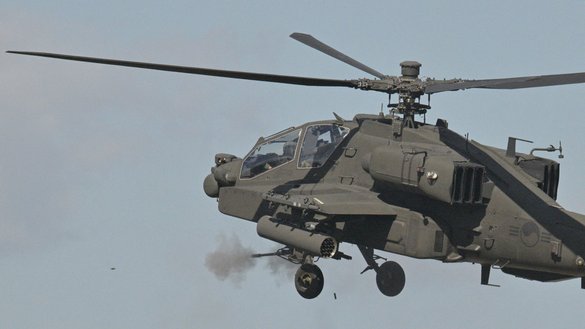 The gun typically uses the M789 round, which contains 21.5g of explosive charge sealed in a shaped-charge liner and can destroy light armor.
The shell of the round is designed to fragment upon impact, making it lethal to standing personnel within a 5-foot (1.5 metre) radius.
The helicopter can also carry a maximum of four pods of 19 Hydra 70 rockets each.
The Hydra 70 can use nine different warheads to give the Apache air-to-ground suppression, smoke screening, illumination, and direct and indirect fires capabilities at close and extended ranges.
The most common warhead for the rocket is the M151 "10-Pounder", which has a blast radius of 10 metres and lethal fragmentation radius of about 50 metres.
The unguided rocket can also be upgraded into a precision-guided munition.
For its anti-armor role, the Apache relies on the AGM-114R Hellfire II missile, the latest iteration of the well-tested air-to-ground missile.
Also known as "Hellfire Romeo", the missile can be used against soft, hard and enclosed targets that previously would have required multiple Hellfire variants and can be launched from higher altitudes than previous versions.
The Hellfire has a "fire-and-forget" capability, which means it can hit targets without further guidance after launch and without the launcher requiring line-of-sight of the target.
This attribute means that the Apache is less vulnerable while launching a Hellfire and can carry out other tasks.
The Apache can carry up to 16 Hellfire missiles, enabling a single helicopter to potentially halt an entire ground assault.
Other capabilities
The AH-64E can also be equipped with air-to-air missiles, allowing it to defeat air threats including fourth generation fighters.
While the helicopter is capable of carrying the AIM-9 Sidewinder, which has a range of 22 miles (35.4km), it typically uses the AIM-92 Stinger.
The AIM-92 Sidewinder-- developed from the shoulder-launched Stinger for use on helicopters -- can hit targets up to five miles (8km) away.
The AH-64E also comes with an open systems architecture to incorporate the latest communications, navigation, sensor and weapon systems.
The helicopter's radar can perform wide area search, precise detection, location and classification of up to 256 simultaneous moving and stationary targets, and then prioritise the top 16 targets for immediate evaluation and engagement.
The system enables the Apache to prosecute targets day or night, in adverse weather and obscured conditions.
The Guardian is also equipped with an updated Link 16 capability, which allows the helicopter to communicate in real time with other assets -- such as F-35 Lightning IIs and High Mobility Artillery Rocket Systems (HIMARS) multiple rocket launchers -- in engaging targets.
HIMARS have proven to be devastating battlefield weapons in Ukraine against invading Russian forces.
Link 16 at its core is a communication system for transmitting and exchanging real time tactical data among the US military, NATO and other allies.
It provides a secure, jam-resistant, high-speed digital data link that operates at radio and microwave frequencies.
The network enables a range of platforms, including aircraft, surface ships, ground vehicles, missile defence systems, networked weapons and command-and-control networks, to exchange text, imagery and digital voice messages.
Avoiding enemy detection
The AH-64E is designed to fly at very low altitudes to avoid detection and attack by the enemy in a high-threat environment.
The low-flying tactic involves using geographical features as cover. Aircraft fly in valleys and folds in the terrain rather than over them.
Doing so keeps the aircraft below enemy radar coverage and prevents it from being silhouetted against the sky.
Attacking while hidden enables the helicopter to fight a variety of foes.