ALMATY -- Russian President Vladimir Putin has no right to celebrate Victory Day -- the holiday commemorating Nazism's defeat in World War II -- given the parallels between the Kremlin's and Nazi Germany's invasions of Ukraine, say Central Asians.
Russia and some other former Soviet republics commemorate Victory Day on May 9.
As in 2022, Putin's upcoming Victory Day speech will undoubtedly draw parallels between World War II and the current conflict in Ukraine, presenting the latter as a confrontation with present-day neo-Nazis and blaming the West.
While the speech will be similar, how millions of residents of former Soviet countries feel about the holiday has changed.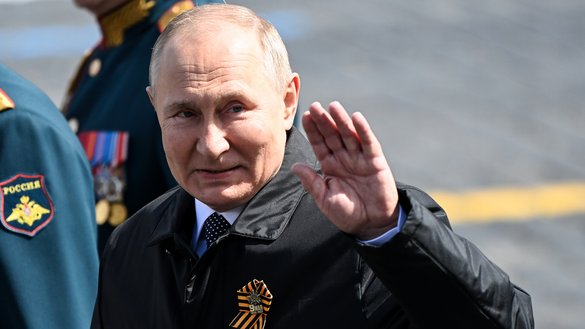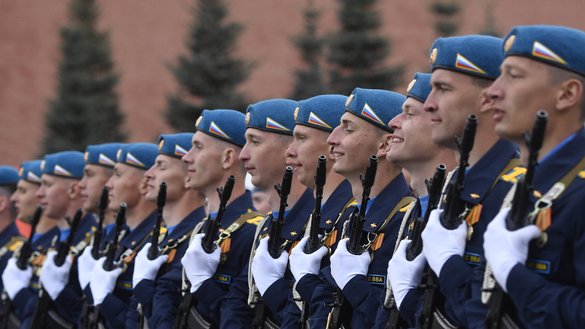 "[Putin] killed the holiday. He killed my family's holiday, because we always celebrated it," Russian businessman and commentator Leonid Nevzlin, who currently lives in Israel, said in an interview with Radio Free Europe/Radio Liberty (RFE/RL)'s Russian service, last May.
"I have two grandfathers who fought. I can always say 'thank you, grandfather, for the victory'. They are no longer alive, but I think even if they were, they would not have survived this shame," he added.
Doubts
Disillusionment can also be seen in neighbouring Central Asian states.
Last year, Kazakhstan, Kyrgyzstan, and Uzbekistan cancelled Victory Day parades in their capitals under various pretexts.
An entire year of war has sowed doubts, including among many who support the invasion, said Askat Dukenbayev, a political analyst from Bishkek.
"Many residents of Central Asia, even those zombified by Putin's television, cannot help having questions and see parallels with Nazi Germany's war in Ukraine. The deja vu is terrible but in colour and in real time," he told Caravanserai.
"The longer Putin continues to bomb, destroy and kill Ukrainians, the more of our region's residents -- including members of the older generation, who have fond memories of Soviet Ukraine -- will realise who the victim is and who the aggressor is," Dukenbayev said.
Kremlin propaganda will again fabricate content in order to present May 9 to Russians in a flattering light, in an effort to "cleanse the day of the blood shed by the new, Russian Nazism", he said.
Olzhas Beksultanov, an Almaty resident and youth activist with the Oyan, Qazaqstan (Wake Up, Kazakhstan) youth movement, considers a May 9 celebration amid the invasion of Ukraine to be cynicism.
"Putin is celebrating a great victory over Nazism while his army destroys Ukrainian cities and kills civilians and children... it's beyond comprehension," Beksultanov told Caravanserai.
"He is the real 21st-century Hitler."
Muted celebrations
Victory Day celebrations were muted last year amid setbacks to the Kremlin's invasion of Ukraine -- a trend expected to continue this year.
The governors of Russia's Kursk and Belgorod provinces, which both border Ukraine, have cancelled their Victory Day parades, citing security issues.
Celebrations have also been cancelled in Russian-occupied Ukrainian territories, including Crimea, which Russia illegally annexed in 2014.
Russia's main holiday parade in Moscow is set to proceed as planned but under heavy security.
Russian authorities have said that Red Square would be closed for two weeks ahead of the parade over concerns of a potential drone attack, Newsweek reported Wednesday (April 26), citing Russian media reports.
Commentators have also noted that Moscow is increasingly short of military vehicles, especially tanks, to display at parades, and that Putin does not want to draw attention to the scale of the Russian army's losses in Ukraine, The Atlantic Council wrote on April 13.
More than 10,000 soldiers and 125 weapons and military vehicles, but no planes, will join the parade on Red Square on May 9, according to Russian Defence Minister Sergei Shoigu.
In 2021, before the invasion, more than 12,000 soldiers and about 200 military vehicles, as well as 76 helicopters and aircraft, took part in the celebrations.