BISHKEK -- Anger is mounting in Kyrgyzstan amid rumours of a possible transfer of the nation's largest iron deposit, Jetim-Too, to China to settle a debt.
The deposit lies in a scenic stretch of Naryn province.
Officials have denied speculation on the transfer, which has been circulating over the past few weeks.
Daiyrbek Orunbekov, spokesman for Kyrgyz President Sadyr Japarov, took to Facebook on May 11 to dispute rumours that have been circulating in the country in the last few weeks.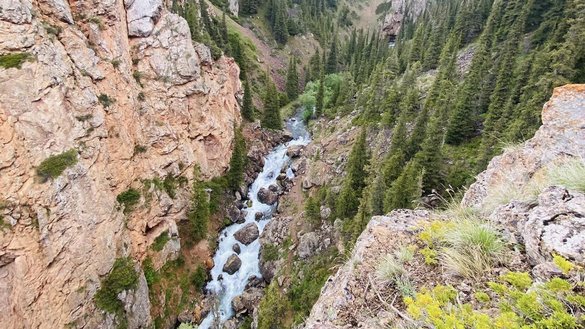 "We will be developing Jetim-Too totally on our own. Not a single percent of it will be given away to anyone," Orunbekov wrote on Facebook.
The matter of financing the development of the deposit has already been resolved, and the state will be building a metallurgical plant that will employ local residents, he asserted.
"Not one foreign company will be involved in the development. The Jetim-Too mine is a project that will bring in more revenue than [the] Kumtor [gold mine]," he said, referring to one of the largest gold mines in Central Asia.
Exploratory work is under way on the deposit and once it is complete, the extraction process will begin, he added, without providing details on the source of funds for the development.
Doubts remain
Orubenkov's assurances have not quieted the widespread resentment of a perceived Chinese resource grab.
Online furor has continued to spread, however, and has centred on an alleged agreement between China and the Kyrgyz government that Beijing could potentially receive Jetim-Too in return for building a railway connecting China to Uzbekistan through Kyrgyzstan.
"A few years ago the people from my village chased the Chinese off our land, and we won't allow them to come back here," Ulan Usoiun, an activist and director of the NGO Kochmon-Nomad, told Caravanserai.
Extracting resources in Jetim-Too will cause monumental damage to the local ecosystem, he said.
"Jetim-Too is a natural boon for the Kyrgyz people," Usoiun said. "We won't let anyone dig up a single metre of our land."
Beijing may be behind the government's efforts to convince the public that the mine will be developed solely by Kyrgyzstan, according to Talant Zhaanbayev, an activist from Bishkek.
"China won't turn down a tasty morsel like Jetim-Too just like that, especially if it truly purchased a licence -- it holds massive reserves of valuable resources," Zhaanbayev told Caravanserai.
"Most likely, the Chinese reached an agreement with the Kyrgyz authorities and just stepped out of view to avoid upsetting our people, but they didn't disavow their plans to get our mine."
Beijing views Kyrgyzstan along with the other Central Asian countries as a wellspring of resources to develop its own economy, so Jetim-Too is of strategic interest to China, said Elmira Suranchiyeva, a Bishkek-based economist.
"If the Chinese get Jetim-Too, our deposit will feed their production and bring them huge revenue," Suranchiyeva told Caravanserai.
Kyrgyzstan does not have much choice in this matter, given that it is hugely indebted to China, she said.
As of late March, Kyrgyzstan's foreign debt was $5.6 billion, of which more than 40% is owed to the Export-Import Bank of China.
"They can put pressure on our government if they haven't already done so," Suranchiyeva said.
Chinese soldiers
Jetim-Too, which opened in 1956, is still unexplored.
The deposit contains between 3-10 billion tonnes of ore, including gold ore alloys, say various studies, but exact data do not exist.
If these estimates are accurate, Jetim-Too is one of the largest iron deposits in the world.
Developing the northern section of the deposit would bring in more than $200 million per year and could help cover the federal budget, fund social programmes and partly pay off foreign debt, the Kyrgyz government estimated in 2020.
Rumours of Chinese control of the iron deposit have long circulated.
In an appearance on Next TV in December 2020, Ishenbai Kadyrbekov, a public figure and former member of parliament, estimated the total value of the raw materials of the Jetim-Too deposit at $47 billion.
If Jetim-Too is developed, Kyrgyzstan, as its owner, would be able to dictate global metal prices, according to Kadyrbekov.
That is why Beijing had been trying for over a year to acquire the rights to the deposit, he said at the time.
"China has interests. It isn't interested in Kyrgyzstan's independence or anything else," Kadyrbekov said. "It'll go to great lengths to get its hands on the deposit, which has the the most abundant metal reserves."
"If [Chinese] state-owned enterprises are set up there, we won't be able to get rid of them, and if need be, [China] will deploy its soldiers there," he added.
A long-running interest
Such rumours are backed up by past Chinese efforts to gain control of the deposit.
In December 2020, Radio Free Europe/Radio Liberty (RFE/RL)'s Kyrgyz service reported that after 2005, the Chinese company Tenli had explored the Jetim-Too deposit.
Then in 2010, the company Mylin Resources, which is owned by a Chinese citizen named Fu Ping, acquired an 80% stake in the mine.
During that same period, it came to light that Mylin Resources had built a plant in China to process iron.
In 2009, Maxim Bakiyev, a son of former Kyrgyz president Kurmanbek Bakiyev, paid a token sum for a license to develop Jetim-Too and then turned around and "sold it to the Chinese for $20 million", according to Omurbek Tekebayev, the Kyrgyz ambassador to Germany and leader of the Ata-Meken socialist party.
Beijing's plans were disrupted by the 2010 revolution in Kyrgyzstan, during which Bakiyev, the president at the time, was ousted, power passed to the provisional government, and Kyrgyzstan cancelled the Chinese company's license for Jetim-Too.
The Chinese disputed this decision in a Kyrgyz court and won, but following a series of subsequent legal proceedings, the license was ultimately returned to the Kyrgyz government in 2016.
At that point, Zhyrgalbek Sagynbayev, chairman of the State Committee for Industry, Energy and Subsoil Use, told journalists that Jetim-Too was wholly owned by the state.
"We're going to mine the iron ourselves, sell it directly and receive the profit," Sagynbayev said.