TASHKENT -- Solving an impending water crisis relies on the deployment of water conservation technologies and a crucial mindset shift to view water as an economic resource that has value and comes at a cost, say analysts.
Officials and observers delivered a grim forecast of an impending water crisis in Uzbekistan during the second Tashkent International Investment Forum, which was held on April 27–28.
Uzbekistan is about 80% desert. Agriculture consumes 90% of the country's scarce water, according to the United Nations Food and Agriculture Organisation (FAO).
The country's crops include cotton, a notoriously thirsty plant.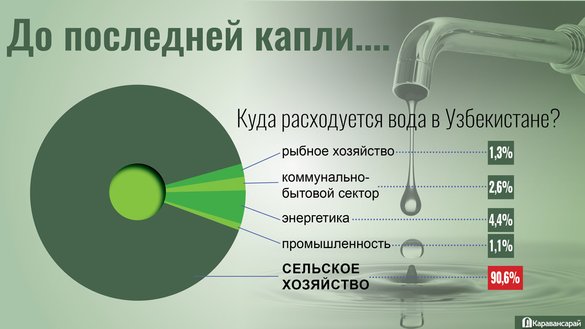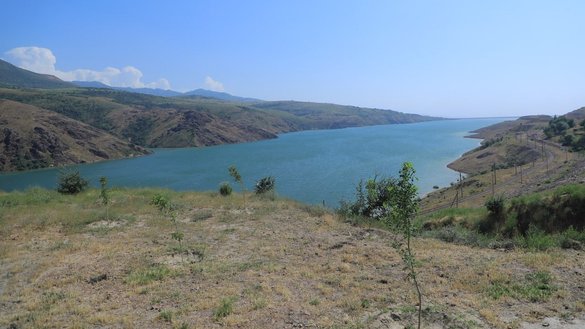 "By 2030 Uzbekistan will be short 7 billion cubic metres [per year] of water that it needs", or 25% of what it uses now, Azimjon Nazarov, the Uzbek first deputy minister of water resources, said in his address to the forum.
About 80% of Uzbekistan's water comes from other countries.
"Also, the infrastructure that was built 30 to 40 years ago needs a major upgrade since water reserves are dropping while the number of new buildings is increasing and the population is growing."
"That requires a new quantity and quality of water ... That's 25% of what we're receiving now [from rivers and reservoirs]," Nazarov said.
By 2035, the country is expected to need 35% more water than what it presently can access.
The freshwater shortage will cause GDP to fall by 11% by that time, the World Bank projects.
Uzbekistan is not the only country to face water shortages in the future.
By 2050, more than 5 billion people will experience water shortages, according to the World Meteorological Organisation.
Water management
Before the shortage hits, Uzbekistan must take steps to upgrade irrigation systems and modernise existing drainage infrastructure, say analysts.
The water conservation initiatives that Uzbekistan needs would cost $10 billion if taken together, said Igor Alekseev, a principal at the Boston Consulting Group (BCG) who also participated in the forum.
"Of that amount, $4 billion would go to infrastructure -- first and foremost to [construction of] pump stations, concretisation of canals and flushing of pipes," he told the forum.
"Then about $6 billion would go to subsidies for economic operators -- farmers and dehkans (peasants) -- to deploy water conservation technologies," he said.
Fees of $0.02–$0.035 per cubic metre of water to incentivise conservation need to be instituted, even for the least developed small farms, the BCG estimates.
"Such an approach will help save about 30% of the water that goes to farms, and about 20% to 25% of the water that passes through long-distance conduit systems," Alekseev said.
Uzbekistan needs to re-examine water consumption targets and estimates for different types of water use, said Vadim Sokolov, director of the Tashkent-based Agency of IFAS (International Fund for Saving the Aral Sea) in Uzbekistan.
Workable preconditions are now in place that allow the country to take advantage of groundbreaking technologies to guarantee the food security of the growing population, according to Sokolov.
Those technologies raise productivity and reduce water use, he said.
However, unless water users change their mentality, no drip irrigation or other water conservation technologies will do any good, Nigara Khidoyatova, an Uzbek political analyst living in the United States, said.
"We need to stop planting cotton, the most water-intensive crop. Also, we've reached an inflection point in developing a new way to manage water," Khidoyatova said.
"To deal with this, we need to create a regional consortium in accordance with the provisions of international water law and the UN resolutions."
International support
International and US organisations have long worked with Uzbekistan to address its problems with water.
The US Trade and Development Agency in April 2022 awarded a $500,000 grant to Uzsuvtaminot, Uzbekistan's national water company, for a pilot project to test "digital twin" technology for remote monitoring, leakage identification and demand forecasting.
The technology was to be implemented in the cities of Chirchik and Jizzakh and to serve as a template for replication across Uzbekistan.
Last September, the Asian Development Bank approved a $150 million loan and a $3 million grant to help improve food and water security in Uzbekistan through better land and water management.
The US Agency for International Development (USAID) in September 2020 funded the rehabilitation of the Yomonjar irrigation canal on the Uzbek-Turkmen border in Bukhara province.
The work included the construction of a barrier structure and gauging station, the reconstruction of outlets and the concretisation of the 32.5km-long canal bed, which helped improve the water supply for about 34,000 residents of Karakol and Alat districts.