TBILISI -- And the newlyweds lived happily ever after...
But first, the happy Russian couple and their wedding guests were forced to hide from Georgians enraged by their nuptials. Georgian Interior Ministry (MVD) special forces had to protect the wedding party from Georgian wrath.
The uproar broke out May 19 when Georgians, a people who ordinarily adore weddings, feasts and wedding feasts, heard about the union of Mika (Moshe) Vinokurov and Diana Akhmadishina. The two Russians tied the knot at Tbilisi's Wedding Palace.
Vinokurov sings in Russia under the name Mika Vino.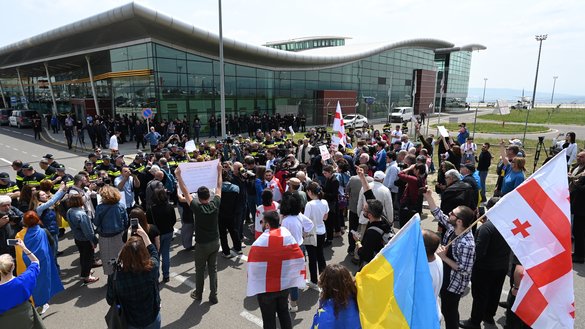 The bride and groom posted photos and videos on Facebook with accompanying exclamations of joy.
The news, a slap in the face to the pro-Western, pro-Ukrainian Georgian majority, coincided with two separate May 19 protests at Tbilisi airport, where outraged participants denounced the resumption of nonstop flights between Russia and Georgia after a hiatus of four years. Some members of the wedding party arrived on the first flight.
A unilateral ban ends
Russia banned nonstop air travel with Georgia in 2019 in response to anti-Moscow rallies in Tbilisi. But in a surprise move, President Vladimir Putin lifted the ban in May, triggering those protests at the Tbilisi airport and elsewhere in the Georgian capital.
He also introduced a 90-day visa-free regime for Georgian citizens.
The resumption of nonstop flights comes as Moscow's offensive in Ukraine stretches into its second year and as Russia's isolation from the West deepens.
Yet Putin professed "surprise" at the "completely incomprehensible fuss" over the resumption of flights, claiming it was his understanding that the Georgian leadership had "repeatedly" asked Russia to lift the flight ban and visa regime.
Georgian authorities have been accused of covertly co-operating with the Kremlin, with Tbilisi insisting it needs to maintain economic ties with Russia.
Georgian voters first elected the pro-Russian Georgian Dream party in 2012. Since then, it has stayed on its course even though its policies repeatedly arouse mass demonstrations throughout Georgia.
Recent polling indicates mass disgruntlement with the government's embrace of Russia.
Eighty-nine percent of polled Georgians "support" or "strongly support" joining the European Union (EU), a poll published in April found. "Seventy-nine percent oppose visa-free travel for Russians, Russians registering businesses in Georgia, or Russians buying property in Georgia," according to the pollster, the International Republican Institute.
But back to the wedding.
From Tbilisi, the wedding procession headed east to the wine region of Kakheti, where everything had been prepared for the celebration.
Chic rooms -- pricey by local standards at roughly $160 per night -- awaited them at the four-star Akhasheni Wine Resort & Spa and Kvareli Lake Resort.
For this exuberant group, such money was no object.
But it included the groom's brother and sister-in-law, two Russians whom many Georgians would prefer to stay in Russia.
Unsavoury relations
Vinokurov's brother's name, Alexander Vinokurov, might not mean much to the average Georgian. The name that appears on his wife's passport, Yekaterina Vinokurova, might not mean much to them either.
With 170,000 Russian visitors travelling to Georgia last year alone, Russian names are hardly unusual. But one small detail, reported by Georgian TV channel Mtavari, stands out: Vinokurova's maiden name is Lavrova.
As the name gave away, Vinokurova is the daughter of Russia's longest-serving foreign minister, Sergey Lavrov. And she has been under US sanctions since 2022. Ukraine, Japan, Australia, Canada and the United Kingdom blacklist her too.
Her husband, "a businessman in the top guild", meanwhile appears on the sanctions lists of the EU, United States, United Kingdom, Canada, Switzerland, Ukraine, Australia and New Zealand.
His proximity to the Russian elite is evidenced by his presence at a February 24, 2022, meeting among Russian business leaders, cabinet members and Putin to discuss the impact of Western sanctions on Russia.
Russian media outlets carried reports on protests connected to the wedding.
According to Russian state news agency TASS: "Opposition party representatives and their supporters began gathering at the hotel after the TV channel reported that a Russian minister's relatives, who came to the wedding, were in Georgia."
Dozens of protesters were detained, according to TASS and other outlets. It remains unclear exactly how many, however, as the detainees were hauled off to different police stations.
No such guest!
Hosting guests so close to Putin in Georgia is considered "scandalous" even under Georgian Dream's government, and the reaction of both hotels after the news broke was immediate and, it seems, co-ordinated.
"We want to respond to the misinformation spreading through the media!" Kvareli Lake Resort proclaimed in a post on Facebook.
"We inform you that the claim that Lavrov's daughter is staying at Kvareli Lake is not true. There is no guest with the surname Lavrov in our registers and never was!"
Akhasheni Wine Resort & Spa posted a near-identical message on Facebook but without the exclamation marks.
The responses were both true and misleading at the same time. Lavrova checked in under the name Vinokurova.
Georgians, forced since Soviet times to learn the art of protest, took to the streets and to the internet to blast the enablers of the Russians' wedding. Rallying under the slogan "Beat up the occupiers' stooges," they knocked the two four-star hotels' online ratings down to an abysmal 1.8 stars.
"They allowed members of Lavrov's family in today. Family members on the sanctions list. Whom will the authorities let in next — Lavrov himself? The architect of the 2008 war, genocide and the murders of our citizens?" said National Movement MP Tina Bokuchava, referring to the invasion that left Russia in control of 20% of Georgia's territory.
"With this government, there is no guarantee that this will not happen," she said. "A year ago, we initiated a bill prohibiting persons on international sanctions lists from entering the country. But we were ignored."
Wedding politics
Under the extraordinary circumstances, Georgian President Salome Zourabichvili became the rare president forced to comment on the wedding of detested strangers.
"It was very difficult to contact the interior minister, but I received his word that that family, those people, have left," Zourabichvili said. "The second day of the wedding festivities will not happen."
Yet, despite her assurances, the wedding party continued for a second day -- though it was not clear whether the sanctioned Vinokurovs were present to enjoy the celebrations.
Per some reports, Georgian security agencies whisked them away to safety.
Georgian politicians sought to deflect public outrage and the accusations of violating international sanctions.
"This was the wedding of a man distinguished by anti-war messages. He opposes the aggression in Ukraine," said Georgian Dream chairman Irakli Kobakhidze, referring to social media posts that appeared to show the groom's pacifistic leanings. "Georgians never have been and never will be xenophobes."
'Gorka'
On February 25, 2022, the day after Russia began its full-scale assault on Ukraine, Prime Minister Irakli Garibashvili announced that Georgia would not join international sanctions against Russia.
Georgian Dream is keeping its word, despite heavy criticism at home and abroad.
"The world is isolating Russia to force it to stop the war, but Georgia is welcoming Russian airlines and sending its own to Moscow," Ukrainian Foreign Ministry official Oleg Nikolenko tweeted on May 16. "All while 20% of Georgian territory remains occupied by Russia with impunity. The Kremlin will surely be delighted with such a result."
The Kremlin's delight can be seen in the resumption of nonstop flights, the abolition of visas, and lavish weddings in Georgia.
Georgian Dream and its founder, Bidzina Ivanishvili, whatever their outraged compatriots may think, apparently have three messages for Russia now:
To Russian planes: "Welcome!"
To Russians fleeing Putin's draft last September of 300,000 men: "We are waiting for you!"
To sanctioned celebrities, the relatives of a pillar of a regime that commits mass murder, rape and child abductions in Ukraine: "Gorka [Kiss, kiss]!"