DUSHANBE -- The US Agency for International Development (USAID) is implementing a series of projects to rehabilitate broken-down water systems in Tajikistan that were built during the Soviet era.
So far this year, USAID has funded work in Chorbogh village, Jomi district, Khatlon province; and in Sumchak village, Bobojon Ghafurov district, Sughd province.
The funding covered work to clean wells, lay water lines, build water towers and tanks, and install water decontamination equipment and water metres that measure individual consumption.
Additional projects to provide Tajikistan's population with safe drinking water are scheduled to be carried out this year.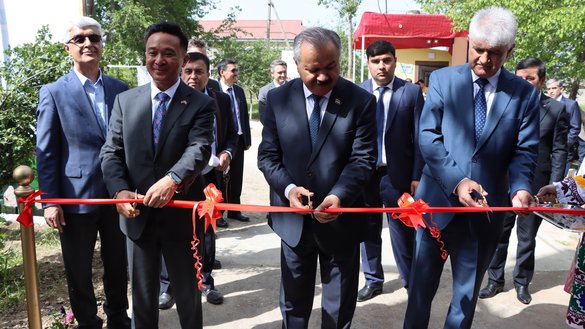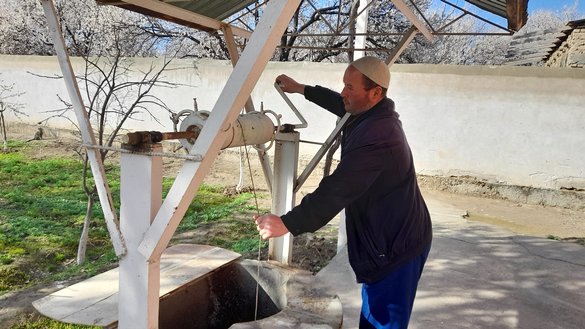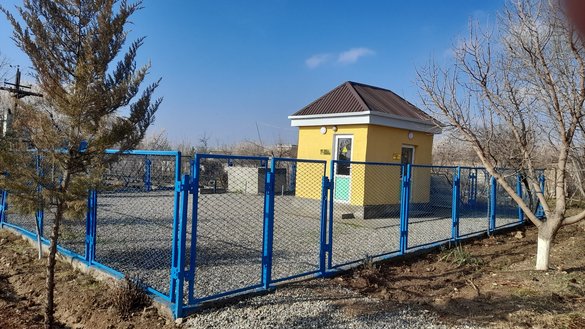 Over the past five years, USAID projects have provided more than 80,000 residents of Tajikistan with access to safe drinking water, according to the US embassy in Tajikistan.
Most recently, on May 16, USAID and the Aga Khan Foundation completed and transferred to local communities three new drinking water systems in three villages of Qubodiyon district, Khatlon province.
The drinking water systems will guarantee continuous access to clean water to 1,191 households -- a total of 10,990 residents.
Additionally, 1,424 schoolchildren and teachers will have access to sanitary school latrines, the embassy said.
On April 14, USAID inaugurated a rehabilitated drinking water pump station in the rural municipality of Zainabobod, Rudaki district, which delivers safe drinking water to more than 6,700 residents.
This is one of 12 drinking water systems that USAID has rehabilitated or built in Tajikistan over the past several years.
"USAID strives to increase access to safe drinking water across all regions of Tajikistan," US Ambassador to Tajikistan Manuel Micaller said at the inauguration ceremony.
"USAID's commitment to elevating drinking water access issues are [sic] of critical importance to protecting public health, dignity, equity and our environment," he said.
Water everywhere but not enough to drink
Mountains cover 93% of Tajikistan's territory. In addition to holding massive amounts of minerals, those mountains contain about 60% of the freshwater reserves of Central Asia.
The glaciers in Tajikistan are estimated to hold 550 cubic km of freshwater, while the mountains have more than 300 freshwater lakes. Together they feed more than 600 small and large rivers.
Yet Tajiks are experiencing a major shortage of both drinking water and irrigation water, especially in rural areas.
According to the Ministry of Energy and Water Resources, 49.6% of the rural population either lacks access to drinking water or consumes unsafe water.
"In the majority of rural communities, people are still drinking water from streams, rivers, reservoirs and wells," said Halim Hojiyev, deputy director of the Land Reclamation and Irrigation Department of Sughd province.
"In some towns in the south ... drinking water is delivered by truck," he said. "The situation is complicated by a lack of investment in the villages, which caused wells, pumps, drainage systems and treatment facilities to break down long ago. They need to be fixed."
"Unfortunately, lack of access to quality drinking water is one of the main reasons why infectious diseases are proliferating and spreading," Hojiyev said. "That is alarming to many."
Because the government allocates far too little to update decades-old water systems, local authorities and residents must depend on help from international organisations, he said.
The most substantial assistance has come from USAID, the United Nations Development Programme, Oxfam, the Aga Khan Foundation, World Bank, Asian Development Bank, and European Bank for Reconstruction and Development.
Creating a sustainable mechanism
A central objective of the USAID water supply projects is to create a sustainable mechanism that can operate dependably and without interruption for many years to come.
To accomplish that, USAID is making efforts, by improving management and offering access to funding, to create reliable and commercially viable providers of drinking water.
A rehabilitated or newly created water system must have an owner who not only takes responsibility for but has an economic incentive tied to the results, specialists from partner organisations say.
"In the past it was common not to pay for water in Tajikistan," said Naimjon Nabiyev, a representative in Sughd province for Chemonics International, a USAID contractor. "In the cities it was the government that bore all the expenses, while in rural areas the collective farms and state farms where the settlements were situated did that."
"It's hard to convince the public to pay for water, but it's beginning to grasp that it's impossible to have a sustainable structure if you don't create an efficient mechanism under market economy conditions," he said.
During Soviet times, the entire water system in rural areas -- including the system for drinking water -- fell under the purview of the collective farms and state farms, Nabiyev explained.
After the Soviet Union collapsed, the majority of large farms went bankrupt and the government decided to reorganise them. These large farms gave way to small farms that could not afford large community undertakings like supplying water.
"You need to start by creating a new model that can work under the new conditions," Nabiyev said. "In some districts, NGOs are taking the initiative, while in others, water user associations are being formed."
"The main thing is to create a mechanism that can manage the water supply. It's important for this entity to have versatile, qualified specialists who meet strict requirements," he said.
Waiting for more than 20 years
The village of Sumchak in Bobojon Ghafurov district stands on the right bank of the Syr Darya river, the longest river in Central Asia. The village lacked access to clean drinking water for more than two decades.
Following an economic crisis in the early 2000s, the local collective farm collapsed into small private farms that could not fund the water system. The pumps, wells and tanks broke down, and there was no money to repair them or buy replacement parts or materials.
With USAID support, workers built a large tank and water decontamination plant, replaced the pumping units in two wells, built a water line about 4km long stretching to the village, and installed 615 water metres in consumers' houses to measure their consumption.
The initiative provides 7,000 residents of the village with consistent access to clean water.
Local NGO Rushdi Dehai Sumchak has taken on the task of managing the water system, setting the price of its services at 1.50 TJS ($0.14) per cubic metre of water.
"We have fully supplied water to families who previously had no access to it or only partial access to it, and we have set a minimal price for our services," said Rahmat Ibrohimov, director of Rushdi Dehai Sumchak.
"The residents are understanding about the transition to paying for water," he said. "This definitely guarantees that we will be able to create a sustainable, reliable model to provide drinking water to the public."
The water supply in Sarykui village, Konibodom district, Sughd province, population 7,000, has also earned a new lease on life thanks to financial support from USAID.
Half of the village's residents previously bought water transported to them or used water from streams and irrigation ditches, or groundwater from wells. USAID plans to install water metres in all 1,049 of the households by the end of the year and to supply safe drinking water to all the village's residents.