2016-08-17
|
Media
Kyrgyz journalists learn about extremism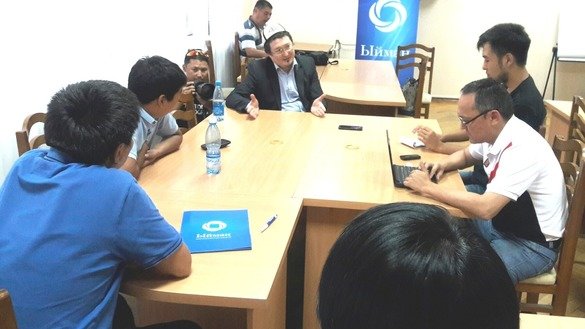 BISHKEK -- Kyrgyz journalists recently learned about the dangers of extremism.
The Bishkek-based Iyman Foundation for the Development of Spiritual Culture held a seminar for about 10 reporters in Bishkek July 29.
The topic was the problem of extremism and terrorism in Kyrgyzstan.
The seminar was part of a year-long Iyman project on the role of the media in fighting extremism and terrorism.
Kyrgyz reporters initiated the seminar, Janargul Isakbayeva, the foundation's project co-ordinator, told Caravanserai.
"Journalists, who have participated in this kind of seminars in different provinces across the country since the beginning of this year, proposed to continue running this kind of seminar," she said.
"Our foundation decided to organise meetings for journalists and experts working on extremism every two weeks," she said.
Iyman set up the topics for the first few sessions, Isakbayeva said.
"Journalists may suggest more topics themselves," she said. "We lack professional journalists who write knowledgeably about religion. By holding this kind of seminar, Iyman is making its contribution to the fight against extremism."
Kyrgyz reporters have difficulty in finding their own bearings when covering radical movements, Aslan Sydykov, editor-in-chief of AKIPress, said.
"It is hard to distinguish Wahhabism from Salafism," he said. "We need major awareness building in this matter."
Dangers are forming
During the seminar, Bishkek-based theologian Kadyr Malikov explained the differences between various Islamic movements, as well as the essence of terrorist groups.
"Terrorist groups in Central Asia are starting to gain strength," he said in his speech. "One al-Qaeda cell called Jabhat al-Nusra has appeared lately."
"Young Kyrgyz already have joined [Jabhat al-Nusra]," he said. "It has supporters in the south. ISIL [the 'Islamic State of Iraq and the Levant'] has been fighting for resources. At the same time, militants are coming home [from Syria] to Central Asia."
Organised crime rackets in Turkey and Syria crank out phony passports and refugee documents for militants, Malikov said.
"Terrorist groups are beginning to set their sights on Central Asia," he said. "They recognise they are losing their hold on Syria and Iraq."
Other risks are taking shape, even as "the number of Kyrgyz citizens going to Syria and Turkey has declined in the past year", Malikov said.
"That would seem to be good news," he said. "But that decline in numbers means that extremists are staying here."
Extremists take advantage of the gap between Muslims and the rest of Kyrgyz society, Malikov said.
"This leads to the further radicalisation of Kyrgyz Muslims," he said. "The main danger is that this rift ... might reach the streets."
Radicalised Kyrgyz college students are making themselves apparent, he said.
"They've already taken over two or three [Kyrgyz] universities," he said. "They openly discuss [militant] ideas among themselves. The authorities have already summoned their parents."
Radicalised young Kyrgyz "can't find answers about where to find justice", he said. "The muftiate and the politicians have no answers for them, so they look on the internet."
Kyrgyz mosques lack imams who can speak Russian well enough to reach the still-substantial part of the population that is more comfortable with Russian than with Kyrgyz, Malikov added.
Malikov has ideas for solving the problem.
"We need to raise the authority of our Muslim clergy," he said. "It is essential to implement drastic reforms in religion too ... Our public practises Islam ... in its most primitive form."
"Society hasn't awakened yet [to the threat]," Malikov said. "We need to create social fora for Muslim youth, such as rallies and festivals ... Only Islam can stand up to terrorism."
Reporters' feedback on seminar
The seminar was highly beneficial, Bishkek-based journalist Marat Uraliyev, who works for a website called Splinter (Zanoza), told Caravanserai.
"These meetings with experts improve my knowledge," he said. "It wouldn't hurt for many other journalists to take these seminars."
"It was highly interesting," another Bishkek reporter, Argen Bakytbek-uulu, told Caravanserai about the seminar. "They didn't present anything that I already knew. ... The details on the appearance of Jabhat al-Nusra were news to me."
0 Comment(s)