JALAL-ABAD PROVINCE -- In contrast to other parts of Kyrgyzstan, Jalal-Abad province has witnessed an uptick in the number of citizens joining extremists groups in the Middle East.
Nationwide, Kyrgyz authorities have reported a decline in the number of citizens going to join the insurgencies in the Middle East, compared to early years like 2013 and 2014.
However, in 2016, "133 residents of Jalal-Abad Province went to Syria and Iraq," said Ulanbek Jalildinov, a State National Security Committee (GKNB) spokesman, at a March 15 anti-extremism outreach event in Jalal-Abad city, according to Yntymak.kg.
This is compared to 2015 when 87 residents left for the Middle East, Jalildinov said.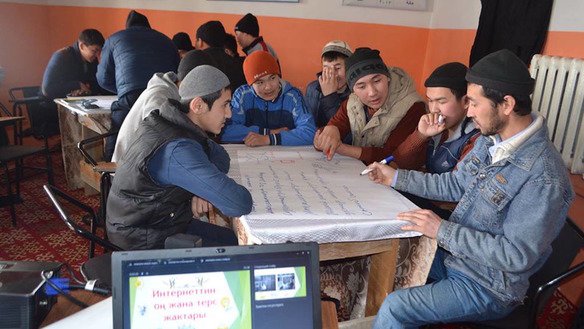 From 2012 through 2016, about 600 Kyrgyz went to Syria, according to the Interior Ministry (MVD). Twenty-three percent of those militants were women.
Militancy in Kyrgyzstan, for various reasons, tends to be a phenomenon of the country's southern provinces.
Never to return?
Those citizens who swore allegiance to the "Islamic State of Iraq and the Levant" (ISIL) and other extremist groups might never return, a prospect that alarms their families and loved ones.
One resident of Jalal-Abad city, Faridakhon Teshebayeva, 57, is concerned about the fate of her 30-year-old son Anvarjon, who left Kyrgyzstan with his family in 2015.
Anvarjon lied to her "that he was going to work in a CIS [Commonwealth of Independent States] country", she told Caravanserai. "He lied to me on two counts: he went to Turkey [en route to Syria], and he took his wife and my grandchildren with him."
The probable source of her son's radicalisation was his brother-in-law Sukhrob, who went to Syria in 2012, said Teshebayeva.
"My daughter-in-law used to talk about our Muslim brothers who were dying in Syria and how she felt for them. I didn't take it to heart," she said. "But my Anvarjon and my grandchildren became victims of the 'jihad' and the accursed war."
Recruiting the ill-educated
Recruiters of Kyrgyz militants have certain strategies, said Jalildinov the GNKB spokesman, noting that in 2016 six Jalal-Abad residents were convicted of extremist recruitment.
The convicted recruiters "confessed that to lure victims .. they worked closely with entire families", he said.
They sought out potential recruits who were "both religious and ill-educated", he said, adding that such a combination of traits "raised the probability of successful recruitment".
To combat the radicalisation of Jalal-Abad Province, grass-roots efforts are essential, say observers.
"The people of our province's cities and villages need prevention efforts, and we need to continue eradicating and unmasking extremism," Kyyanbek Satybaldiyev, the governor of Jalal-Abad Province, said at the March 15 anti-extremism event in Jalal-Abad city where Jalildinov spoke, according to Yntymak.kg.
The "safe city" programme of education and outreach in Tash-Kumyr city, Jalal-Abad Province, has helped reduce the number of entire young families decamping to Syria and Iraq, said Satybaldiyev.
"Other municipal governments should learn from that experience," he added.
Outreach efforts
One outreach strategy consists of events called "Don't let yourself be fooled!", held in schools nationwide to protect schoolchildren from online recruitment.
On March 13, schoolchildren from grades 5-11 of Kashka-Suu High School in Chui Province reviewed cautionary stories of extremism and terrorism, according to AKIpress.org.
"ISIL radicals recruit groups of people by using lies or by offering [false] prospects of big money for mercenaries," Gulbara Yysayeva, who teaches morality and does social work at the school, told the pupils while describing the story of an unnamed Kyrgyz girl who managed to break free from ISIL.
A foreign man whom that girl encountered online duped her into going to Syria, Yysayeva said, adding that when she arrived, she encountered only war and destruction.
The girl recognised that youths lured to Syria were dying in a war for reasons they could not understand and escaped back to Kyrgyzstan, said Yysayeva.