ALMATY -- The General Prosecutor's Office of Kazakhstan has proposed that the government ban the use of "Z" and "V" in the country, symbols of the war Russia unleashed in Ukraine, as well as the import, storage, sale and advertising of products bearing these letters.
The initiative was motivated by the appearance of these letters on cars, clothing and even children's toys being sold in Kazakhstan, said Kuat Bapinov, a prosecutor with the Public Interest Protection Department of the Semey Prosecutor's Office, Vlast.kz reported August 8.
"In 2022, in connection with the beginning of the Russian-Ukrainian conflict, demonstrations [of support for Russia] became more frequent in Kazakhstan, in particular on clothes, toys, vehicles with the symbol 'Z' or 'V,'" he said.
After coordinating with the government and president, the General Prosecutor's Office intends to make it illegal to show military symbols "used by warring parties in armed conflicts, in military or other violent actions against the sovereignty and political regime of another state."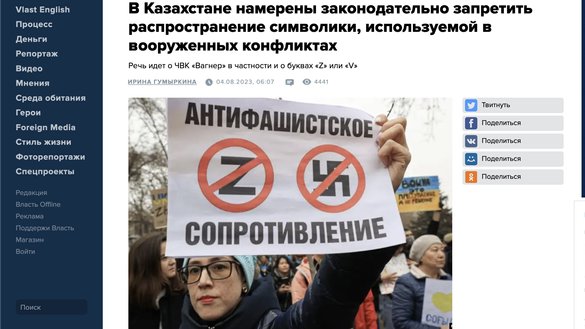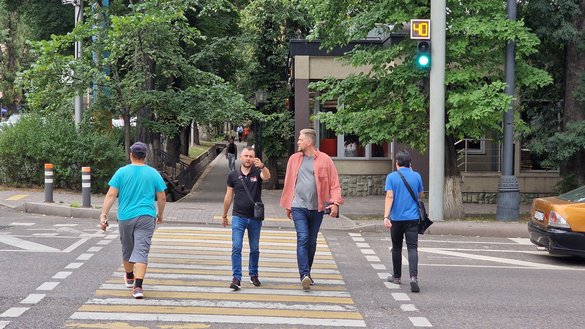 Russian propaganda outlets have used the letter Z to symbolize Russian soldiers' invasion of Ukraine, and the soldiers have painted the letters Z and V on their vehicles.
The Latin letter Z supposedly means "for victory," and V signifies "strength in truth" and "the mission will be completed", according to the Russian Defense Ministry.
"O" (for "brave") is another letter that Russians use to glorify the invasion.
Replacing Soviet symbols
Kazakh authorities have no legal grounds now to punish individuals displaying the "Z" and "V" symbols, according to Astana lawyer Amanzhol Mukhamedyarov.
The only exception is the ability of traffic police to fine motorists displaying such symbols on their cars. The fine can be as much as 51,750 KZT ($112).
"We have no other legal provisions to hold 'Z-fans' accountable. What's more, Kazakhstan has no laws prohibiting the Nazi swastika and other symbols of Nazism. I oppose their proliferation in our country, since this is done to promote the war in Ukraine," said Mukhamedyarov.
The war against Ukraine is the final drop that caused the world community's cup of patience to overflow, said Alikhan Kanapiya, an export specialist with the International Trade Center in Almaty.
"That is why everything related to maladjusted aggressive behavior -- like this Z, V and O symbolism -- must be prohibited," he said.
"Those who produce and sell goods with these letters are not simply businesspeople. They are unambiguously a fifth column," he told Caravanserai.
"It is beginning to influence young people and even children, forming a positive attitude towards Russian policy in their minds. It may seem that a child doesn't understand anything about the meaning of 'Z' and 'V', but this is not so," he said.
Kanapiya, who was born in the Soviet Union, noted that in his childhood, every toy had a Soviet symbol -- a red star.
"I still remember it and react if I see it. It is something deep from my memory," he said.
"In a similar way, [Russian] children today are being brainwashed as they are dressed up on May 9 in Soviet military uniforms with St. George ribbons on their chests."
"And these joyful kids stroll about in them ... That is how attitudes towards her [Russia] are imposed from an early age," said Kanapiya.
Kazakh support
Kazakhstan is in a region affected by the war between Russia and Ukraine, according to Almaty resident Dos Koshim, leader of the Ult Tagdyry (Fate of the Nation) movement.
"Therefore, we must express our position on the matter. The ban on ... the letters Z and V on any products and on our streets is a way to show that Kazakhstan opposes Russian aggression in Ukraine," Koshim told Caravanserai.
"I am 100% certain that we need such a law and that we need to stop the spread of Russian military propaganda in our country," Koshim said
Ruslan Tusupbekov, an international legal scholar from Astana, also welcomed the potential prohibition of Russian military symbols.
"But this alone isn't enough. The logical next step is needed -- to ban broadcasts in Kazakhstan of Russian TV channels Russia 24 and NTV, which act as the mouthpiece of official Russian propaganda," Tusupbekov told Caravanserai.
Astana political scientist Aman Mambetali, who agrees with the ban, warned that Russia could retaliate economically.
"I'm talking about the risks hidden in the close economic relations between Kazakhstan and Russia. No one has forgotten the blockade on oil exports from Kazakhstan via the CPC [Caspian Pipeline Consortium] pipeline for the wide variety of reasons put forward by Russia," Mambetali told Caravanserai.
For example, it was in June 2022, when Russia first reduced and then stopped the transportation of Kazakh oil through the oil terminal at the port of Novorossiysk.
The pretext was to remove World War II-era mines from the port. Later, in February, Russia blocked shipment of oil from the port, allegedly due to a glut of oil in the CPC's receiving system.