TBILISI/KYIV -- As Georgians mark the 15th anniversary of the 2008 war with Russia over the breakaway region of South Ossetia this month, many veterans of that conflict are once again fighting Russia -- this time on behalf of Ukraine.
The five-day Russo-Georgian war left more than 200 Georgian soldiers and 300 civilians dead, breaking apart hundreds of families and displacing thousands.
Following the conflict, Moscow recognized the breakaway regions of Abkhazia and South Ossetia as "independent" and substantially expanded its military footprint in both territories. Only Venezuela, Nicaragua, Nauru and Syria joined Russia in recognizing the two regions.
Many Georgian veterans of 2008 are now in Ukraine, where they are continuing to fight for their country's independence from Russia, motivated by revenge and by a desire to return to the occupied territories they were forced to flee.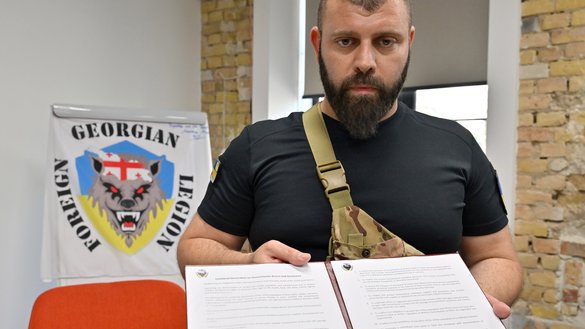 According to various estimates, more than 3,000 Georgians are fighting in Ukraine, outnumbered only by Poles among Ukraine's foreign troops, and about 50 have so far lost their lives.
On July 28, the Investigative Committee of Russia announced charges against more than 70 Georgian National Legion (GNL) members embedded in the Ukrainian military, including the unit's founder, Mamuka Mamulashvili.
But Russia will have a hard time prosecuting them, since all of them are at the front.
A few months earlier, the Investigative Committee announced legal proceedings against 24 GNL fighters.
"It's Russia that is in our sights, and not us in theirs," came the curt reply from the GNL's Archil Khoperia -- a retired Georgian military officer.
A soldier's father
Khoperia was quite young when he first went to war in 1992, a year that saw a massacre of Georgians at the hands of Abkhaz and North Caucasian mercenaries supported by Russia.
Georgia lost that unevenly matched fight. And Khoperia lost not only many comrades but also his own older brother, Dzhambulat.
Khoperia later named his son after his brother. And in the spring of 2022, the younger Dzhambulat ended up in Ukraine.
On December 1, Khoperia received a phone call:
"Your son died a hero near Bakhmut."
"The Georgian Legion properly avenged Dzhambulat, killing 11 Wagner mercenaries and destroying several dozen Russian vehicles," declared a post on the Legion's Facebook page a few days later.
"How could I have stopped him?" Khoperia asked Caravanserai. "He grew up precisely to join the fight when the time came. The time came."
Last winter, the gray-haired father took the place of his 25-year-old son. He is now among the oldest of the many hundreds of GNL members, teaching the art of war to young troops from many countries.
"Some Georgians still don't understand what is happening around our country and what threats it faces," he said, referring to the "200-year-old Russian yoke."
"My son knew exactly what was happening," he said.
'I could not sit at home'
More than 60,000 women from various countries are serving in the Ukrainian army, up to 5,000 of them on the front lines.
"In 2008, I was 13," Dr. Keti Leshkasheli, a Georgian citizen and Ukrainian army sergeant, told Caravanserai. "I saw how Georgians were killed, women were raped, and everything was desecrated, but I couldn't do anything."
"But when the invasion of Ukraine began in 2022, I could not sit at home."
"I ended up in the ... International Legion, and everyone is an equal here," she said, stressing that war is not exclusively the business of men.
The International Legion, like the GNL, is part of the Ukrainian military.
"The soldiers are not segregated by sex. The important thing is to do your job. And for me there is no better feeling than the knowledge that today I was able to save someone's life."
'Highly motivated fighters'
Several of the estimated 3,000 Georgians in the Ukrainian army shared their stories with Caravanserai.
"I'm from Abkhazia," Kakha Kardava, a chief company sergeant, told Caravanserai, noting that during the war in Abkhazia in 1992 and 1993, "Ukrainian volunteers [fighting for Georgia] often ate at the homes of me and my neighbors."
"In 2014, during Maidan, I sensed danger and contacted them," the former police officer said, referring to Ukrainian protests that ousted a pro-Russian president at the cost of more than 100 demonstrators' lives.
"Two friends and I had to sell our cars to buy [plane] tickets to Ukraine," where they signed up as volunteers that year to fight.
"My combat experience came from Georgia, of course," Kardava said. "I turned 15 years old in a tank, literally. Later came battles to defend the Kodori Gorge [the last Georgian outpost in Abkhazia, held until 2008]."
In Ukraine, Kardava first served as a platoon sergeant, training volunteers.
"We had both experienced and green fighters," he said. "But they were highly motivated ... They were so eager to fight that even their eyes blazed."
"Today, the entire Ukrainian people is an army," Kardava said.
"The Russian army is, at best, fighting according to the Chechnya model of the 1990s. Its most valuable troops, who comprised their sabotage and reconnaissance groups, have been mostly wiped out."
"So now, the more inexperienced soldiers they throw against us, the more fertilizer will be in the sunflower fields."
'Shoulder to shoulder'
"We Georgians will always be indebted to the Ukrainians," battalion commander Zurab Chikhelidze told Caravanserai.
"After they stood shoulder to shoulder with us in the 1990s [in Abkhazia], we were obliged to contribute to the struggle for Ukraine's freedom. And ours too."
Chikhelidze fought in the war with Russia in August 2008, was discharged by the Georgian army and immediately headed into a new war.
Since May 2015 he has had two homelands, he said.
"By that time, the Georgian army had lost motivation," he explained. "I no longer felt that the state was willing to resist aggression and occupation."
"The Georgian authorities did not help Ukraine [in 2022]. As a son of my country, I felt a special connection with Ukraine, almost a blood bond."
Before the "big one" broke out last year, Chikhelidze served as deputy battalion commander in the Donbas area. Now the lieutenant colonel commands a battalion created after the 2022 invasion.
"The drones, armored vehicles, artillery systems, tactics -- everything is very different from how we fought in Georgia in 2008. Not to mention the scale," he said.
"We learn very quickly."
'Natural and logical'
"At the end of February 2022, it was no longer possible to sleep. I know all of Georgia felt the same way," lawyer Beka Basilaia told Caravanserai.
"On the second or third day after the invasion, I realized that there were no longer sufficient ways of getting information. In short, I joined the war to calm down."
Basilaia became well known in Georgia as "Misha's lawyer." But that February, he forsook everything, including the case of his most famous client, former president Mikheil Saakashvili, and left to fight.
"It is so natural and logical for a Georgian to fight for Ukraine," he said.
Lacking combat experience, the former reservist Basilaia was not allowed to go to the front. He underwent drone operator training, which he now uses.
"These were mostly reconnaissance flights. Then we gradually began to mount grenades and drop them on the enemy. But in those days everything was handmade," said Basilaia, recalling the difficult first months of fighting.
"After the battles for Kyiv, we were transferred to the east. Near Pokrovsk (Donetsk province). We worked in mobile 10- to 15-person units. As Western weapons arrived, everyone learned to shoot Javelins, NLAWs [next generation light anti-tank weapons] and Stingers."
'Chaqucha'
In March 2022, rifleman and medic David Kuchukiani was clearing residents' homes and courtyards of land mines near Makarivka. In addition to his especially warm smile, Kuchukiani is most remembered for the hammer in his belt.
The unusual talisman immediately became Kuchukiani's nickname: "Chaqucha" ("hammer" in Georgian).
"In Irpin, we knocked out a BMD [infantry fighting vehicle] with Russian paratroopers. We lost two Georgians in that battle," Kuchukiani's comrade David Katsarava told Caravanserai.
"The captured vehicle turned out to have many different weapons. But Dato (David) found that hammer and said, 'I will avenge my brothers with this.' "
Chaqucha perished in April near Bakhmut. He did not part with the hammer until his death.
"But he also never used it," Katsarava said. "He didn't have to: Dato was a professional soldier and was proficient with any weapon."
An ethnic Armenian, Kuchukiani was born and raised in Georgia.
"My son loved his homeland very much and twice served in the Georgian contingent in Afghanistan," his mother, Nana Madosiani, told Caravanserai.
After his contract in the Georgian army ended, Kuchukiani moved to Poland as a construction worker.
"When the 'big one' began, he called and asked me to email him copies of certificates and photos of medals," his mother said.
"We were surprised -- why did he need medals at a construction site? He reassured us that he was planning only to train other fighters. But on February 28 [2022], he was already in Ukraine. Together with friends."
Chaqucha did not share details of the war, even with his family.
"We didn't know that he was fighting in Bakhmut," said his mother.
"Dato always said he would return only as a victor."