TASHKENT -- The Uzbek version of the world's most popular online encyclopedia continues to grow, providing uncensored, crowdsourced information to the region's residents.
The Uzbek language now ranks first in Central Asia in the number of published Wikipedia articles, surpassing Kazakh as the main regional language used, according to the Uzbek Youth Affairs Agency.
Wikipedia, launched in 2001, antagonizes authoritarian regimes by promoting freedom of speech and the transmission of information.
That is why authoritarian regimes like Russia's are trying to limit citizens' access to it or create alternative "web encyclopedias" that comply with the Kremlin's propaganda requirements, observers say.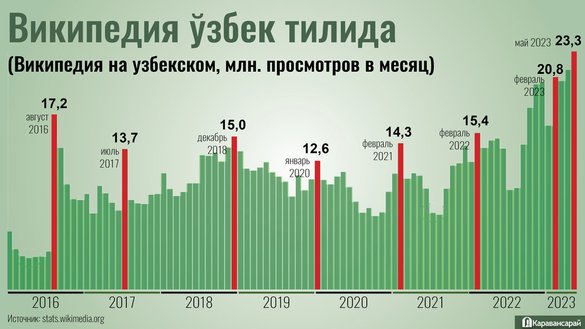 By contrast, Uzbek society has turned to Wikipedia as a free and reliable source of information.
To further encourage the use of Uzbek on the Internet, the Youth Affairs Agency in April held the WikiOromgoh ("Wiki Camp") project.
Specialists taught novices how to add and edit articles. In just the first three days of Wiki Camp, the number of Uzbek-language articles increased by almost 10,000.
Uzbek Wikipedia leads Central Asia
The Uzbek edition of Wikipedia appeared in 2003. At first there were very few content pages in Uzbek and, for the most part, only Russian-language content was available to Uzbek users.
By April 2022, there were approximately 140,000 content pages on the Uzbek version of Wikipedia, according to Uzbek Wikipedia administrator Nodir Atayev.
Now, there are over 240,500. Meanwhile, the number of articles in Kazakh stands at 234,250 content pages.
Last November Mehrinoz Abbosova, adviser to the director of the Youth Affairs Agency, announced an effort to motivate Wikipedia volunteers financially.
Wiki authors who publish the most articles will be eligible to receive from 10 to 50 million UZS (approximately $850 to $4,200), she said.
Earlier, in June 2022, President Shavkat Mirziyoyev ordered an increase in the number of Wikipedia articles about Uzbekistan and announced a corresponding allocation of 10 billion UZS (more than $800,000).
'More than 100,000 articles in one year!'
Previously, users in Central Asia mostly accessed Russian-language content, Atayev confirmed. But the situation has changed radically now.
"In Central Asia, Uzbek Wikipedia leads in terms of [users] starting to read more in the local language," he said. "For example, last month in Uzbekistan, the total number of views on Russian Wikipedia was 11 million, but the Uzbek edition garnered 12 million."
"This trend started in December last year, and it continues. This is a huge result," he added.
Atayev, 35, is a PhD candidate at Queen's University in Canada. He creates and edits Wikipedia content in five languages. He has been working on the Uzbek-language Wikipedia for 14 years.
Wikipedia is like a hobby for Atayev, who notes that the website's staff are all volunteers.
"We are now in first place in Central Asia. Kazakh Wikipedia comes after us. This is all thanks to the WikiStipendiya project, which we launched together with the Youth Affairs Agency," Atayev said.
The results have exceeded expectations.
"More than 100,000 articles in one year! A new generation of editors has appeared," he said.
Raising awareness among Uzbek speakers
The growth in the number of active users makes it possible to quickly create objective Uzbek-language articles about important world events, including the situation in Ukraine, Atayev said.
After Russia invaded Ukraine in February 2022, thousands of young Uzbek netizens tried to find true information online about the war, he said.
"Compared to last year, there are more users. More people are interested in the situation in Ukraine. We have begun to create articles about various armed conflicts more often," he said.
"It wasn't like this before. For example, nothing has been written about IS [the 'Islamic State'] for years."
The development of the Uzbek-language Wikipedia makes it an excellent platform for raising the awareness of Uzbek speakers and of those who want to study the language, said Uzbek book publisher Firuz Allayev.
"Today, a significant segment of young [Uzbeks] no longer speak or read Russian, and Wikipedia is a good opportunity for them to get reliable information in their native language," he said.
"This will be especially useful for schoolchildren, college students and teachers at schools and universities, as well as experts in various fields who are looking for information in Uzbek," he said.
Ambitious goals for Uzbek Wikipedia
Nikolai Artemyev, 38, an ethnic Russian born and raised in Tashkent, graduated from a teachers' college and writes and edits Wikipedia articles in Russian and Uzbek.
He considers his hobby useful, since he also teaches readers to find and understand new information.
"Not every novice can start writing good articles right away," he said. "Many people's knowledge leaves much to be desired. They not only misspell words, but sometimes misinterpret information or use unverified sources. Alas, there are still few sources or good authors in the Uzbek segment [of Wikipedia]."
Working on Wikipedia is not limited to creating texts, he said.
For example, the Wiki Loves Earth photo contest, organized by the Wikimedia Foundation and the Uzbek Ministry of Natural Resources, recently ended. The event added 3,283 photographs of Uzbekistan's natural features and protected bodies of water to Wikipedia.
Artemyev said like-minded volunteers plan to reach 1 million Wikipedia articles in Uzbek.
That goal is ambitious but feasible if the number of active users continues to grow, especially since about about 50 million people speak Uzbek.