ALMATY -- Kazakhs say they are uninterested in China's propaganda after the People's Daily, the Chinese Communist Party (CCP)'s newspaper, introduced its Kazakh-language edition online.
The newspaper on September 1 launched its Kazakh (Cyrillic), Italian and Swahili versions.
The new versions provide the populations speaking those languages with news on many topics, including Chinese politics, the economy, society, culture, and science and technology, according to an editor's note.
The new editions will help Chinese and other internet users -- both local and from other countries -- better understand one another and embrace dialogue, the note claimed.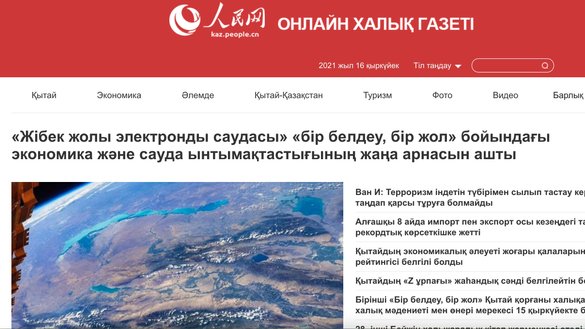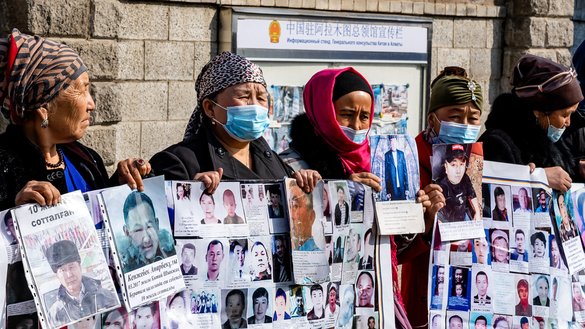 The initiative also marks the publication's next step toward its goal of creating a new, leading international media outlet with multilingual and global reach, it said.
The People's Daily is published in 11 foreign languages besides Kazakh: English, Japanese, French, Spanish, Russian, Arabic, Korean, German, Portuguese, Italian and Swahili.
The newspaper is making every effort to "globalise the Chinese dream and China's voice" by disseminating truthful, comprehensive information, the editors wrote.
The first articles published in Kazakh praised China's work in different areas.
For example, one story recounts how the Turgusun hydro-power plant in eastern Kazakhstan, which a Chinese company built as part of Beijing's self-serving Belt and Road Initiative (BRI), went online in July and began supplying electricity to the country.
Another story reports on a meeting between the Chinese ambassador to Kazakhstan and former Kazakh president Nursultan Nazarbayev, in which he congratulated the CCP on its centennial.
In the article, Nazarbayev expressed confidence that the party would "lead its people to a bright future".
An instrument of soft power
The People's Daily Kazakh edition will provide only positive coverage of the actions of the CCP in order to elevate its image among Kazakhs, predicted Alexander Yegorchenko of Almaty, editor-in-chief of the Kazakhstan Securities Market magazine.
"Of course they're going to write a lot about the 'friendship' between the countries," he said.
The newspaper will also cover how China is purportedly supporting Kazakhstan "by doing things like investing in infrastructure projects and building factories and highways, and much more", Yegorchenko told Caravanserai.
The initiative represents an attempt by China to assuage rising anti-China sentiment in Kazakhstan, said Sanjar Iskanderov, spokesperson for the Almaty-based publisher Drakkar.
"The majority of Kazakhstan's residents don't trust China and are wary of Chinese expansion into our country in any form. Beijing is aware of that and is trying to somehow remedy the situation," Iskanderov told Caravanserai.
Anti-China demonstrations have been a frequent occurrence in Kazakhstan over fears that Beijing will seize land and exploit Kazakh resources.
In one demonstration in Almaty in September 2020, protesters demanded the expulsion of Zhang Xiao, the Chinese ambassador to Kazakhstan, for statements that they saw as a threat to Kazakhstan's national security.
In May 2021, Kazakhstan banned the sale of agricultural land to foreigners in a move linked to country's growing unease with Chinese territorial encroachment and investment schemes.
Activists are also deeply concerned about ceaseless violations of the rights of ethnic minorities, including Kazakhs, in Xinjiang region, China.
Chinese authorities have sent more than a million Muslims, including ethnic Kazakhs and Kyrgyz, to ideological indoctrination camps.
Since the beginning of the 2021, Kazakhs have protested daily outside the Chinese consulate in Almaty, demanding that Beijing release relatives and friends detained as part of China's repression of Muslims in Xinjiang.
In August 2021, expert said that China is tightening its customs policies for Kazakh exports in a move aimed at punishing Kazakhstan for granting refugee status to ethnic Kazakhs who are fleeing the Chinese regime.
To try to burnish its tainted image in Kazakhstan, China has adopted a tactic of spreading the propaganda of Chinese policies and values in Kazakh, said Iskanderov.
"But it's unlikely that this will help them -- the problem is extensive," he said.
'No thanks'
For the most part, Kazakh internet users are sceptical of and resentful about the CCP newspaper.
"That's all we were missing -- Chinese propaganda. What Kazakhs are going to read their website? None, except for people who live in China who are interested in their news," said Yelnur Imasheva, a student at Al-Farabi Kazakh National University.
"The People's Daily reminds me of the Soviet press, which put out boring, flattering stories about the accomplishments of the Communist Party," said Yelena Platonova, a homemaker from Nur-Sultan.
"We're not going to consume that kind of content. Thanks but no thanks."
For its part, Beijing itself has thrown fuel on the fire, further inflaming anti-China sentiment.
For example, in April 2020 the independent Chinese website Sohu.com published an article titled "Why Kazakhstan Is Eager to Return to China" that cast doubt on Kazakhstan's ownership of its territories and asserted that the land is historically Chinese, while "Kazakhstan was a vassal of the Qing dynasty".
Observers said that the Chinese authorities were most likely aware of this article before it went to press. After the article was published, the Kazakh government lodged an official protest with China the same month.
Even though it has begun publishing in the local language, the People's Daily will not be able to win over Kazakh readers, said Iskanderov.
"If they're going to try justifying their policies in Xinjiang in Kazakh, that will only infuriate Kazakhs again," he said.