BEIJING -- China's policies aimed specifically at reducing the population of Uighurs and other Turkic-speaking minority groups in Xinjiang could prevent the birth of about four million Muslim babies over the next two decades, new research shows.
Projections show reduced minority birth rates could raise the proportion of Han Chinese -- a majority in the rest of China -- from the current 8.4% to 25% in the Uighur "heartlands" of southern Xinjiang.
Beijing has for years sought to tighten its grip on the vast border area historically marked by economic inequality and sporadic outbreaks of unrest.
Manipulating Xinjiang's demographics
Millions of Han Chinese relocated to Xinjiang in recent decades to find work in the coal- and gas-rich region in a settlement drive that has caused friction on the ground.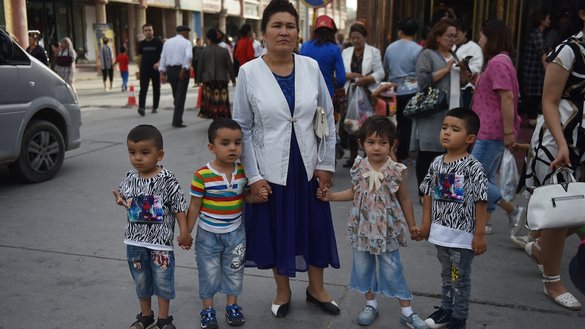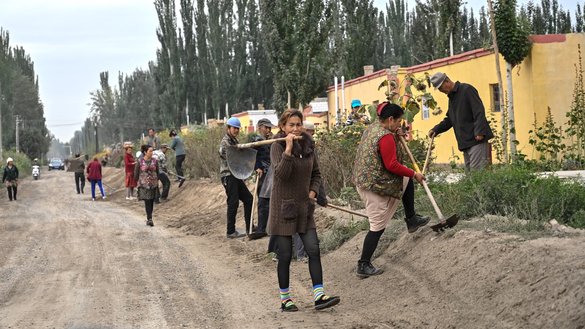 Publicly available documents by Chinese security researchers blamed the density of minority communities as the "underlying reason" for unrest and proposed population control as a risk reduction method, according to German researcher Adrian Zenz.
At the same time, documented official fears about the arid region's lack of natural resources to support an influx of Han settlers suggest that Chinese authorities see birth suppression as a key tool for manipulating the area's demographic makeup, he said.
Beijing on May 31 announced a major reform of policy governing the number of children a couple may have, increasing it to three as the country grapples with an ageing population.
But scholars say the Chinese regime does not view all babies as equally desirable in Xinjiang, and is actively pursuing a policy of decreasing the number of children born to ethnic minorities.
Strategies include ramped-up birth control policies in the region -- including forced sterilisation and imprisonment for having too many children.
Focusing on four prefectures in southern Xinjiang and using models recommended by multiple Chinese scholars, Zenz calculated that Beijing could aim to raise the number of Han in "traditional Uighur heartlands" to a quarter of the population.
Zenz said he found "an intent to reduce ethnic minority population growth in order to increase the proportionate Han population in southern Xinjiang".
'No longer baby-making machines'
Official data shows Xinjiang's birth rates nearly halved between 2017 and 2019 -- the steepest drop of all Chinese regions and the most extreme globally since 1950, according to an analysis by the Australian Strategic Policy Institute.
Chinese diplomats earlier this year attempted to spin the population drop as a positive outcome of the regime's counter-extremism efforts.
"The minds of [Uighur] women in Xinjiang were emancipated and gender equality and reproductive health were promoted, making them no longer baby-making machines," China's embassy in the United States tweeted.
The tweet included a link to a January 7 article by state mouthpiece China Daily that cited an unpublished report on population change in Xinjiang since 2018 by the Xinjiang Development Research Centre.
Residents of Xinjiang resisted family planning because of their religious extremism, and the eradication of such extremism gave Uighur women more autonomy when deciding whether to have children, the report said.
"The changes were not caused by 'forced sterilisation' of the Uighur population, as repeatedly claimed by some western scholars and politicians," it said, denouncing Zenz by name.
The ethnic minority population in southern Xinjiang would reach 13.14 million without interference by 2040, according to Zenz's latest research.
Suppression measures, he said, could prevent up to 4.5 million births among Uighurs and other ethnic minorities during that period.
'Grave concerns'
China has faced mounting international criticism over its policies in Xinjiang, where the international community says Beijing is committing genocide.
On Tuesday (June 22), more than 40 countries led by Canada voiced "grave concerns" at the United Nations (UN) Human Rights Council about China's actions in Xinjiang, Hong Kong and Tibet.
The statement received backing from Australia, Britain, France, Germany, Italy, Japan, Spain and the United States, among others.
The number of signatories is an increase from the 22 ambassadors who wrote to UN rights chief Michelle Bachelet in 2019 condemning China's treatment of the Uighurs.
Beijing must allow Bachelet and other independent observers "immediate, meaningful and unfettered access" to Xinjiang, and end the "arbitrary detention" of Uighurs and other Muslim minorities, the statement said.
"Credible reports indicate that over a million people have been arbitrarily detained in Xinjiang and that there is widespread surveillance disproportionately targeting Uighurs and members of other minorities and restrictions on fundamental freedoms and Uighur culture," it said.
The detainees include Uighurs, ethnic Kazakhs and Kyrgyz, and other Muslim minorities.
The statement cited reports of torture or cruel, inhumane and degrading treatment or punishment, forced sterilisation, sexual and gender-based violence, and forced separation of children from their parents.
The joint declaration also expressed concern over the deterioration of fundamental freedoms in Hong Kong and the human rights situation in Tibet.
Beijing denies mistreating the Uighurs and insists it is simply running "vocational training centres" designed to stamp out terrorism and improve employment opportunities.
"Places inhabited by ethnic minorities, such as Xinjiang and Tibet, have stood out as shining examples of China's human rights progress," Chinese Foreign Minister Wang Yi said February 22.