BEIJING -- China's crackdown in Hong Kong escalated dramatically on Wednesday (January 6) with police arresting as many as 50 opposition figures in their largest operation since a draconian security law was imposed on the financial hub.
The sweep is the latest salvo in Beijing's battle to stamp out opposition after millions hit the streets in 2019 with huge pro-democracy protests.
"This is a real night of the long knives, the largest single attack upon democracy in Hong Kong yet," Antony Dapiran, a lawyer who has written books on the city's protest movement, wrote on Twitter.
Nathan Law, a prominent democracy leader who fled overseas last year, accused authorities of trying to "extinguish the flames of resistance" with the latest arrests.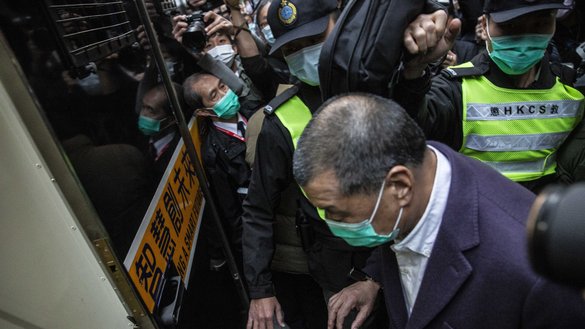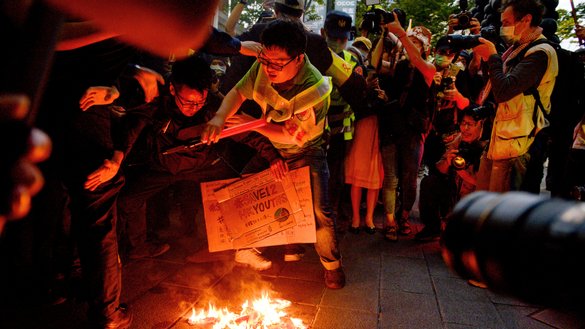 Hong Kong police did not respond to requests for comment on how many they had arrested and why.
As China continues to exert its authoritarian power both within and outside its borders, more stories are emerging of the suffering Beijing is inflicting in its attempt to crush dissent.
Increasingly threatened by Hong Kong's pro-democracy movement, Beijing has been cracking down on dissent in the semi-autonomous city, sending a warning to other countries in Asia, where China is vying for political, economic and cultural clout.
Earlier on December 30, a Chinese court jailed 10 Hong Kong democracy activists for up to three years over a bid to flee the city by speedboat to Taiwan.
The Chinese coastguard arrested the so-called "Hong Kong 12" on August 23 en route to self-ruled Taiwan, which Beijing considers a renegade province and which has quietly opened its doors to Hong Kong residents seeking sanctuary.
The court in Shenzhen sentenced Tang Kai-yin to three years in jail and Quinn Moon to two years for organising the crossing. Eight others were sentenced to seven months. The 10 also were fined up to 20,000 CNY (US $3,060).
Two minors in the group were returned to Hong Kong.
US Secretary of State Mike Pompeo denounced the court's ruling and called for the 10 to be "immediately and unconditionally released".
"A regime that prevents its own people from leaving can lay no claim to greatness or global leadership," he said in a December 31 statement. "It is simply a fragile dictatorship, afraid of its own people."
'Fake letters'
After their arrest and before their trial, seven of the "Hong Kong 12" sent handwritten letters to their families, offering them reassurance and urging them not to talk to the media.
But in a November 20 statement, the families said the letters were likely written under duress and seemed to adhere to a template.
"There were many letters that directly 'responded' to the doubts of the outside world about China," the statement said. "It is doubtful that they wrote the letter out of their own free will."
"I live very well here. Do not worry about me. I am very healthy, and I am full from three meals every day," read one letter from detainee Cheng Tsz-Ho dated October 21.
"I sleep well, eat well and rest well here," said another letter from Tang Kai-yin dated October 24. "The [staff] of the detention centre are very kind."
Forced confessions, torture and lengthy incommunicado detentions have been extensively documented inside mainland China's legal system.
The reports of mistreatment are reminiscent of what Beijing is doing farther west in Xinjiang, where there is further evidence of China's rapid escalation of its campaign against Muslim minorities, as a new investigation revealed that the communist state has built more than 100 new detention facilities.
'I would rather die'
A Chinese activist who filmed herself defacing a poster of President Xi Jinping in 2018 recently posted a tearful video in which she claimed she had been heavily surveilled by authorities since the incident.
Dong Yaoqiong, now 31, had live-streamed herself splashing ink on a poster of Xi in Shanghai. She posted the video on Twitter, where it has been viewed tens of thousands of times.
Friends told AFP she had been forcibly admitted to a psychiatric unit twice since the 2018 incident, despite being in a "normal" psychological state.
In her latest video -- the first time she has spoken out since the incident -- Dong said authorities now heavily restrict her movements and social contacts.
"I would rather die," she said. "I cannot take this stifling surveillance any more -- maybe I am on the brink of collapse. I do not have any freedoms at all; they are all restricted."
The video was deleted after authorities visited her the next day, according to Ou Biaofeng, a Hunan-based activist who has been in regular contact with Dong.
Twitter is blocked in China, along with a number of other social media sites, but many individuals use virtual networks to get around online restrictions.
Media under attack
Hong Kong pro-democracy media tycoon Jimmy Lai, 73, was ordered back to jail December 31 as the city's highest court granted prosecutors an appeal against his bail.
Lai is battling dubious fraud charges, the latest in a string of prosecutions brought against high-profile Beijing critics and democracy campaigners.
He owns Hong Kong's best-selling Apple Daily, a popular tabloid that is unashamedly pro-democracy and fiercely critical of authorities.
He and two of the firm's executives are accused of allowing the newspaper's offices to be used for purposes not permitted by its building's lease.
Lai was granted bail December 23 on stringent conditions, including a 10 million HKD ($1.3 million) bond and a surrender of all travel documents.
He was placed under house arrest and banned from speaking publicly.
Lai is accused of colluding with foreign countries by calling on overseas governments to sanction Hong Kong and China in response to the ongoing crackdown on pro-democracy activism in the city.
More than 1,000 of his tweets and a number of media interviews he gave have been examined by the prosecution.
Lai also faces separate charges of fraud and joining unlawful assemblies during the massive, often violent, pro-democracy protests of 2019.
China's top party mouthpiece People's Daily had criticised the bail decision and threatened that Lai could be extradited to mainland China for trial.
Territorial rows
China's increasing willingness to repress those under its rule coincides with its willingness to flex its military muscles and violate the sovereign territory of its neighbours.
For example, Chinese jets made a record 380 incursions into Taiwan's defence zone last year, a Taiwanese defence official said Tuesday (January 5).
Democratic and self-ruled Taiwan lives under the constant threat of invasion by authoritarian China, which views the island as its own territory and has vowed to seize it one day -- by force if necessary.
Taiwan has had its own government since 1949.
Chinese aggression has extended to India as well.
In mid-June, Chinese and Indian soldiers engaged in violent hand-to-hand fighting in the Ladakh region that left 20 Indian troops dead. The Chinese regime acknowledged suffering casualties but has not revealed any figures.
Meanwhile in Central Asia, Beijing has been floating the idea of the return of "its" territories in order to gauge the reaction of the local population in what observers say is a direct threat to the region's sovereignty.