A massive new drone production factory in Russia's Tatarstan republic that operates as an "Iranian franchise" and aims to build 6,000 drones by summer 2025 is behind schedule and beset with difficulties, according to media reports.
Production has stalled as the Kremlin encounters difficulties accessing key parts and engineering expertise, with 25% of the drone parts shipped from Iran damaged or faulty, according to a Thursday (August 17) Washington Post report.
Meanwhile, language barriers and employee shortage and retention issues abound, with Russia employing aggressive and unorthodox tactics to hire and retain drone factory workers from countries in Central Asia and Africa.
The Russians have become especially dependent on Tajik women, whose language is related to Farsi.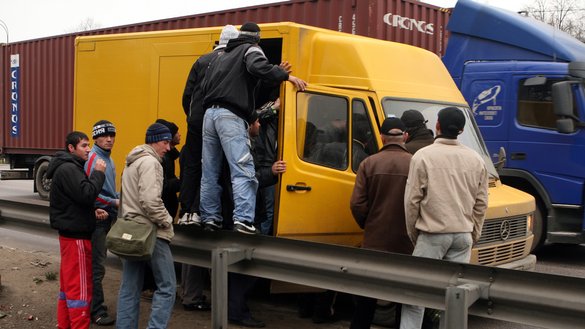 Drone assembly is being carried out in the Alabuga Special Economic Zone in the town of Yelabuga near the Kama River, about 800km east of Moscow and due north of Kazakhstan, with parts and expertise supplied by Iran.
By producing drones domestically, Russia seeks to replenish its supply of unmanned aerial vehicles (UAVs), commonly known as drones, on the front line of its battle with Ukraine.
So far, Iran has mostly provided Russia with Shahed-136 "suicide drones", which contain a modest amount of explosives that detonate when the drones crash into their targets, US and Ukrainian officials have said.
The Shahed-136 is a slow and loud drone with propeller engines, making it relatively easy to spot and shoot down.
New documents obtained by the Washington Post show engineers "are trying to improve on Iran's dated manufacturing techniques, using Russian industrial expertise to produce the drones on a larger scale than Tehran has achieved".
"The engineers also are exploring improvements to the drone itself, including making it capable of swarm attacks in which the UAVs autonomously coordinate a strike on a target," the newspaper said.
But researchers at the Washington-based Institute for Science and International Security who reviewed the documents estimated that work at the facility is at least a month behind schedule.
They said the facility has reassembled drones provided by Iran but has itself manufactured only drone bodies, and probably for not more than 300 of the UAVs, the newspaper said, and is "unlikely to meet its target date."
The Russian-Iranian cooperation at the Alabuga facility reportedly included the transfer of drone designs, provision of electronic components and training of production staff -- which has proven to be problematic, media reports say.
Aggressive retention tactics
Among the key problems the Alabuga facility faces is a shortage of staff -- particularly staff with language skills who can understand Iranian specialists and relay their instructions to the Russian-speaking workforce.
Investigative reports published in July by the Razvorot and Protokol outlets show a Russian state-backed program is working to address this challenge by enticing young women from developing countries to the plant, Eurasianet reported.
African women have been lured in to do the menial, low-level jobs, it said.
Women from Tajikistan, who can communicate with the Iranian weapon engineers, are a particular target of recruiters for the higher-skilled jobs.
Despite promises of high pay and training, conditions for workers at the new facility are exploitative and dangerous, and retention has been a challenge.
"Central Asian workers who held low-level jobs at Alabuga were sent to Iran because they speak a language similar to Farsi," per the Washington Post.
"They were supposed to observe the assembly process on Iranian production sites, interpret for the rest of the delegation and undergo training that would allow them to build drones back in Russia."
One delegation was almost bombed during a site visit in Iran, the newspaper said.
"Alabuga also has sought to recruit young people for menial assembly-line positions, with glitzy ads promising 'a career of the future' and subsidized housing," the newspaper said, with ads on Telegram targeting young women.
One ad invites women ages 16 to 22 to relocate to the site and "build a promising career in the largest center for training specialists in UAV production".
If the promised salary is not enough to entice them to stay, more aggressive retention tactics are used "including seizing passports and requiring workers to seek sign-off before leaving their positions," the Washington Post said.
Hostile work environment
The effort to recruit Central Asians began in earnest in early July, with ads on Telegram and other social networks targeting aspiring students, Eurasianet reported.
Ads also appeared in high-profile media outlets in the region, it said, pushing an initiative dubbed the "Alabuga Start" project via enrollment in the Alabuga Polytechnical College and offering "students" free accommodation.
Protokol reported that students were put to work around the clock, without breaks for sleep or meals, in factories assembling the drones.
They also were pressed into bizarre team-building exercises that involved games of paintball, with "mock executions" for the losing sides, it said.
The students were ordered not to speak publicly about what they were doing on penalty of fines, and were "constantly monitored by means of wiretaps and video surveillance fitted throughout the college and residential areas."
"Even the personal correspondence of the young women was vetted by administrators," the outlet said.
Russian-Iranian military cooperation has run into roadblocks elsewhere as well.
Despite a highly anticipated and heavily touted deal the Iranian regime struck with Moscow earlier this year, Iranian media outlets recently reported that Russia will not deliver Sukhoi-35 (Su-35) aircraft to Iran as expected.
Neither government has offered an explanation for the failed transaction.