Though Iran has attempted to hide its role in the manufacture and export of drones that its proxies and allies have used to stage attacks in the Middle East and Ukraine, forensic evidence reveals the Islamic Republic's fingerprints.
In a January 13 report, the Royal United Services Institute (RUSI), a UK defence and security think-tank, set out the forensic evidence that links Iran to unmanned aerial vehicle (UAV), or drone, attacks in the region and beyond.
The report notes that debris from the September 2019 drone attacks on the Abqaiq and Khurais oil installations in Saudi Arabia first brought to light an aircraft the Saudis described as an "unknown delta wing UAV".
Though Iran typically displays its drones in military parades and exhibitions, RUSI observed, this model was not exhibited prior to the attack, "nor did it appear for some considerable time after that attack".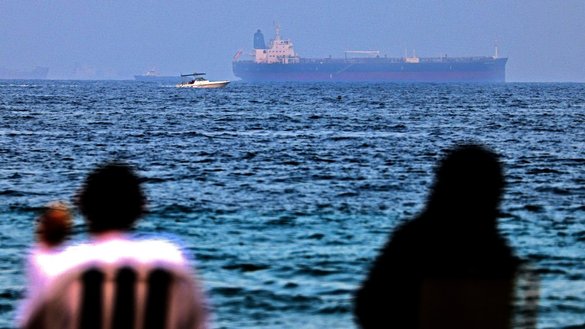 But five years earlier, in December 2014, Iran's hardline Mashregh News Agency had featured 10 types of UAVs that could be used for suicide missions, RUSI said, including one called Touphan (Typhoon).
The description of the Touphan was accompanied "by an image of a delta wing UAV, very similar to one that struck Saudi Arabia in 2019", it said.
"Significantly, the 'Touphan' was never displayed again by Iran."
It is possible that Touphan was the progenitor of the weapon used in the Saudi attacks, the report suggests, and that the Islamic Republic may have kept its adaptation and capabilities secret in order to hide Iran's role in Yemen.
Iranian beneath the paint
Iran fully supports the Houthis, supplying them with "rockets, missiles and UAVs, which are used to attack Saudi military, industrial and civilian infrastructure deep inside the kingdom's territory", the RUSI report said.
But as a 2015 United Nations (UN) Security Council resolution prohibits arms shipments to all parties in Yemen's conflict, "the Iranians maintain the fiction that all the Houthi missiles and UAVs are of indigenous design and production".
"To maintain this fiction, the Iranian ballistic missiles smuggled in sections to the Houthis are rebranded and repainted," RUSI said, with UAVs striking Saudi Arabia "seldom shown in Iranian colours or used by Iran's armed forces".
After the Mercer Street tanker was attacked in July 2021, an examination of the debris of the UAV found on the deck "revealed that it was identical to the 'unknown delta wing UAV' from the September 2019 Saudi attack", it said.
The unknown UAV was "outed" by Israel as the Shahed-136 in September 2021, and openly acknowledged by Iran shortly afterwards.
The Shahed-136 is actually a scaled-up version of the original, smaller weapon used in the 2019 Saudi attack, now known as the Shahed-131, RUSI said.
In September 2022, three types of Iranian-designed and -produced UAVs were found in Ukraine -- the Shahed-131, Shahed-136 and Mohajer-6 -- "frequently displayed by Iran in arms exhibitions and military drills".
Iran initially denied supplying the drones to Russia, while the Russians repainted them and renamed the Shahed 131 and 136 Geran (Geranium) 1 and 2.
Drone production in Iran
The vast majority of Iranian drones are manufactured domestically, according to Iran Primer, although new evidence indicates components "may have been acquired in the gray market or were acquired covertly".
Shahed series drones are designed by the Shahed Aviation Industries Research Centre, near Isfahan, per RUSI, and are produced by the Iran Aircraft Manufacturing Industrial Co. (HESA), headquartered in Tehran.
HESA is controlled by Iran's defence ministry and is under US sanctions, according to the US Treasury.
Isfahan also is a major centre of missile production, research and development for Iran, and the site of four small nuclear research facilities, all supplied by China many years ago, the New York Times (NYT) reported January 29.
In January, explosions damaged "a military industrial complex [in Isfahan] thought to be a production hub for drones and missiles" apparently used across the Middle East and by Russian forces in Ukraine, the Guardian reported.
Iranian news agency IRNA claimed the facility was an ammunition factory, though "it is not clear why Iran would build an ammunition production plant in the middle of a city of roughly two million people", the NYT said.
Kermanshah in western Iran has been identified as the country's main manufacturing and storage plant for military drones.
There is also a drone factory in the northwestern city of Tabriz, and the Parchin military complex, to the southeast of Tehran, develops drone, missile and nuclear technology, per the Middle East Institute (MEI).
In February, Iran's conventional (Artesh) Air Force unveiled a new base built "hundreds of metres" underground in an undisclosed location.
The "Eagle 44" base reportedly holds fighter aircraft and UAVs and "has all the required equipment for supporting a multitude of fighter aircraft", Iranian state media reported.
Exports and external production
Iranian Armed Forces Chief of Staff Maj. Gen. Mohammad Bagheri last month revealed that Iran's military equipment has "multiple clients", without giving details, Islamic Revolutionary Guard Corps (IRGC)-affiliated Tasnim News reported in February.
Iran and Russia have signed an agreement to establish a drone manufacturing facility in the Russian city of Yelabuga to produce 6,000 of an advanced type of the Shahed-136, according to the Wall Street Journal (WSJ) and Iranian media.
An Iranian delegation reportedly visited the city on January 5 and viewed an "empty site" where a drone production facility would be built.
"On May 17, 2022, Iran inaugurated a drone factory in neighbouring Tajikistan," MEI said in a June 3, 2022, report.
"The factory is officially Iran's first drone production facility abroad and will manufacture and export the Ababil-2, a multipurpose drone with reconnaissance, combat, and suicide capabilities," it said.
"Aside from reinforcing relations with Dushanbe, Iran built the factory to boost its drone exports to Tajikistan and other countries that are not under US sanctions," the report said.
Since Iranian President Ebrahim Raisi took office in August 2021, Iran "has sought out buyers for its military drones beyond its predominantly quasi- or non-state partners and proxies in the region", MEI said.
It has reportedly transferred to Venezuela the technology for the Mohajer-6 surveillance and combat drone, and has delivered two Mohajer-6s to Ethiopia.
Despite its clear interest in exports, however, Iran "has only had limited success selling its weapons to a handful of states, such as Ethiopia, Sudan, Tajikistan and Venezuela", the Carnegie Endowment said in an October 26 report.
"The deployment of the Shahed and Mohajer drones have [sic] given Iran an important propaganda opportunity," the report said, pointing out that IRGC social media accounts have posted videos of the drone attacks in Kyiv.
With all eyes on Russia, "Iran's armaments have accrued valuable attention and potential future clients, particularly from rogue regimes and sanctioned states that face difficulties in acquiring these weapons", it said.