TASHKENT -- Before Russia's invasion of Ukraine, Khurshid Buriyev, a 25-year-old Uzbek migrant, was earning $500–600 a month producing construction materials in Ingushetia, Russia.
Amid the economic aftershocks of Moscow's aggression, however, he is now thinking of returning home.
The international sanctions imposed on Russia after its invasion of Ukraine sent the Russian economy into a tailspin.
"I wasn't expecting this military conflict to affect me. My wages started falling in April. Now I earn about $300 [per month], but for me and my family in Uzbekistan, that is a catastrophically small amount," said Buriyev, who has been working in Russia for three years.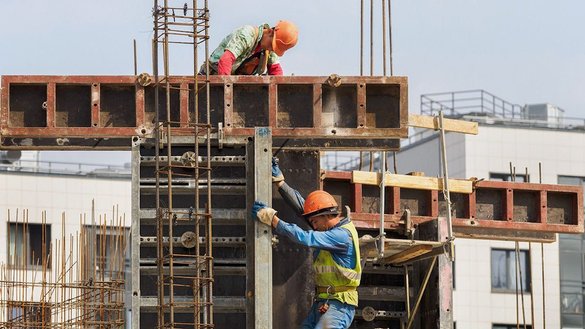 "Now I'm thinking of going back since I can earn that much money at home too," he said.
Buriyev is not alone as Russia continues to face sanctions for the invasion.
"Remittance flows to many Central Asian countries, for which the main source is Russia, will likely fall dramatically," the World Bank said in its latest Migration and Development report.
"These declines, combined with rising food, fertilizer and oil prices, are likely to increase risks to food security and exacerbate poverty in many of these countries," said the report published May 11.
The war in Ukraine and subsequent new sanctions against Russia will lead to a decline in remittance flows, with Kyrgyzstan experiencing a 32% drop; Tajikistan, a 22% drop; and Uzbekistan, a 21% drop, this year, according to the report.
Remittances "constitute a vital source of finance and growth for the economies of Central Asia, for which Russia is the prime source", it noted, adding that they made up 34% and 33% of GDP in Tajikistan and Kyrgyzstan, respectively, in 2021.
"The war in Ukraine has also affected international payment systems, with important implications for cross-border remittance flows. The exclusion of Russia from the SWIFT payment system has added a national security dimension to international payment systems," the report said.
Goodbye, Russia
Uzbekistan is the largest exporter of labour to Russia.
From January to September 2021, the three countries that sent the most job seekers to Russia were Uzbekistan (3,054,180), Tajikistan (1,597,481) and Kyrgyzstan (623,465), according to the Russian Interior Ministry (MVD).
In 2021, Uzbeks working abroad sent back $8.1 billion in remittances to their country, up from $6 billion in 2020, according to the Uzbek Central Bank.
Before the war, Uzbek citizens working in Russia sent their money home in US dollars and their families changed it into soms.
But on March 1, the Russian government banned the sending of remittances in US dollars, forcing migrants to use the unstable Russian ruble.
The war has made the Russian labour market unstable as well, with many migrant workers reporting withheld wages.
Over the course of four months this year, 133,000 migrant workers returned to Uzbekistan from Russia, including 50,000 in March and 54,000 in April, according to Uzbek government data. From January to April, a total of 282,300 migrant workers returned to their home countries.
Back in Uzbekistan, Buriyev's mother, disabled father and younger brother and sister still wait for his remittances.
Without the money her son used to send from Russia, things will be hard for the family, said Matlyuba Nusratova, Buriyev's mother.
Nevertheless, she told her son to come home.
"Things are tough for us now, but we'll look for a job for him here. I'm afraid that the war won't end for a long time, and that could make the situation worse for my son and other working Uzbeks," Nusratova said.
Difficulties at home
With hundreds of thousands potentially returning home from Russia, Uzbek analysts are raising concerns over unemployment in Uzbekistan.
Uzbekistan's unemployment rate in 2021 was 9.6%, according to the government, though the actual rate is believed to be higher.
Uzbekistan will not be able to employ all the migrants who have returned from Russia, especially because the country is already dealing with unemployment, according to Anvar Nazirov of Tashkent, an economist.
The government will try to mitigate the problem, he said.
"But jobs aren't created just like that, from the top. You need private investment for that, and we're just not seeing that right now," Nazirov said.
The Uzbek government is studying "new labour markets in Europe and the Persian Gulf countries" as a destination for migrant workers, said Uzbek journalist Tolib Rakhmatov.
However, when it comes to redirecting them to other countries, taking into account the quality of the labour force is essential, Nazirov said.
"Compared to South Korea or Europe, the Russian economy is primitive, and consequently its demand for labour is totally different. Russia is interested in low-skilled workers for the service sector and labourers for construction sites who perform the hardest work," Nazirov said.
The Uzbeks who have been doing strenuous, low-skilled work in Russia might not be in demand in more-advanced economies, he added.
Others warn of the political crisis that unemployment might cause for Central Asian countries.
"The return of migrant workers to the region could bring with it not just a socioeconomic crisis but also a serious political crisis," Adil Turdukulov, a journalist and analyst from Bishkek, said.