TASHKENT -- Russian employers facing the consequences of Moscow's invasion of Ukraine are increasingly withholding wages from migrant workers, forcing many to return home or seek employment elsewhere.
The Russian economy has been deeply damaged by sanctions and the exit of international business since the country invaded Ukraine, AFP reported Monday (August 1), citing a new report by Yale University business analysts and economists.
Even though Moscow has been able to pull in billions of dollars from continued energy sales at elevated prices, largely unpublished data show that much of its domestic economic activity has stalled since the February 24 invasion, according to the report released in late July.
"The findings of our comprehensive economic analysis of Russia are powerful and indisputable: not only have sanctions and the business retreat worked, they have thoroughly crippled the Russian economy at every level," said the study by the Yale School of Management.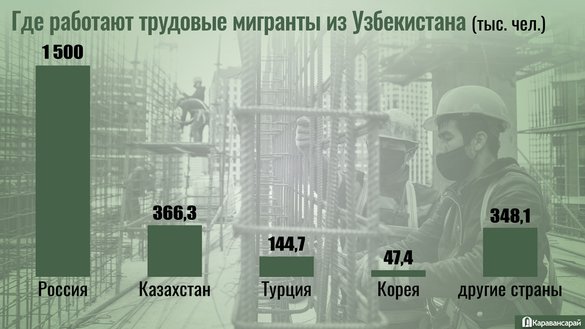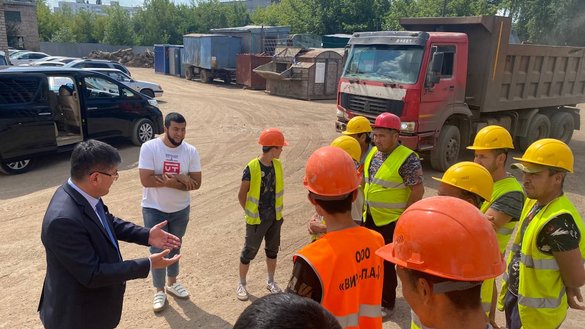 "Russian domestic production has come to a complete standstill with no capacity to replace lost businesses, products and talent," the 118-page report said.
As a result, more and more Russian companies are delaying payments or trying to force migrants to work without pay.
Migrant workers from Uzbekistan July 13 lodged a complaint with the Uzbek Agency for External Labour Migration accusing an employer in Samara of confiscating the passports of five workers from Uzbekistan and forcing them to work since March without pay.
After the agency intervened, the employer at the end of July paid the migrants 606,400 RUB ($10,000) in back pay.
Such incidents are being increasingly reported.
From January through June of this year, the agency enforced the payment of more than $523,000 in outstanding wages to Uzbek citizens.
"In February and March the topic of the requests we get changed. In particular, in the last two months, 2,200 citizens received legal assistance, of whom 1,300 had not received their pay on time," Azim Akhmatov, a department head at the agency, said in April, according to Upl.uz.
The number of complaints from migrants regarding withheld wages previously made up 10-15% of the total number of complaints, he noted.
Even Russian workers have seen their wages being withheld.
Unpaid wages in Russia totalled 889 million RUB ($14.5 million) as of May 1, according to figures made public by the Russian government then. That figure represented an 11.8% decline from April 1.
Many Russian companies where Uzbeks were working have closed, said Tolib Rakhmatov, a journalist who reports on migrant workers issues.
"They took out loans, but once they declared bankruptcy, they couldn't pay the wages they owed. Under the law, the business that buys the bankrupt company must pay the wages," he said.
"But there's a lot of red tape here, and the matter can't be solved quickly -- not in a day or two or a week. Naturally, the new owners say, 'We'll pay, just be a little patient,'" Rahmatov said.
Heading home
Almost half of Uzbek migrant workers in Russia were considering leaving soon, according to a survey conducted by the Uzbek Agency for External Labour Migration in April.
Some 15% of the 15,000 respondents said they had been fired, and 25% said they wanted to leave Russia because the exchange rate of the ruble was unstable.
Another 24% reported that they were still working and would consider returning to Uzbekistan if they lost their job, and 36% of respondents said they were not planning to go home.
The recruitment of migrants to Russia has also dropped.
The organised recruitment of migrant workers from Uzbekistan to Russia in the first half of 2022 was roughly one-sixth of what it was in the same period in 2021, according to the agency in July.
Some 3,906 Uzbeks went to work in Russia through organised recruitment this year, down from 22,116 in the first half of last year, it said.
Russia before February and Russia after February are like two different countries, said Akbarali Suyunov, 43, an Uzbek migrant who has been working in construction in Moscow for seven years.
The employer at his latest construction project started withholding wages in May.
"They tell us it's because of the sanctions," he said.
"It's the same situation with building materials. Sometimes we are idle for days because we don't have materials."
"For now I'm eating, but badly, and I have a place to live, but I also need to send money home to my family. I have a wife and three children. They live entirely on my remittances," he added.
Suyunov said he has begun looking for a new job.
"If I don't find a job, I'll go home. Maybe I'll try to find work in Kazakhstan or sign up to be sent to South Korea. I've heard that they pay more there than in Russia and that they pay on time," he said.
Right now the Russian economy is being destroyed and turned into something that looks like the Soviet, and even North Korean, economy. Conditions for migrant workers will only worsen, said Anvar Nazirov of Tashkent, an economist.
"It will be awful. In the short, medium and long term, many migrants will be forced to return to Uzbekistan, and Russia will stop being a place where you can find work," he said.
Everything that is happening now is just the first warning sign, he added.
Protecting migrant workers
The drastic worsening of the economy is one reason for the developing situation, said Bakhrom Ismailov, a lawyer and chairman of Uzbek National and Cultural Autonomy in the City of Moscow, an Uzbek community group.
"The second reason is that unscrupulous employers have taken advantage of this. They're withholding wages, saying that there's no money because of the Western sanctions," Ismailov said.
Employers often fail to sign employment contracts with migrant workers, said Botirjon Shermukhammedov, a lawyer in Moscow who defends migrant workers' rights, adding that labour rights violations are rampant in Russia.
For a migrant, working 10 to 12 hours per day is entirely the "norm", Shermukhammedov said.
The Russian State Labour Inspectorate turns a blind eye to problems with migrants' rights, he added. Under Russian law, two consecutive months of withheld wages may form the basis of a criminal case.
Shermukhammedov, who previously worked at a human rights organisation as an investigator for three years, said he was summoned only twice during that time to give evidence despite the organisation writing numerous statements to Russia's Investigative Committee.
"Foreign citizens in Russia have nowhere to turn; there's no one to help them because there are very few organisations that stand up for them. Migrants often don't want to argue with the management -- they don't sign contracts, as the law requires," he said.
An employer who hires someone legally is required to pay substantial taxes, such as deductions for the worker's income tax, contributions to the pension fund and other social security contributions, said Shermukhammedov.
Therefore, through mutual agreement between the parties, the worker is not legalised in any way or is legalised with a minimum wage, he said.
The Uzbek Agency for External Labour Migration and Uzbekistan's consulates need to work more actively with migrants, said Ismailov, the Uzbek community leader in Moscow.
"Unless I'm mistaken, there are now 10 or 11 [Agency for External Labour Migration] offices in Russia, but only one person works in each of them. That one person doesn't have time to deal with all the requests from our citizens."
Uzbek consulates "mainly handle consular issues and don't have lawyers -- except in Moscow -- who would work on migrant workers' rights," Ismailov said.
Russian authorities themselves need to work more on protecting the labour rights of their own citizens and migrants and to force employers to be more transparent, he added.
Migrants also should learn about their rights and learn Russian so that they can demand what they need from employers, he said.
"For example, they'd be able to read the employment contract. Migrants often don't understand what the contract says and just sign it," Ismailov said.