BISHKEK -- Migrant workers in Russia are battling two new complications in a country that depends on their cheap labour but repays it with racism.
The first is Russia's economic collapse in the past few days; the second is a humiliating requirement for costly medical exams every three months.
International sanctions imposed on Russia after it invaded Ukraine have already created punishing hardship, unavoidably affecting migrants there.
Those consequences include a record plunge in the ruble's exchange rate. It fell about 30% on Monday (February 28), making one ruble worth less than one US cent.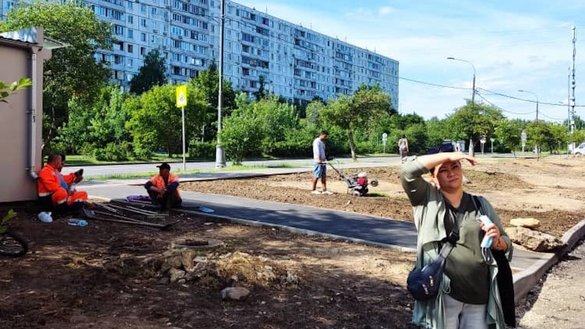 For impoverished migrants, many of whom earn less than $300 a month, the hit to purchasing power is devastating.
Prices are surging, Ulan Omorov, a native of Tokmok, Kyrgyzstan, told Caravanserai. He works in a store in Moscow.
"We weren't living large before," he said. "Now we have to squeeze every ruble."
"With these prices and my coming expenses, I won't be able to send money to my parents anymore," he added. "I don't know what they'll live on."
Many migrants are panicking and discussing whether they can even send remittances home through Russian banks under the new sanctions, he said.
Some migrants are even worse off.
"Some of my compatriots wrote in a group chat that their employers laid them off without any severance," he said. "Their companies ... had to suspend operations [after sanctions bit]."
Demeaning medical exams
Meanwhile, Bishkek is urging Moscow to drop stringent new residence requirements for Kyrgyz citizens and Central Asian migrants in Russia.
Under new measures that took effect at the end of December, Central Asian migrants must undergo a medical examination within 30 days after their arrival to check for infectious diseases as well as narcotics and psychoactive substance use.
The medical examination then must be done every three months.
Additionally, migrants must be fingerprinted for registration and photographed.
Those who have had to undergo these procedures say that they felt like "criminals and terrorists".
"They did everything but assign us a number, like in the movies," Jumgal Bolotbekov, a resident of Kara-Balta who travelled to Moscow in early January, told Caravanserai in a phone interview.
To add to the humiliation, migrants are themselves required to pay to meet the requirements.
A medical examination costs 6,000 RUB (about $80). This is often a significant amount for migrants who might be earning less than $300 a month.
Citing acquaintances at the Kyrgyz embassy, Bolotbekov said that the relevant Russian Ministry of Health decree does not specifically require a medical examination every three months.
"It is not known who introduced this strange rule, and it looks very much like another illegal attempt to milk migrants," he said.
'Problematic'
While the human rights situation for migrants working in Russia has been dismal for years, the latest measures have prompted an official response from Bishkek and Kyrgyz lawmakers.
Talant Mamytov, the speaker of Kyrgyzstan's parliament, during a working visit to Russia on February 21 brought up the demeaning and mandatory medical examinations with Russian State Duma Chairman Vyacheslav Volodin, the Kyrgyz embassy in Moscow said in a statement.
Mamytov urged his Russian counterpart to reconsider the tougher requirements for Kyrgyz migrants, given that Kyrgyzstan is a member of the Eurasian Economic Union (EEU), the fundamental principle of which is the free movement of member states' citizens.
Kyrgyzstan joined the Russian-dominated EEU in hopes of favourable treatment for its workers in Russia.
Mamytov also pressed Russian Federation Council Chairwoman Valentina Matviyenko to help Kyrgyz citizens who have been "blacklisted" for migration rule violations and no longer may enter Russia to reunite with their families.
"Unfortunately, there have been difficulties in [migrants] passing the aforementioned procedures since the beginning of the year," the Kyrgyz Foreign Ministry noted earlier on February 17, referring to the new measures.
"Currently, all mandatory procedures for Kyrgyz citizens residing in Moscow and the Moscow region are carried out at multipurpose migration centres in Moscow and the Moscow region, where there are long lines," the ministry said.
The same day, the embassy urged the Russian Foreign Ministry to "assist in opening a separate lane for citizens of EEU member states" in the institutions where medical examinations, fingerprinting and photographing are carried out.
That was the Kyrgyz embassy's second note to the Russian Foreign Ministry seeking help. It sent a similar plea January 24.
Kyrgyz Ambassador to Russia Gulnara-Klara Samat a few days after January 24 also delivered a message to Russian Interior Minister Vladimir Kolokoltsev "about the difficult situation regarding the completion of procedures" forced on Kyrgyz migrants.
There has been no reported response from Russia.
The issue has been brought to the attention of the Kyrgyz Parliament.
The difficulties created by the new law have forced more than 1,000 people to stand in line for a medical examination every day, said Dastan Bekeshev, a member of parliament, during a parliamentary session February 16.
"Let our president address the head of Russia. They need to discuss it openly. Our migrants need to leave there, or what is there to do?" he told his colleagues.
At the same session, Bakyt Torobayev, another member of parliament, criticised the EEU.
"Not only are the [EEU's] rules relating to migrants not working; neither are the agreements on trade, remittances and cargo transport," he said.
When Kyrgyzstan joined the EEU, the country was promised free movement of goods, services, capital and labour, but in practice Russia has introduced only restrictions, he said.
"Will our citizens continue to suffer?" he asked.
'Preserving the ethno-cultural balance'
Meanwhile, Russian law enforcement agencies continue to complicate migrants' lives.
Investigative Committee chairman Alexander Bastrykin wrote to President Vladimir Putin with a proposal to tighten the legislation, Telegram channel Baza reported February 7.
In particular, Bastrykin proposed the creation of a DNA registry for visitors and measures to "preserve the ethno-cultural balance of the population" in large cities. He also suggested replacing migrant workers with Russian citizens in order to reduce social tension.
Bastrykin expressed Russian citizens' "serious concern" that migrants from Central Asian countries monopolise jobs in consumer services.
In recent years Russian authorities have significantly complicated the legal status of Kyrgyz migrants in Russia, who are now "more vulnerable than ever before", said Bishkek Bar Association director Islam Baigarayev, a lawyer who often provides legal assistance to migrant workers.
"What's more, some government agencies are also coming up with additional, illegal requirements," Baigarayev told Caravanserai.
"Chaos and arbitrariness prevail around migrant workers in Russia, but no one there is interested in solving this problem."