ALMATY -- China is tightening its customs policies for Kazakh exports in a move some experts say is aimed at punishing Kazakhstan for granting refugee status to ethnic Kazakhs who are fleeing the Chinese regime.
Problems at the border began in mid-November, when authorities in the Xinjiang region of China tightened customs control measures for goods, purportedly to halt the spread of COVID-19.
Grain loaded onto train cars bound for China back in March is still awaiting entry under the pretext of quarantine restrictions, Oralkhan Kulakov, deputy chairman of Kazakhstan Railways (KTZ), said last Friday (August 6).
"Crossing into China is problematic," he said, adding that Beijing promised to import as much grain as possible by July 20 but did not.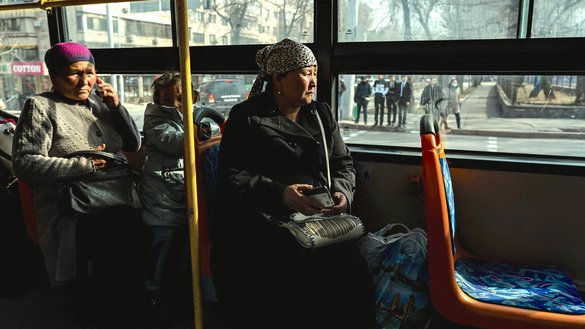 In March, KTZ was forced to ban the carriage of goods headed to China, citing a buildup of abandoned train cars caused by China's restrictive measures.
At the time, some 12,000 uncoupled loaded cars had been abandoned, "which negatively affects the throughput of Kazakhstan's mainline network", said a KTZ statement at the time.
KTZ took "repeated measures to resolve the problem, but China is ignoring signed agreements and international agreements", said KTZ.
At the same time, tougher Chinese customs inspections have led to major congestion on road border crossings between China and Kazakhstan.
As of last Friday, roughly 150 vehicles had amassed at the Bakhty checkpoint on the Kazakh-Chinese border, said the Kazakh Finance Ministry's State Revenue Committee.
At the Nur Zholy border crossing, computers have recorded almost 8,000 trucks awaiting entry, said the committee.
Losses for Kazakh exporters
The tightening of China's customs policy toward Kazakhstan appears to be systematic and continuing.
Since last November, China has refused to accept a total of 12,000 railway cars of various goods from Kazakhstan, according to KTZ.
Border control measures are increasing, said Yevgeny Karabanov, a representative of the Grain Union of Kazakhstan and founder of the Northern Grain Group.
"I spoke with a former Chinese partner the other day. He told me that the Chinese authorities held a meeting, and the governor of [Xinjiang] was instructed to establish firm control on the border with Kazakhstan," said Karabanov, who lives in Petropavlovsk.
The delays at the border make Kazakh exporters and train car owners unable to fulfill their obligations to partners, which mean severe losses.
In November, Karabanov sent 17 train cars of flax to China, valued at $670,000 (285 million KZT), but the barriers introduced by Beijing tied up the freight for five months, which in turn froze up his funds.
"This caused huge losses, and I had loans that I had to pay back," Karabanov said.
Beijing is setting up the most stringent customs restrictions specifically against Kazakhstan, said Karabanov.
"They seem to be punishing us for something, because China is not behaving this way toward other countries," he said.
Disillusioned with China
Beijing's actions are unlikely to be related to epidemiological restrictions, say observers.
The tightening of China's customs controls suspiciously took place in October, after Kazakhstan granted refugee status in the same month to four ethnic Kazakhs who had fled Xinjiang.
Beijing has imprisoned more than one million Uighurs and other Turkic Muslims -- including ethnic Kazakhs -- in as many as 400 facilities that include "political education" camps, pretrial detention centres and prisons.
Millions more live under a harsh system of surveillance and controls.
China's behaviour is an expression of its dissatisfaction with Kazakhstan's actions in defending ethnic Kazakhs who flee Chinese oppression, said Ruslan Nazarov, an international relations analyst from Nur-Sultan.
"There is no doubt about that," he said.
Nazarov pointed back to June, when Beijing dissuaded the Ukrainian government from signing a statement on the human rights situation in China by threatening to stop supplying coronavirus vaccines.
Many Kazakh entrepreneurs were already disillusioned with trade with China to begin with.
"It's impossible to work with the PRC [People's Republic of China],'' Daulet Akhmetov, a building materials supplier from Nur-Sultan, told Caravanserai.
"Not only do they ... have many barriers in the form of all kinds of inspection and oversight agencies when they are importing goods, but their actions are also unpredictable," he said.
"Even if your product has all the required documents, you carry many risks."
Five years ago he suffered significant losses while trying to export products to China and no longer wants to deal with the neighbouring country, recalled Akhmetov.
Karabanov has sworn off dealings with China too.
"I don't send anything to China anymore. You have to be a complete fool to work with them after that," he said.