ALMATY -- About 200 protesters gathered recently in Almaty to demand that Beijing stop meddling in Kazakhstan's internal affairs and to demonstrate against the regime's abuses of ethnic minorities, including Kazakhs living in Xinjiang.
Public outrage over Chinese influence and policies soared after an interview that China's ambassador to Kazakhstan, Zhang Xiao, gave to the Kazakh media on August 1.
In the interview that appeared on the website of the Chinese embassy in Kazakhstan, the ambassador discussed the military co-operation between Kazakhstan and China. The "Chinese and Kazakh armed forces are resolutely dealing with the 'three evil forces' and oppose the outbreak of a 'colour revolution' in the region", he said.
Beijing regularly uses the term "three evil forces" to refer to terrorism, extremism and separatism.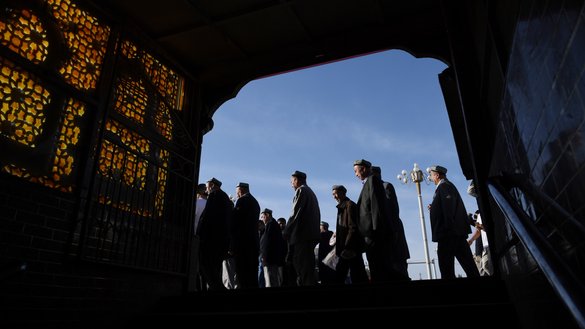 Many Kazakhs view such statements by Zhang as an indication of a threat to their country's national security.
Beijing is openly announcing the possibility of sending Chinese troops into Kazakhstan, said Zhanbolat Mamay, an Almaty activist and leader of the unregistered Democratic Party.
"Such an ambassador is not behaving in a friendly manner with us. He's an enemy of our country and needs to get out of Kazakhstan," said Mamay, who later organised an anti-China protest on September 13.
The demonstrators held signs that said "No to Chinese expansion!", "Kazakhstan has no land for China; this is our nation's land", "Get out of Kazakhstan, Zhang Xiao", and "Zhang Xiao, are you the ambassador or the enemy?"
In a short video taken of the protests, people could be heard shouting angrily, "How will we survive if they [China] take away our jobs?" The demonstrators sang the Kazakh national anthem.
Kazakhstan: 'autonomous region of China'
On August 3, after publication of the Zhang interview, Almaty local activist Serik Ajibai led a protest outside the Chinese consulate and held up a sign questioning Zhang's fitness to be an ambassador.
"Reconciliation depends on the ambassador. Discord comes from the conduct of the courier," said the proverb on his sign, which points to the difference between a competent envoy and an inept messenger.
Ajibai told journalists that he was protesting the ambassador's insulting statements since Kazakhstan is a sovereign state that has the right to independently resolve its own domestic affairs.
"We aren't an autonomous region of China. Our people and government are one -- we are one state. I don't think China has the right to meddle in other countries' domestic affairs," RFE/RL quoted him as saying.
It's not the first time the Chinese ambassador has been in hot water in Kazakhstan. The Kazakh government summoned him in April to protest an article on a Chinese website that claimed Kazakhstan historically is part of China and seeks to "return" to its neighbour.
The ambassador's August interview hit another raw nerve in Kazakhstan: the issue of ethnic Kazakhs living in China who are fleeing to their ancestral homeland because of repression and abuse inflicted by the regime.
Authorities in Xinjiang over the past few years have placed over a million Muslims, including ethnic Kazakhs and Kyrgyz, into indoctrination camps, in line with its "three evil forces" concept.
Ethnic Kazakhs are the second-largest Turkic group in Xinjiang, after the Uighurs. They number at least 1.5 million.
About 200,000 ethnic Kyrgyz live in Xinjiang. Chinese authorities were holding at least 50,000 ethnic Kyrgyz in re-education camps in 2018, Kyrgyz President Sooronbay Jeenbekov said at the time.
Twenty-eight former prisoners of Chinese indoctrination camps in Xinjiang have come forward to shed light on the type of abuse, deprivation, and routine humiliation that Muslims have been subjected to inside these secretive camps.
Thousands of residents of Kazakhstan have relatives in China locked up in re-education camps, spurring frequent protests in front of the Chinese consulate in Almaty with demonstrators demanding that Beijing free them.
Land-exploitation fears
Kazakhs are concerned that Beijing will attempt to buy and exploit property in the country amid land reform moves in Kazakhstan.
In April 2016, a bill permitting foreigners to buy and lease farmland sparked mass protests in Kazakh cities. The demonstrators mainly had concerns that Chinese businesses would buy up Kazakh land wholesale.
Local farm workers do not trust Chinese farming methods, said Anuar Kuanyshev, who runs a dairy farm in Almaty Province.
"They'll use our land, burn it with their chemicals, earn money from it and leave us dead soil that nothing will grow on later," Kuanyshev said in an interview.
In May 2016, the Kazakh government imposed a moratorium on selling and leasing land to foreigners. After its expiration in December 2021, it is unclear what comes next.
Mamay, the activist, fears Kazakh authorities may lift the ban, allowing the Chinese to lease expanses of land for decades.
"Then they'll come here forever, and we'll find out what Chinese expansion means by experiencing it ourselves," he said.