NUR-SULTAN -- A newly leaked document is giving insight into how China systematically persecuted ethnic Kazakhs, Uighurs and other minority groups in the far western region of Xinjiang.
Authorities in Xinjiang over the past few years have placed hundreds of thousands Muslims, including ethnic Kazakhs, into indoctrination camps. At least 1.5 million Kazakhs live in the region, representing the second-largest Turkic group there after the Uighurs.
The Chinese government claims that its policies in Xinjiang are aimed at curbing terrorism and separatism and that the camps provide training in Mandarin and other skills.
However, the recently leaked document offers a detailed view of how officials carried out detentions and scrutinised the intimate details of individuals and appears to contradict Beijing's claim that the camps are schools, according to a report published by The New York Times on Monday (February 17).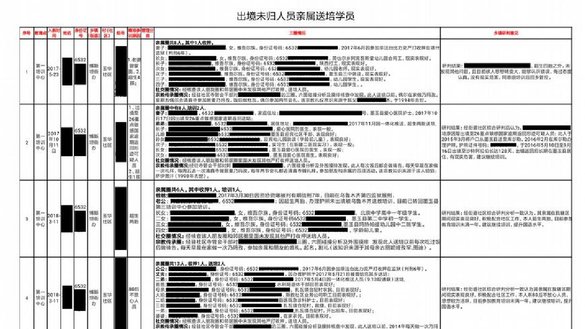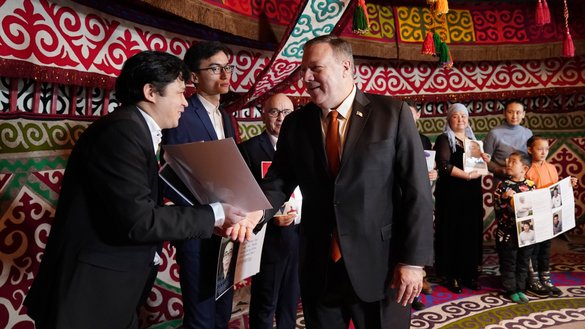 The document, a 137-page spreadsheet, outlines information that authorities in Karakax County, Xinjiang, gathered on more than 300 residents held in indoctrination camps as well as their neighbours and relatives.
Even children as young as 16 were closely monitored.
The detailed records noted the backgrounds, religious habits and relationships of those listed, as well as various behaviours that authorities deemed problematic.
Seemingly benign activities were recorded, such as abstaining from alcohol, seeking to go on a religious pilgrimage or attending a funeral. The document also covered how often people prayed, whether they wore religious clothing or long beards, with whom they had contact and the behaviour of their families.
A final column carried verdicts on whether those detained should remain or be released and whether those released needed to return to detention.
In one case, a 38-year-old woman was sent to a re-education camp for having worn a veil several years ago, reported the BBC, which also viewed the document.
Meanwhile, a 34-year-old man was detained for applying for a passport despite being described as posing "no practical risk".
Another man, 28, was also put into re-education for "clicking on a web-link and unintentionally landing on a foreign website".
China announced in late 2019 that everyone in its "vocational training centres" had now "graduated" but also suggested some might stay open for new students who wished to attend on their own "free will".
The BBC noted that almost 90% of the 311 main individuals on the Karakax List were shown as having already been released or as being due for release following completion of a full year in the camps.
Kazakh ire
China's policies in Xinjiang have drawn the ire of Kazakh citizens as ethnic Kazakhs flee to Kazakhstan in search of asylum.
A Kazakh court in January ruled that two Chinese citizens who sought asylum in Kazakhstan after escaping from the troubled Xinjiang region will not be returned to China, AFP reported.
Kaster Musakhan and Murager Alimuly were sentenced by a court in Kazakhstan to a year in jail for illegally crossing the border the two countries share, their lawyer Lazzat Akhat told AFP.
But the court determined that the pair would not be returned to China and would spend only a further five months in jail because of credit for time served in pretrial detention.
The men said they had been held and beaten in jails in China prior to escaping across the border in October and feared they would be incarcerated again.
Similar cases have occurred in the past.
In late 2019, Kazakhstan rejected Chinese demands to deport an ethnic Kazakh woman from China, Kaisha Akan, who had fled to Kazakhstan.
On December 23, a court in Jarkent, Almaty Province, instead handed Akan a six-month suspended jail sentence after finding her guilty of "illegally crossing the border", reported the Kazakh service of Radio Free Europe/Radio Liberty.
Meanwhile, last June, a Chinese-born ethnic Kazakh woman named Sayragul Sauytbay fled from Kazakhstan to Sweden, where she obtained refugee status.
Sauytbay, 42, is a Chinese citizen who in April 2018 crossed into Kazakhstan with forged documents and was detained by Kazakh authorities.
Later that summer, she disclosed shocking details in a court in Jarkent about a political re-education camp for Muslim minorities in Xinjiang, where she worked for several months.
The camp was "nothing short of a prison" and held more than 2,500 ethnic Kazakhs, she said.
The court gave Sauytbay a suspended sentence and released her from custody, ordering that she not be subject to deportation to China. She eventually moved to Sweden.
Safe refuge
US Secretary of State Mike Pompeo appeared to back Kazakhstan's stance in a recent visit to Central Asia and urged countries to offer asylum to ethnic minorities fleeing Xinijang.
"We ask simply for [countries] to provide safe refuge and asylum for those seeking to flee China," Pompeo said February 2 at a news conference with Kazakh Foreign Minister Mukhtar Tileuberdi.
"Protect human dignity; just do what is right," Pompeo said.
Pompeo was meeting top officials in Kazakhstan ahead of a visit to Uzbekistan.
His visit to the capital, Nur-Sultan, included a February 2 meeting with Kazakh citizens who said their family members were being detained in Xinjiang.
"The United States will do everything it can to resolve your situation and the broader problem of Chinese repression in Xinjiang," Pompeo told the Kazakhs, according to a statement by the US embassy in Nur-Sultan.