TASHKENT/NUR-SULTAN -- US Secretary of State Mike Pompeo stressed the importance of close ties to Central Asia during a whirlwind trip to Kazakhstan and Uzbekistan.
Monday (February 3) he held talks with Uzbek President Shavkat Mirziyoyev.
He "thanked President Mirziyoyev for his leadership in forging a closer, strategic partnership between the United States and Uzbekistan and for advancing a negotiated political settlement in Afghanistan", the US State Department said in a statement.
On the same day, Tashkent hosted a C5+1 conference of the Central Asian and US foreign ministers.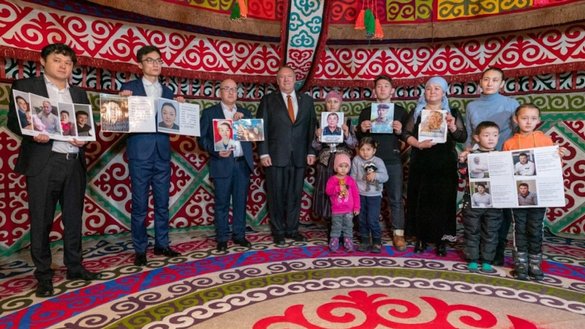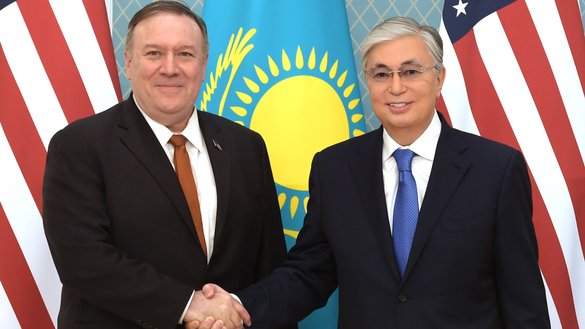 "Today, between our countries, we have a comprehensive agenda of bilateral contacts of a quite systematic and regular nature," said Uzbek Foreign Minister Abdulaziz Kamilov at a February 3 joint news conference in Tashkent with Pompeo, according to a US State Department translation.
"This grouping is proving to be an increasingly effective way for Central Asian countries to co-ordinate to fight terrorism and grow regional economic and energy ties among other issues," said Pompeo at the news conference. "Much of our progress has come thanks to President [Shavkat] Mirziyoyev's good neighbour policy."
"I can assure you that co-operation between the two countries is at the peak of its development," said Kamilov.
"C5+1 is a format for dialogue and a platform for joint efforts to address common challenges faced by the United States and the five Central Asian states," according to the US State Department.
'True partner' of Uzbekistan
"America is a true partner with our friends here in Uzbekistan," assured Pompeo, who announced coming assistance for the Uzbek economy and for Uzbek-Afghan ties.
"We are committing, pending congressional approval, $1 million [9.5 billion UZS] of technical assistance to help Uzbekistan develop its capital markets in addition to other efforts to promote financial reforms," said Pompeo. "The United States will provide $1 million of assistance to increase trade and connectivity between Uzbekistan and Afghanistan."
Pompeo offered praise for other Uzbek reforms.
The country "is expanding space for civil society, addressing forced labour issues, and loosening restrictions on the media", he added. "Where religious freedom is protected, peace and prosperity flourish."
Highlighting Washington's commitment to religious freedom, Pompeo conferred with the chief imam of Tahskent, Nuriddin Domla Kholiqnazarov.
"Met with religious leaders in Uzbekistan on how reforms and legal revisions can promote greater religious freedom," Pompeo tweeted February 3.
China's mistreatment of Muslims
Prior to his arrival in Tashkent, Pompeo met with the leadership of Uzbekistan's oil-rich neighbour Kazakhstan, where he called on all countries to join the United States in calling for an immediate end to China's harsh treatment of Muslim minorities in the Xinjiang region, which borders Kazakhstan.
"We ask simply for [countries] to provide safe refuge and asylum for those seeking to flee China," Pompeo said Sunday (February 2) at a news conference with Kazakh Foreign Minister Mukhtar Tileuberdi.
His visit to the capital, Nur-Sultan, included a February 2 meeting with ethnic Kazakhs who say their family members are detained in Xinjiang, China. More than a million ethnic Uighurs, Kazakhs and other minorities are believed to have been incarcerated there as part of an unprecedented security crackdown in the region.
"The United States will do everything it can to resolve your situation and the broader problem of Chinese repression in Xinjiang," Pompeo told the Kazakhs, according to a statement by the US embassy in Nur-Sultan.
Pompeo rounded off his Kazakhstan visit by meeting with President Kassym-Jomart Tokayev and his long-reigning predecessor, Nursultan Nazarbayev.
Pompeo's trip "is a significant visit that speaks to the positive dynamics in the development of our countries' relations", Nur-Sultan political scientist Bolatbek Isayev said. "The long-term building of political and economic ties between our countries ... will certainly bring Kazakhstan many benefits, not only economic but in security matters too."
'Sovereign and independent'
Ahead of the visit, Pompeo stressed that the Central Asian countries on his itinerary "want to be sovereign and independent", and Washington had "an important opportunity to help them achieve that".
Russia has retained military bases and heads security and trade blocs that have helped to entrench its position in Central Asia.
Uzbekistan's recent refusal to join the Eurasian Economic Union (EEU) will help keep the country from becoming dependent on Russia and avoid trade issues involved with the economic bloc, experts on Central Asia say.
"Analysts highlight the fact that Russia is setting its sights on bringing the post-Soviet region back into its sphere of dominance and influence, which undermines the independence of the Central Asian countries," Farhad Tolipov of Tashkent, director of the think-tank Caravan of Knowledge, said, a reference to the EEU.
Uzbekistan's decision not to join the EEU was not a surprise given that over the years Mirziyoyev's government has witnessed the problems that arise within the union, according to Bishkek-based economist Elmira Suranchiyeva.
"Despite the principle of free movement of goods within the EEU, Russia has regularly thrown up artificial barriers for exporters from Kazakhstan and Belarus," Suranchiyeva said.
Countries in Central Asia are also dealing with economic sovereignty issues with China, which continues to aggressively push its Belt and Road global trade plan as a panacea for its economies.
However, last year saw a major increase of resentment against China in Kazakhstan, taking the form of demonstrations, clashes between local and Chinese workers, and indignation and anxiety on social media over Beijing's economic influence.