KYIV -- Despite Russian propaganda justifying Moscow's invasion of Ukraine as a "special operation" against fascists, historians say it is actually Russia that has become a fascist state.
To raise support for his decision to send troops to Ukraine on February 24, Russian President Vladimir Putin has compared Moscow's invasion of its pro-Western neighbour to the Red Army's fight against Nazi troops.
In reality, however, Putin's war is itself fascist in nature, and in particular he is ideologically inspired by far-right thinkers such as Ivan Ilyin, say observers.
Ilyin (1871-1954), a Russian philosopher, espoused Russian exceptionalism and at one point advocated fascism and support for the Nazi regime in Germany.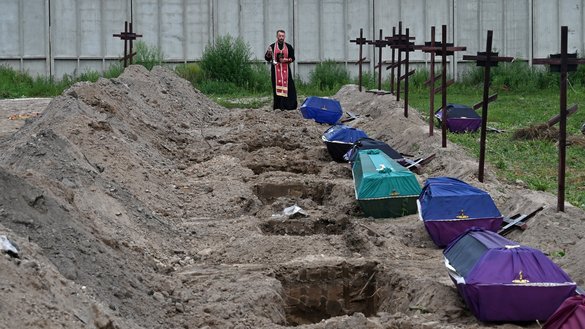 "I think Putin's infatuation with Ilyin was connected to Putin's close association with [Russian filmmaker] Nikita Mikhalkov, who professed an affinity for Ilyin," said Andriy Dakhniy, a philosophy professor in Lviv.
"It was Ilyin who shaped the so-called messianism of the Russians, saying that they are exceptional. He spoke of the need to restore imperial values and greatness," Dakhniy said.
"And naturally, he kept repeating that the world had to be saved from the threats allegedly posed by the 'decaying' West."
Putin personally arranged in the mid-2000s to have Ilyin's remains brought back to Russia from Switzerland, where he died, and personally paid for Ilyin's gravestone at the cemetery at the Donskoy Monastery in Moscow.
Since then, Ilyin's works have become required reading for all Kremlin officials.
"There's no doubt that Putin's associates have read these books," Dakhniy said.
"All those pseudo-intellectuals around Putin have often drawn on the philosopher [Ilyin]'s points. You see that with Dugin, for example," he said, referring to Alexander Dugin, a Russian philosopher and a Putin ideologue known for views widely characterised as fascist.
"I'm certain they're very actively reading about all those ideas," Dakhniy said.
One of Ilyin's best-known books, "On Resistance to Evil by Force" (1925), discusses Russia's exceptionalism.
"Ilyin wrote that only dictatorship can keep such a huge empire intact because there are so many different forces within it that will protest and resist, and the only way to instil the truth is to apply harsh methods," Dakhniy said.
That means Russians "have an exceptional mission on this Earth" and "must use force to promote it."
"This is unambiguously fascist reasoning," Dakhniy added.
'Inferior' peoples
"Putin has thoroughly read these philosophers and is now living [mentally] in an empire," said Oleksandr Kucheruk, a historian and director of the Museum of the Ukrainian Revolution of 1917–1921.
"He sincerely believes that the Russians are the greatest people on Earth while the others are 'inferior' peoples with an 'inferior' language and culture."
"So everyone either needs to become Russian or be destroyed," he said.
"This sort of attitude toward ethnic minorities has always existed in Russia: there's an imperial policy, and the idea that Russians are the main people while all the others need to thank them and kneel down to them," Kucheruk said.
"There are all sorts of forms of humiliation, like the ethnic slurs the Russians apply to other people," he said.
"In the Soviet era they even created the word 'natsmen' [member of an ethnic minority], and even worse, 'person of Caucasus ethnicity', which was meant to be pejorative."
"What is that all about? What is a Caucasus ethnicity? This kind of humiliation no longer exists anywhere in the world," he said.
Such beliefs may explain Moscow's policies toward Central Asian migrant workers in Russia and its use of migrant populations as political tools.
"If any dissatisfaction with Russia surfaces in surrounding countries, the Kremlin immediately makes use of migrant workers through a pressure campaign," said Natalya Butyrskaya, a Ukrainian commentator on foreign policy and Central Asia.
"They [the migrants] know that they're in a weak position and are vulnerable to Russian policies, but they can't do anything."
"Take Kyrgyzstan, for example. A revolution broke out [in 2010], there was a regime change and Russia immediately reacted politically by turning up the heat on migrants with regard to work."
"As soon as you cross the border into Russia, you're subjected to strict checks and so on," she said. "The Russians treat migrants with utter disrespect."
Imperial and fascist policies such as these are a relic of the past and will drive Russia to its downfall, according to Dakhniy.
"I hesitate to make predictions, but the processes of disintegration will definitely be triggered," he said. "Russia's collapse is a certainty."
"Putin wants to reinforce his power even more securely and make Russia stronger, but he's actually weakening it. There are numerous indicators showing that irreversible processes have begun for Russia," he said.