KYIV -- The quality of life is worsening quickly in Russia as the signs of economic strain overcome the country as a result of Russian President Vladimir Putin's invasion of Ukraine.
Russia's economy contracted by 4% year on year in the second quarter, the government statistical agency said last Friday (August 12).
It was the first full set of quarterly growth data to be published since Moscow attacked Ukraine in late February and Western countries slapped economic sanctions on Russia in response.
After Russian GDP expanded by 3.5% year on year in the first quarter of 2022, the country is now facing a long recession.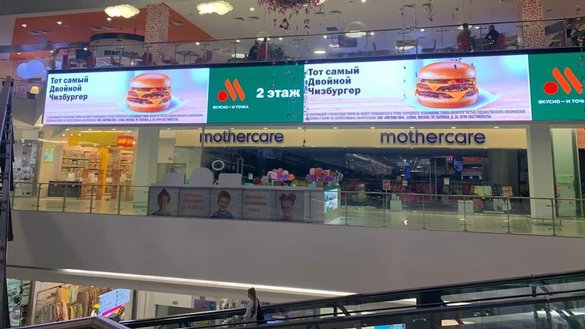 "The economy is moving towards a new long-term equilibrium... With the transformation of the economy, growth will resume," claimed Central Bank Deputy Governor Alexei Zabotkin.
The economic situation in Russia is far worse than dubious official numbers and statements would suggest.
More than 1,000 companies have left Russia since the beginning of the war, representing the loss of investments exceeding $500 billion, and jobs and everyday goods are now gone.
"Russia already feels it. IKEA and Coca-Cola have shut down. H&M is selling off its remaining inventory. Foreign companies produced most toothpastes, toothbrushes, shampoos, sanitary pads and other daily necessities. Now they have left -- and all this is gone," said Ukrainian economist Alexey Plotnikov.
"Very many goods have disappeared from the shelves," he said.
"For example, Russia did not produce paper for newspapers and magazines -- all of that came from abroad, and now there is a severe shortage. No paper is being supplied to Russia. It doesn't produce ink for publishing."
"Imagine, they have nothing for labelling packages. They don't have office paper."
The cost of war
The departure of foreign companies has led to growing unemployment in Russia, which for Central Asian migrants has meant withheld wages or forced labour.
"Unemployment in Russia is up by about 20% compared to the pre-war level," Plotnikov said, adding that unemployment "will ... continue to grow because many companies are leaving for good".
"For example, Ford made cars near St. Petersburg -- that has all stopped. Nobody will come back."
The town of Tikhvin, in Leningrad province, was previously home to two major enterprises -- a Russian-American plant for producing railway car bearings and an IKEA plant.
Both closed in the wake of the invasion, terminating almost 10,000 jobs.
"Tikhvin has only 56,000 residents. You can imagine -- a fifth of the city put out on the street in one day. It's a disaster," said Natalya, a journalist for a Russian publication who only gave her first name for fear of retaliation.
The general atmosphere has changed, she said.
"I was just shocked when I went into a local store and saw a moonshine still ... next to the cash register. That's not how it used to be ... but here it is sold openly in a store."
"One conclusion can be made here ... all this suggests that there is simply nothing to do in the city," Natalya said.
"The youth have started drinking. When I was there on business, in the evening I saw probably about five groups of young people. They just loitered on the streets, drinking."
"An employee of the hotel where I stayed also said that everyone has started drinking," she said.
"This city is sad."
A deeper hole
Russian attempts at stimulating domestic production will not generate fundamental improvement, say analysts.
Anton Mykytyuk, an analyst with the Bureau of Economic Security of Ukraine, pointed to McDonalds, which announced it was leaving Russia in May.
Russian attempts at creating a replacement -- Vkusno i tochka -- have faltered.
Some have translated the restaurant's name as "Delicious. Full Stop", while others render it as "Tasty and That's It".
"Wages are lower there. Everything is lower there, and problems with quality may also be starting," said Mykytyuk.
In general, when departing large companies transfer businesses to local management, a decline begins, he said.
Russia's only chance to restore economic growth is to halt its aggression and vacate occupied Ukrainian territory. Until then, sanctions will not be eased and large investors will not return to Russia, according to Mykytyuk.
"Globally, foreign companies benefit from leaving the Russian market, because it is the toxic market of an aggressor," he said.
"There are economic losses at first, but later you will have more customers, because you are a company taking a stand."