ALMATY -- Moscow's capital controls -- aimed at artificially inflating the value of the ruble -- are burdening Russia's already crumbling economy and harming its exporters.
International sanctions following Moscow's invasion of Ukraine on February 24 shut off Russia from valued imports ranging from smartphones to Airbuses to couture.
The ruble exchange rate soon began a precipitous fall, reaching 140 RUB per US dollar just after the invasion.
The Bank of Russia imposed restrictions in March meant to reduce Russians'' demand for foreign currency and to prop up demand for the ruble.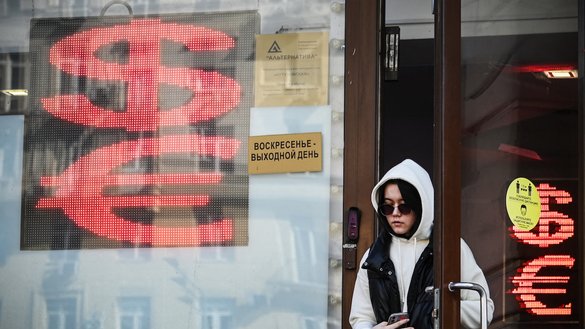 In March, "the central bank imposed restrictions on citizens' ability to access foreign currency, saying they would not be allowed to withdraw more than $10,000 until Sept. 9 and that banks could not sell hard currency in cash", Reuters reported March 10.
As a result of such measures, the ruble was trading at almost 52 to the dollar on Wednesday (June 29).
While the ruble's value has not crashed, other economic challenges brought on by Moscow's invasion remain.
"Russia's economy is imploding. We forecast a GDP collapse of -30% by end-2022," Robin Brooks, chief economist of the International Institute of Finance, tweeted in May.
Russia defaulted on its foreign currency sovereign debt for the first time in more than a century, after the grace period on some $100 million of interest payments due Sunday had expired, Bloomberg News reported Monday.
The last previous occurrence was in 1918.
A climbing ruble
Russia's capital controls are also threatening the national budget.
In March and April, Russia earned $47 billion from energy sales to Europe, double the revenue Russia garnered in March-April 2021 from the same market, even though "Moscow's gas exports to countries outside of its Commonwealth of Independent States ... fell nearly 28% in the first five months of 2022", CNN reported in early June.
However, energy sales are largely priced in foreign currencies, particularly dollars, that must be converted into rubles for spending in Russia.
The higher exchange rate means that the government earns fewer rubles from its energy sales. Russia also has been unable to spend the foreign currency on imports because of sanctions.
"The economic law is simple: the greater the demand for a product, the higher its cost. The same thing is happening in the hard currency market to the ruble -- its exchange rate has climbed," said Arman Beisembayev, a financier from Almaty.
A stronger ruble threatens huge losses for Russian exporters because when they obtain rubles, they now receive far fewer than before the war.
In earlier times, an exporter might have exchanged $1,000 to obtain 84,000 RUB. It becomes another matter if the same $1,000 earns it only 53,000 RUB, he said.
"Additionally, these are huge losses for Russia's budget because estimates suggest that a 1 RUB rise in the rate of exchange with the dollar costs the Russian treasury 6 billion RUB," he said.
"Revenues and expenses in Russia's budget are established at the exchange rate of 70 RUB per dollar, and when the rate strengthened to 52, the budget shrank by 108 billion RUB."
"Russia's financial authorities would like a weaker ruble, but they don't have that option. That means that the country's policy is harming its own economy," Beisembayev said.
Kazakhstan suffers
Russia's actions also have a direct effect on Kazakhstan.
A stronger ruble means the goods and raw materials that Kazakhstan buys from Russia will become more expensive, said Beisembayev.
Some Kazakh companies with Russian suppliers will see their costs double, he said.
"Others who are unable to pay their bills at this exchange rate will be forced to look for suppliers in other countries."
"But this also presents a problem," Beisembayev added.
"As it happens, we can't import equipment and machinery directly from China but only via Russia [if consumers not fluent in Chinese or English want Russian-language documentation]. The problem is that Russia Russifies the quality certificates, warranty documentation, user manuals and software, and then the goods are exported to Kazakhstan."
A simple example is smartphones and household appliances -- they do not enter Kazakhstan until they have been Russified, he said. If sanctions cut off Russia from those devices, Kazakhstan is cut off too.
For example, Miele, a German manufacturer of high-quality kitchen appliances, has granted Russia the exclusive right to sell its products in the Commonwealth of Independent States (CIS), said Beisembayev.
Because of Kazakhstan's ties with Russia as well as supply chain woes, Kazakh inflation will grow, he said.
Officially standing at 14% now, inflation will likely rise to 20% by the end of the year, he said.
"The Russians are acting rather skilfully. Say whatever you want about Russia's policies, but its financial and economic sector is working perfectly, building beautiful self-serving schemes and profiting from them."
"However, now [Russian President Vladimir] Putin has put a huge concrete slab over it [the Russian financial sector], and it's extremely difficult to imagine how they will extricate themselves," he said.