TASHKENT -- Prices for bread, flour and sugar have surged in Uzbekistan since the start of June as Russia's unprovoked invasion of Ukraine continues into its fourth month.
Although Uzbekistan is far from the war, it cannot escape the consequences from Russia's act.
The Russian naval blockade of Ukraine's Black Sea ports has choked off grain shipments from the world's fourth-largest exporter of wheat and corn, raising the spectre of shortages and hunger in low-income countries.
Twenty to 25 million tonnes are blocked and could start to rot if they are not shipped soon, says the Ukrainian government.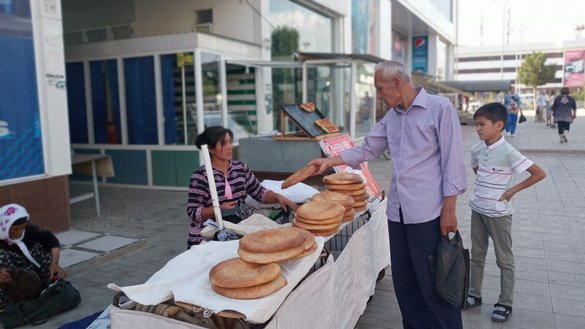 The United Nations has warned of a "hurricane of hunger" -- mainly in African countries that import more than half of their wheat from Ukraine or Russia, another major producer.
For its part, Uzbekistan has seen rising prices for basic foods and sugar shortages.
The war in Ukraine is making life expensive, said Zafar Tulayev, a 46-year-old resident of Urtachirchik district, Tashkent province.
"Flour, butter and sugar prices have risen very noticeably. We always buy bags of flour to bake flatbread in the tandoor," said Tulayev, who has a family of seven.
"Before the war in Ukraine, a bag of flour (50kg) cost 250,000 UZS ($22.60), but now we buy them for 400,000 UZS each ($36.20)," he said.
At the bazaar, flatbread that previously cost 3,000 UZS ($0.27) now sells for 4,000–5,000 UZS ($0.36–0.45) apiece.
The country's minimum monthly wage is 920,000 UZS ($83.3).
The sugar shortage has produced a rush at grocery stores and markets in the country.
Prices for sugar have doubled since the war began, according to Gulom Alikulov, a 39-year-old native of Termez.
Sugar that used to cost 11,000 UZS ($1) per kg now costs 22,000 UZS ($2) in stores. At the bazaar, it can cost 17,000 UZS ($1.54), but each person may purchase only a maximum of 2kg.
"But standing in line in 40-degree heat at the bazaar is torture. I want the former peaceful life and stable prices [to return]," said Alikulov.
Growing import costs
The impact of Russia's invasion and blockage of trade is visible in Uzbekistan's steep bill for imported food.
In the first four months of 2022, the cost of food imports grew by 48.9% or $370.2 million. In total, the country spent $1.12 billion to import food, according to the Uzbek government.
That figure for the first four months of 2021 was $756.4 million. Most of the purchases are wheat, raw sugar, margarine and hydrogenated fat, meat and potatoes.
Russia supplied more than $283 million worth of food, while Belarus and Ukraine accounted for about $49 million and $12 million, respectively.
Uzbek officials have been reassuring the public that there is enough food to go around.
The Ministry of Agriculture on May 30 announced that Uzbekistan's grain reserves are sufficient until August this year.
"In June, we will gather more than 7 million tonnes of fresh grain from our fields. The harvest is expected to be more than 1 million tonnes larger than last year," Abdulla Mansurov, a ministry official, said at the time, according to Podrobno.uz.
"Of this, 5.5 million tonnes of grain will be sufficient for the population's consumption and other needs," he added.
Russian problems
While Uzbekistan will likely be able to weather the price bump in the short term, the long-term consequences of Russia's invasion are harder to guess, say economists.
"Russia's economy is imploding. We forecast a GDP collapse of -30% by end-2022," Robin Brooks, chief economist of the International Institute of Finance, tweeted in May.
"The Russian economy may collapse, and that would be dangerous for every economy in Eurasia," said Tashkent-based financial analyst Abdulla Abdukadyrov.
Russia is facing shrinkage to its economic size "in the 1990s", he warned. "The older generation remembers very well what Russia was like then. The state crumbled before our eyes."
Pulat Akhunov, an Uzbek politician who lives in Sweden, pointed to other difficulties related to the war in Ukraine.
All major transport corridors to Uzbekistan previously went through Russia, but deliveries through Russian territory have been stopped or hindered by sanctions, he noted.
"The year is going to be tough. There will be big problems with food. Prices will rise. If Russia continues the war, the food crisis will threaten Africa and the Middle East," Akhunov told Caravanserai.
"We will also have problems but not a famine. Prices will continue to rise," he added.
Uzbekistan must look for new ways to deliver food and for new partners, he said.
Uzbek authorities should finally abandon their "fixation" on Russia and begin diversifying transport routes; otherwise, the slightest problems in Russia will create problems for Uzbekistan, according to Akhunov.
"I think that in the next 2–3 years Uzbekistan will have to take care of its food security on its own," said Aibek Kimsanbayev, a food security analyst from Tashkent.
Russia and Ukraine, and to some extent Kazakhstan and Belarus, are the main exporters of agricultural products, grain, other crops, and fertilisers to Uzbekistan, making up some 40–45% of food imports, he noted.
Above all, Uzbekistan needs to pay special attention to crop gene selection and to seed production, particularly of genetically modified crops, he said.
"This is a very important area of national security in terms of feeding the population."