ALMATY -- This year's Victory Day -- the holiday commemorating Nazism's defeat in World War II, which Russia and some other former Soviet republics celebrate May 9 -- is being overshadowed by Russia's brutal invasion of Ukraine.
Russian troops have been suffering serious losses since Russian President Vladimir Putin sent them into Ukraine February 24, and in an attempt to "exact revenge" for their losses, the Russian military and paramilitaries are committing war crimes in occupied territories.
These Russian war crimes -- which include massacring civilians in Bucha and Irpin, looting Ukrainians' homes for consumer goods and shipping them back to Russia, and bombing the Mariupol drama theatre -- in fact evoke the horrifying memories of Nazi behaviour in World War II that serves as the focal point of the Victory Day parade.
A shrunken parade amid mounting losses
Following tradition, Russia intends to mark May 9 with a military parade on Red Square in Moscow.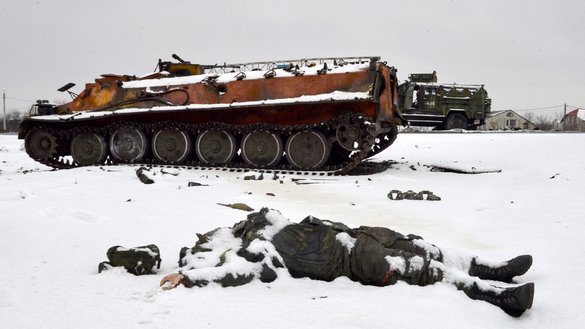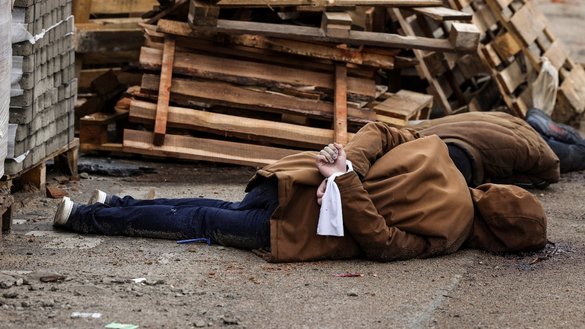 However, the parade columns will be noticeably thinner this year with one-third less military equipment and 20% fewer participants than in 2021, according to the Russian Ministry of Defence.
Many combat vehicles, such as the T-80BVM tank, the Solntsepek flamethrower system and the Pantsir-S anti-aircraft system -- all in use in Ukraine -- will not be present.
Parades will take place in 28 cities, involving some 65,000 people, 2,400 pieces of military hardware and more than 400 aircraft, Russian Defence Minister Sergei Shoigu in May 4.
Shoigu, however, was silent on Russia's high casualties, including the loss of 12 generals in less than three months and the massive amount of Russian military equipment that Ukrainian forces either destroyed in combat or seized after demoralised Russian troops fled.
Russia has lost about 24,900 troops since the beginning of its invasion, the Ukrainian Defence Ministry estimated Friday. In addition, Ukrainian forces have destroyed 1,110 tanks, 2,686 armoured combat vehicles and 502 artillery systems, it said.
Perhaps the biggest blow to Russian morale was the April 14 sinking of the flagship of the Black Sea Fleet, the Moskva missile cruiser, following a Ukrainian missile strike.
Its sinking clearly hit Putin's ego, prompting him to reject a written agreement with Kyiv that was under negotiation, the Financial Times reported April 25, citing informed sources within the Kremlin.
In Kyiv, Ukrainians doubt that "the world's second strongest army" will prevail.
Russian troops failed to meet the Kremlin's deadline to seize all of the Donetsk and Luhansk regions by April 24 (Russian Orthodox Easter), former Ukrainian deputy naval chief of staff Andriy Ryzhenko told Current Time television channel April 25.
"They are not achieving their plans now, and it is clear that they will not achieve them by May 9 either," he said.
The 'myth' of greatness
As Russia's military debacle in Ukraine unfolds, observers find the planned Victory Day celebrations in Moscow strange.
The Russian army has been utterly disgraced in Ukraine, said Michael Andersen, a Danish journalist based in Kyiv.
"It's not a real army. It's a bunch of killers, thieves and rapists," he said.
The 2022 Victory Day parade and Moscow's attempt to link it to the Soviet defeat of Nazism are sacrilegious, he said.
"Putin has nothing to do with the victory of 1945. He just uses this radiant memory, this great holiday, to stay in power and continue to rob the Russian people," he said.
Over the the years, Red Square parades have promoted the notion of the Russian army's invincibility, said Dauren Ospanov, a retired officer of the Almaty provincial garrison.
"Real combat showed that this is nothing more than a myth," he said.
Putin miscalculated once again, Ospanov said.
"Putin planned to capture Kyiv and change Ukraine's leadership rapidly, so he could then proudly hold a military parade," he said. "But it didn't work out."
Immortal Regiment demurs
This year, even Russians are calling the idea of a military parade in Moscow inappropriate and cynical.
Every year on May 9, Russians participate in the traditional "Immortal Regiment" march nationwide, walking down their cities' central streets and bearing portraits of fathers and grandfathers who died in the war. Almost no family was untouched, with 27 million Soviets perishing.
This year, the founders of the movement, who are from Tomsk, Siberia, asked not to be associated with future processions in light of the invasion of Ukraine.
"Unfortunately, we see many phenomena and events that are changing the original meaning of the Immortal Regiment," said an April 22 message on the organisation's website.
"We no longer think we can associate ourselves with what is happening in the [parade] columns on the street."
"I think our great-grandfathers would have cursed us for what has happened," Sergei Lapenkov, one of the movement's founders, told the Moscow Times in remarks published February 26, two days after the invasion.
Putin stands alone
Typically, a foreign leader or leaders attend the Victory Day parade in Moscow.
Last year's guest was Tajik President Emomali Rahmon. In 2019, before the pandemic, it was former Kazakh President Nursultan Nazarbayev. In 2018, Serbian President Aleksandar Vučić and Israeli Prime Minister Benjamin Netanyahu attended.
But this year, Putin is expected to behold the demonstration of Russia's "military power" alone.
Meanwhile, Central Asians appalled by the invasion are scrapping or scaling down their own Victory Day celebrations this year.
Their ancestors, drafted into the Soviet army, died in huge numbers fighting the Nazis, making the Russian army's atrocities in Ukraine even more offensive to them. For example, Uzbekistan, which had almost 6.5 million residents just before the war, lost about 420,000 of them, according to to a statement posted on the CIS website. Kazakhstan, which had slightly more than 6 million residents before the war, lost about 589,000.
Nur-Sultan's annual Victory Day parade will be cancelled, the Kazakh Defence Ministry said April 13 without giving a reason. Authorities later cited the cost.
Uzbekistan, like Kazakhstan, will not hold Victory Day parades this year, Defence Ministry spokesperson Oibek Mamadaliyev said April 25.
Meanwhile, Kyrgyzstan's State National Security Committee (GKNB) put out a warning on April 21 saying it is unacceptable to use the pro-invasion "Z" symbol.
The tanks and uniforms of Russian forces in Ukraine regularly bear the Latin alphabet letter. In Russian civilian life, it has become a symbol to encourage those who support the war and threaten those who are opposed to it.
The GKNB also warned Kyrgyz citizens to refrain from wearing Z-related insignia at the May 9 parade in Bishkek.
"There is no need for a parade at such a terrible time," said Yerasyl Aulbayev of Almaty, Kazakhstan, whose great-grandfather was a World War II veteran.
"Russian troops today are themselves behaving like Hitler's Nazis ... and they are disgracing the honourable legacy of Soviet soldiers, our fathers and grandfathers."