ALMATY -- Kazakhs have forced the cancellation of a concert by pro-Kremlin singer Grigory Leps that had been scheduled for July 8 in Qonayev, Almaty province.
Leps supports the Russian invasion of Ukraine. He and his ilk are derisively known as "Z-artists" because of the Z logo that pro-invasion Russians have used on cars, billboards and other means of display.
"The Makao Luxury Village Resort, which had offered its concert venue for Grigory Leps' performance, has decided to unilaterally terminate the contract with the concert organisers," the resort announced June 19, adding that previously purchased tickets could be returned at the place of purchase.
Kazakh citizens and officials influenced the decision, it seems.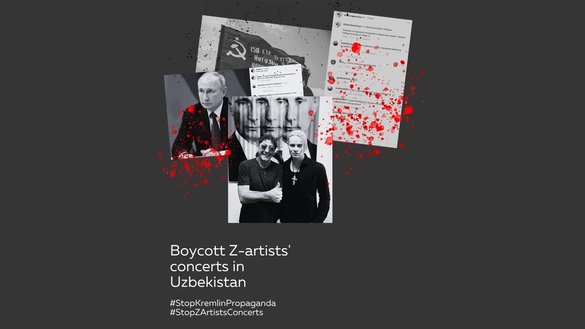 "Great news! Leps' concert was cancelled," Almaty City Council member Yerkin Raqyshev wrote on Facebook the same day.
"This morning activist Kanat Turdaliyev and I met on this issue with Almaty province's leadership and urged them to carry out the people's wishes so as not to aggravate the situation," he said. "Strength in unity!"
'Well done!'
Social network users praised the decision.
"They did the right thing; otherwise, I was going to go to Kapchagay to personally punish Leps," wrote Aleke Lashkeruly, a Facebook user from Shymkent, in the comments to Raqyshev's post.
"Well done! We chased away the enemy," added Astana resident Bolat Jugunis.
Vladimir Uryupin, Leps' enraged manager, called Kazakhstan a "Russophobic corner".
"They cancelled and cancelled. To hell with them. It's not a big deal. We'll get by without Kazakhstan. We support our country and will continue to do so, and to do what will be in our power to ensure that victory is ours," Uryupin said in an interview with Gazeta.ru, a Russian news site.
The people of Kazakhstan "have gone crazy", he added.
"We have not worked in Kazakhstan and don't plan to work there. We do not go to unfriendly countries. It's the same as the US and the like. We treat our enemies like they treat us," said Uryupin.
However, Kazakh activists deny Uryupin's accusations of "Russophobia".
"We are not against Russians. We are against those who support the war in Ukraine and especially those who fund it," said Olzhas Beksultanov, an Almaty resident and activist with the Oyan, Qazaqstan (Wake Up, Kazakhstan) youth movement.
Those like Uryupin purposely try to conflate anti-invasion with anti-Russian sentiments, he added.
This view is confirmed in light of how Bi-2, a Russian musical group that has heatedly denounced Russian aggression, faced no obstacles when it sang June 21 in Semey.
The rock musicians donated the concert proceeds to help families affected bymassive fires that engulfed forests in Abai province earlier this month.
In Russia, authorities cancel Bi-2 concerts under various pretexts, or the group itself refuses to speak out in support of Russian President Vladimir Putin.
Z-artists
Leps, on the other hand, did everything he could to make himself unwelcome in Kazakhstan, where pacifist and anti-Putin sentiments dominate.
Leps has supported Russia's so-called "special military operation" in Ukraine and become a celebrity whom the Kremlin regularly uses for propaganda and to justify the war to its domestic audience.
In February, for example, Leps and other Z-artists warmed up the audience at a propaganda rally, performing patriotic songs before Putin delivered an "important speech".
And in mid-June, at a Russian Media Group party at the St. Petersburg International Economic Forum, Leps and his fellow performers Nikolai Baskov and Zemlyane rock band leader Vladimir Kiselev volunteered to donate 1 million RUB (about $12,000) to each Russian soldier who destroys a Ukrainian tank.
"We do our job as we see fit. They [Russian soldiers in Ukraine] do theirs. We will help our fighters as long as we draw breath," Leps said at the time.
Leps' "political action" triggered widespread outrage in Kazakhstan. Activists strongly protested his impending arrival in their country and promised to disrupt the concert if it was not cancelled.
'Shame on you!'
Emotions ran high on social networks.
"Shame on you! You are accomplices in the murder of Ukrainians...," independent Kazakh journalist Dinara Yegeubayeva wrote on Facebook June 16. "I call on everyone to demand the cancellation of this Z-artist's concert. Not a single tiyn [Kazakh cent] in our pockets should go to the destruction of Ukraine."
Public figure Arman Shorayev used Leps' own method, promising to pay 1 million KZT ($2,200) to anyone who disrupted the Z-artist's concert in Qonayev.
Now the reward will not be necessary.
Shorayev called the cancellation of the Leps concert a victory for the Kazakh public, which expressed its principled position.
"People like Leps and all who support Russian aggression should not expect Kazakh hospitality," he told Caravanserai, adding that he would send the promised 1 million KZT to charity.
This is not the first time Kazakhs forced the cancellation of Z-artists' concerts.
After many countries refused to allow performances by Russian stars who supported Putin's war, many of them began to look to Kazakhstan -- in vain.
As soon as they learned about singers Larisa Dolina and Polina Gagarina's pro-Kremlin positions, activists forced the cancellation of their concerts, as well as of a show featuring Z-actor Sergei Glushko.
Uzbeks '#BoycottLeps'
Uzbeks similarly have expressed no desire for live entertainment by so-called 'Z-artists' who have publicly professed their support for the invasion.
Earlier this year, the Zhara international music festival was unable to find a willing venue in the region.
The official reason given for the "indefinite postponement" of the festival, after it was moved from Azerbaijan to Kazakhstan to Uzbekistan, was the "current state of affairs in the world".
But for many in Central Asia the subtext for the cancellation was apparent: widespread public disgust with the inclusion of Z-artists who have publicly cheered on the devastation of Ukraine.
Now local activists in Uzbekistan are using social media to spread calls for the cancellation of a planned performance by Leps in Tashkent, which is scheduled for October.
Blogger Mirzo Zomini launched a related campaign by introducing the hashtag #LepsKerakmas (#BoycottLeps) on his Telegram channel, saying that the singer supports Putin's bloody war.
Uzbekistan should not become a place where Z-artists make money to compensate the occupiers, he said.
"Uzbeks, don't let the bloodthirsty car get fuel!" Zomini urged his compatriots.