TASHKENT -- The official reason given for the "indefinite postponement" of the Zhara international music festival, after it was moved from Azerbaijan to Kazakhstan to Uzbekistan, is the "current state of affairs in the world".
But for many in Central Asia the subtext for the cancellation is apparent: widespread public disgust with the inclusion of so-called "Z-artists" who have publicly professed their support for the Kremlin's invasion of Ukraine.
Rejection by multiple cities
The festival has wandered from venue to venue, vainly seeking a city that would welcome it and its roster of pro-Kremlin musicians.
Last year, the music festival was initially scheduled to take place in Baku, Azerbaijan, from July 25 to 29, but its organisers ultimately scrapped that plan.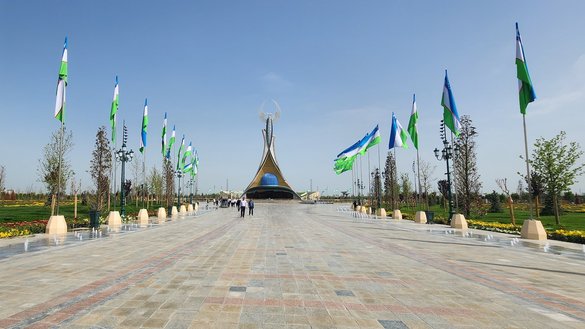 Almaty then agreed to host Zhara-2023 in March, but the festival did not take place in Kazakhstan either, because the public opposed it. On February 17 organisers announced plans to hold the festival in Tashkent May 20-21.
Now Tashkent too has ruled itself out as a host, and the festival is indefinitely postponed.
The cancellation of the festival in Baku, Almaty and then Tashkent was explained identically in all the statements put out by the organisers.
"Unfortunately, the current state of affairs in the world is not conducive to putting on large-scale musical events," Uzbek online ticket service iTicket.uz announced in an April 3 post on its Telegram channel.
Cancelling the 'Nazi carnival'
The festival was to have featured performances from 30 groups and artists, including Ani Lorak, Olga Buzova, Diskoteka Avariya, Jasmine, Nyusha, Sergey Lazarev and Ivanushki International.
Among the performers expected in Tashkent were some who openly back Russia's war in Ukraine and take part in the Kremlin's propaganda initiatives and concerts in support of that so-called "special military operation". Jasmine is the wife of Ilan Shor, the fugitive Moldovan oligarch who sponsors pro-Kremlin rallies in Moldova.
Such performers are commonly called "Z-artists" in reference to the letter Z, which has been co-opted as a symbol of Russia's invasion of Ukraine.
Uzbek blogger Mirzayor Erkinov on March 29 called on Uzbeks to boycott the festival in Tashkent.
"I do not want and do not welcome these Z-artists, their presence, performance in our sovereign Uzbekistan, because they openly support and are supported by [the] criminalised Kremlin," Erkinov wrote.
Erkinov's post, written in Uzbek and English, included the hashtags #StopKremlinPropaganda and #StopZArtistsConcerts.
Others joined him in issuing a call to action, among them Uzbek journalist and event producer Nikita Makarenko, who described the Zhara festival as nothing more than a "Nazi carnival" on Current Time TV.
'Right to boycott'
The pro-war position of some artists in the Zhara-2023 line-up sparked outrage among many Uzbeks, who expressed their support for cancelling the festival.
"They were right to boycott!" Gazeta.uz reader Nina Valeyeva wrote in the comment section of an article on the postponement of the festival. "They're championing the war in Ukraine! Why do these artists need to stick their noses in here?"
The issue is not about applying "cancel culture" to Russia as a whole, Uzbeks noted.
"I don't oppose Russian music in particular or Russian culture in general, but I absolutely don't want people who support the war and are part of the propaganda effort to come and 'entertain' the population of independent Uzbekistan," wrote another Gazeta.uz reader using the handle Sh.
In April, Valery Meladze -- a Georgian-born singer and Honoured Artist of the Russian Federation -- has a tour planned, and in June, the group Bi-2, which released an antiwar song after the invasion of Ukraine, will be doing shows.
The roster of prospective performers at Zhara in Tashkent also included artists who spoke out against the war in Ukraine -- among them Egor Kreed, who plans to perform in the Uzbek capital in September.
But tour cancellation notices for concerts featuring Russian stars have been appearing more often in the Uzbek press.
A March 19 concert by Russian pop singer Valeriya and an April 22 event with acclaimed film actress Yelena Yakovleva were cancelled for unspecified reasons.
A concert by Aleksey Chumakov, a Russian crooner born in Samarkand, was pushed back by two weeks.
Pro-Kremlin media has put its own spin on Zhara-2023.
On April 3, for example, Eurasia Daily ran a story under the headline "Uzbek nationalists manage to cancel Russian festival Zhara in Tashkent".
'A matter of honour'
In the early days of Russia's invasion of Ukraine, Putin had plenty of Uzbek followers, said journalist Sabokhat Rakhmonova of Andijan.
But as the war went on, she said, many of them became aware of its tragic consequences and saw how it sent shock waves through the global economy --including in Uzbekistan -- and ended up changing their position.
"Of course this is about more than the Zhara festival," she said.
"After all, art doesn't have a country or belong to a particular nationality," she said. "But it's very noteworthy that amid the war Russia unleashed in Europe, the Uzbek people have started to express their displeasure."
Rakhmonova said she wants to believe that this position did not emerge because Uzbeks fear European or US sanctions.
First and foremost it is a matter of honour, she said.
Many Russian performers, including some who had been scheduled to appear in Zhara-2023, serve the Kremlin's ideology and are themselves players in Russia's aggressive propaganda efforts, she noted.
"I think the Uzbek people need to understand clearly that artists with this kind of worldview can't perform before audiences," Rakhmonova said.
"Right now the majority of people view Russia as the aggressor, responsible for the deaths of innocent women, children and senior citizens."
"Uzbeks also are dying in this war," Rakhmonova added. "I see such a negative reaction to Zhara as a display of the conscious and growing civic-mindedness of our society."
The public needs large-scale musical events like Zhara-2023 (for their entertainment value) but does not need the "Z-patriots", said Uzbek blogger Nurbek Alimov.
"I support postponing the festival, and I personally advocated cancelling it," he said. "I understand those who are embracing a neutral stance, but I always oppose those who support the war."
Staging the Zhara music festival with Russian singers in Tashkent is a form of propaganda and an attempt by Russia to burnish its image, said political analyst Farkhod Mirzabayev.
"It's part of the battle for the hearts and minds of the people," he said. "But it looks like the Uzbek authorities have banned this concert."
"I think the Uzbek people are gaining greater understanding of what's happening in Ukraine," he added. "The majority of Uzbekistan's citizens oppose the war and they are expressing their views, through social networks and other channels."