TBILISI -- Critical thinking and media literacy are becoming increasingly salient as Russia ramps up its disinformation efforts in many countries.
Moldovan and Georgian officials have been raising the alarm amid ramped up propaganda from the Russian government and Kremlin-controlled media.
Moldovan authorities on March 12 said they foiled a plot by groups of Russia-backed actors who were trained to cause mass unrest during a demonstration against the country's new pro-Western government.
"There isn't an imminent military danger against Moldova at present but there are other types of dangers that affect the country's security -- hybrid warfare," Moldovan Defence Minister Anatolie Nosatii told AFP March 13.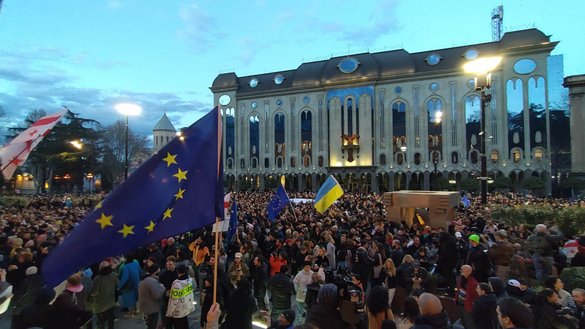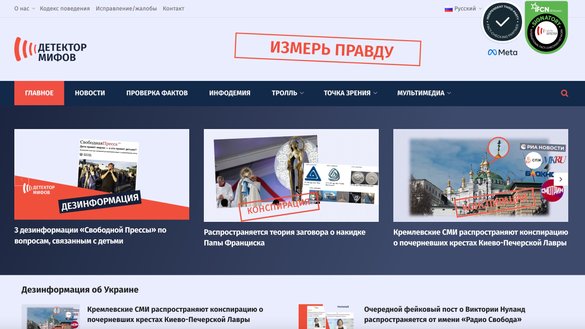 The anti-government demonstrations were the latest in a string of such protests in the small former Soviet republic.
By generating "disinformation and tensions inside our society", Russia was attempting to "change the political order, destabilise and overthrow state power", Nosatii said.
Meanwhile, in Georgia, Russian disinformation has been aimed at supporting the pro-Moscow government.
Tens of thousands of Georgians took to the streets in March after parliament gave its initial backing to a controversial "foreign agent" law reminiscent of Russian legislation used to silence critics.
After three days, lawmakers backed down and rejected the bill.
The Kremlin accused the United States of stoking anti-Russian sentiment.
"These events in Georgia are, of course, being orchestrated from abroad," Russian Foreign Minister Sergey Lavrov said March 10 in comments carried by Russian news agencies.
He said the aim of the protests was to "create an irritant on the Russian border".
Battling disinformation frontlines
Georgia continues to be the target of Russian propaganda that not only aims to brainwash audiences but to confuse as well.
For example, Lali Moroshkina, the host of Georgian government-controlled radio Imedi, following the deadly February 6 earthquake in Turkey repeated a conspiracy theory that the United States was behind the natural phenomenon.
"I wouldn't discount any theories, including artificial intervention... There are reasons to believe that the United States had something to do with this attempt," Moroshkina said.
The theory originated from Russia and belongs to Vladimir Shapovalov, deputy director of the Institute of History and Politics of Moscow State Pedagogical University, according to fact checkers.
The Kremlin's propaganda outlets have also been emphasising "Georgian-born" narratives to advance its own goals.
In an interview with government-controlled Imedi TV in March, Georgian Prime Minister Irakli Gharibashvili claimed that Ukrainian President Volodymyr Zelenskyy had sent Mikheil Saakashvili, Georgia's former president, to Georgia in an attempt to open a "second front" against Russia there.
Saakashvili, who was convicted in absentia of abuses of power while in office from 2004 to 2013, smuggled himself into Georgia via a ferry from Ukraine in 2021. Georgian authorities quickly arrested him after he called for mass anti-government demonstrations.
Russia's RT television network put the issue on loudspeaker in an apparent attempt to weaken support for Ukraine.
Headlines included "Georgian authorities promise to deny a 'second front' for Ukraine" and "Zelenskyy is motivated for war in Georgia".
Combating fake news
Media literacy in Georgia is dismally low. The country took last place in media literacy across the entire European continent, according to a 2022 ranking conducted by the Bulgaria-based Open Society Institute – Sofia (OSIS).
Joining Georgia in the bottom five were North Macedonia, Kosovo, Bosnia and Herzegovina, and Albania.
"Education [will] provide 'vaccination' at least against the worst effects of fake news," said the OSIS report.
One effort in countering disinformation is the Myth Detector website, which was created by the Media Development Foundation (MDF) with the support of the German Marshall Fund/Black Sea Foundation for International Co-operation and German Co-operation.
The website offers information on how to detect online misinformation and other topics, and traces and debunks specific fake news.
Apart from "genuinely Georgian" fake news, Russian sources are largely behind most of the debunked misinformation -- which range from stories alleging that coronavirus originated from a banana to Poland's alleged territorial claims on western Ukraine.
The MDF has also since 2018 held seminars on media literacy training in Georgia with the support of the US Embassy.
"You have to be able to tell what's real and what's fake. And that's really hard to do because those who want to confuse you are very good at it," US Ambassador to Georgia Kelly Degnan told participants at one such seminar last August.
"What you are doing here is the best answer to that," she said.
Evolving tactics
"We monitor the spread of fake news in Russian, Ukrainian and Belarusian sources," Tamar Kintsurashvili, director of the MDF, told Caravanserai.
"If the myth about the Russian army's invincibility was initially emphasised, now they want to convince taxpayers in the West that their money in Ukraine is being spent for other purposes," she said.
"The centralised [propaganda] system, rooted in the USSR's KGB, is changing tactics and trying to evolve."
"The main message today is that Russia is fighting not with Ukraine but with the West. This thesis is also actively promoted in Georgia. In every way possible, the authorities help spread fears of Russia," Kintsurashvili said.
It is important to raise media literacy and teach users how to consume information and identify fake news, say media analysts.
"It is expected that the media literacy as an elective subject will be included into the national curriculum from the next schooling year," said Maya Kurtsikidze, UNICEF Georgia spokeswoman.
"This is an important development, but we need to continue working with parents and other groups of the society to enable them to cope with fast-spreading mis/disinformation," she told Caravanserai.