BISHKEK -- Citizens of Kyrgyzstan are calling for bans on Russian propaganda following similar moves in Europe.
The Moldovan parliament on June 2 approved a ban on Russian news programmes in a bid to thwart Moscow's propaganda.
Russian President Vladimir Putin's invasion of Ukraine has heightened tensions in Moldova, which is seeking European Union (EU) membership and has a Moscow-backed separatist region, Transnistria.
Moldovan authorities actually blocked Russian news broadcasts right after the February 24 invasion, but parliament on June 2 gave its legal blessing to the ban.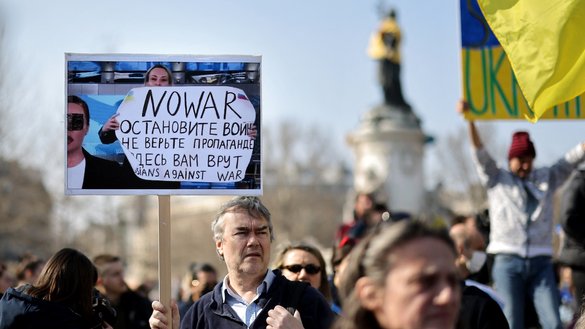 In terms of Russian content, Moldova's TV channels will now be allowed to air only entertainment programmes, not any Russian political or analytical programmes.
The new legislation also imposes fines and other penalties for broadcasting misinformation.
Meanwhile, all Russia-based TV channels are banned from broadcasting in any form in Latvia, the Baltic state's broadcasting regulator said on June 6.
The decision, which took effect June 9, affects about 80 channels available in Latvia through cable or streaming operators.
"TV or radio channels registered in a country that aggressively threatens the territorial integrity and independence of another country are not allowed to operate in Latvia," Ivars Abolins, head of the National Electronic Mass Media Council, told AFP.
The decision will remain in force until Russia withdraws from Ukrainian territory.
Since Russia's annexation of Crimea in 2014, Latvia's regulatory agency has banned several major Russian TV channels from broadcasting in the country.
The agency granted a broadcast licence to the independent Russian channel Rain (Dozhd), whose staff have relocated to Latvia. Last August, Russian authorities designated Dozhd as a "foreign agent" -- a label that carries strong pejorative connotations and implies increased government scrutiny.
The EU -- as part of its sixth round of sanctions enacted June 3 -- also suspended the activities in the EU of Russian state TV channels Rossiya RTR/RTR Planeta, Rossiya-24 and TV Centre International.
"These structures have been used by the Russian government as instruments to manipulate information and promote disinformation about the invasion of Ukraine, including propaganda, with the aim to destabilise Russia's neighbouring countries and the EU and its member states," the European Council, which sets the EU's political priorities, said in a statement.
Bans in Central Asia
The latest bans come after Kyrgyzstan and Turkmenistan in May briefly suspended the broadcasting of Russian TV channels, including Russia-1, Zvezda and Russia-K, citing technical reasons.
Although the blocked Russian TV channels soon resumed operations in the two countries, the brief respite has spurred Kyrgyz residents to call for a permanent ban.
Trust in Russian TV channels has steadily declined in recent years before going into a steep plummet after Russia's aggression against Ukraine, said Ulan Kadyrbayev, an activist and blogger based in Bishkek.
"After Russia attacked Ukraine, Kremlin zombies have spewed outright lies about the events in Ukraine every day," he said. "These TV channels clearly take their viewers for fools."
"Sane people" in Kyrgyzstan do not watch Russian channels, which today "look like a relic of the past", he said.
Russian TV is already relatively unpopular in Kyrgyzstan.
According to regional research and consulting agency M-Vector, "92% of Kyrgyz users prefer social networks as sources of news," Begayim Maksutova, head of the Advertising and Public Relations Department at Jusup Balasagyn Kyrgyz National University in Bishkek, wrote in an analysis published last September on Kyrgyzeli.ru.
As for the popularity of TV channels, two Kyrgyz state TV channels -- the main channel and a music channel -- enjoy the highest ratings in the country, she noted.
Increasing pressure
Incidentally, at the end of 2021, the Kyrgyz government suspended the broadcasts of several Russian TV channels -- Channel 8, RTV Media, NTV KG and Domashny -- for non-compliance with rules regarding broadcasting in the Kyrgyz language (at least 50% of the time) and producing and distributing local content (also at least 50%).
Ren TV, another Russian channel, stopped broadcasting on January 1.
The banned channels previously received warnings and fines for these violations but still did not comply with local legislation, according to the Kyrgyz Ministry of Culture.
In early March, Kyrgyz parliamentarian Nurlan Shakiyev proposed cutting off Russian TV channels in Kyrgyzstan, particularly Channel One and Rossiya, and to stop spending government funds on their broadcasts.
While the government did not follow Shakiyev's suggestion, both the public and Kyrgyz officials are displeased with the flow of disinformation from Russian TV channels, according to Mars Abayev, a Bishkek resident and correspondent for news website Orbita.kg.
"Unfortunately, we can't afford to turn them off and thereby anger the Kremlin," he said.
"Kyrgyzstan's economy significantly depends on Russia. More than a million of our citizens work in Russia. This is a serious tool for pressuring our government."