TASHKENT -- The start of international television broadcasts in Uzbekistan has coincided with renewed calls to ban Russian propaganda channels.
Digital TV operators in Uzbekistan on November 1 began broadcasting five additional international TV channels, including BBC World News (UK), CNN International (USA), Bloomberg (USA), TRT Avaz (Turkey) and CGTN (China).
Additionally, other international TV channels including Fox News, CNBC, SkyNews, France 24, Belarus 24 and others can be streamed on the companies' websites.
The international channels serve as an alternative to Russian TV, especially the Kremlin's official channels.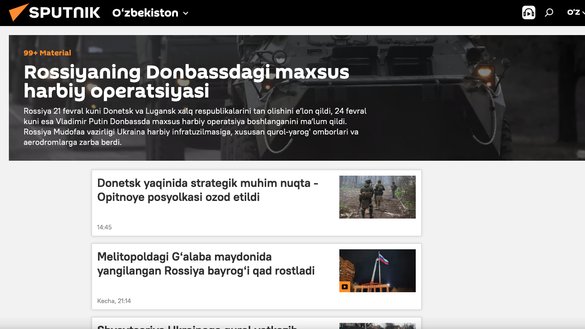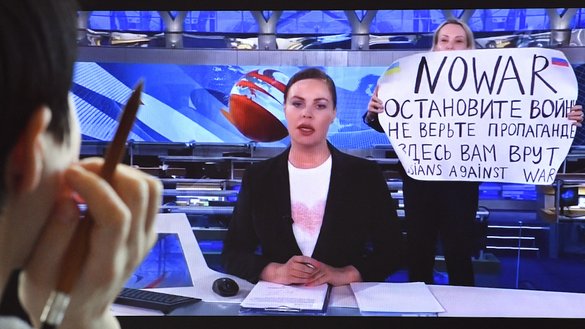 Uzbekistan has long considered limiting or even banning Russian propaganda broadcasts.
Ukrainian authorities in particular have been pressuring Central Asian nations to do so in the wake of Russia's invasion of Ukraine.
Ukrainian Foreign Minister Dmytro Kuleba on September 7 held a news conference for journalists from Central Asia, including those from Uzbekistan's leading online publications -- Kun.uz, Gazeta.uz and others.
"Today, Russia is using propaganda to conceal its operations in order to absolve itself of responsibility for crimes," Kuleba said. "But one who shuts his eyes to the Kremlin's aggressive policy today or finds some justification for it, is, in fact, inviting Russia to come to his home."
He urged the journalists to be critical of information from Russian sources.
That followed Ukrainian Ambassador to Uzbekistan Mykola Doroshenko's request in March that the Uzbek Foreign Ministry block Russian TV broadcasts.
The formal request said that Russian media outlets were being used to "carry out targeted activities aimed at propagandising the Russian Federation's war against Ukraine and inciting ethnic hatred towards Ukrainians..."
"Unfortunately, Russian TV channels show a different war or, most likely, the non-existence of this war," Doroshenko told Radio Free Europe/Radio Liberty's Uzbek service in an interview broadcast March 10.
Threats to national security
The calls to ban Russian state television recognise that Russian propaganda represents a threat to Uzbekistan, analysts say.
Uzbek political scientist Yuliy Yusupov in April called the airing of Russian programmes a threat to national security, adding that local TV is "impotent".
"The current situation is simply a nightmare. This is the real and main threat to the country's national security," he wrote on Telegram.
"For several decades now, the most powerful propaganda machine in human history has been brainwashing our citizens, making them the Kremlin's zombies," he added.
The impact on the Uzbek audience is huge, but still not enough is being done, said Tashkent-based political scientist Farkhod Mirzabayev.
In his opinion, the English-language channels that appeared on screens on November 1 cannot compete with Russia 24 because many residents of Uzbekistan simply do not know English.
"This is not just a propaganda problem. Many factors are lumped together here, including the Soviet legacy and [Russian President Vladimir] Putin's mythical reputation among ordinary people," Mirzabayev said.
"Many of our compatriots make their money in Russia, and most important, our political leaders [have a] close relationship with the Kremlin," he said.
Nonetheless, many welcomed the broadcast of international channels.
Russian TV channels are the main mechanism that shapes public opinion about the war in Ukraine, said Nurbek Alimov, a blogger from Andijan.
"I support completely banning broadcasts of Russian TV channels," he said. "I think that the BBC and Euronews are a good alternative in order to get independent information about what is happening in Ukraine and in the world."
Controlling sentiment
Russian media's influence on Uzbeks' worldview is decisive, agreed Kamoliddin Rabbimov, a political scientist from Tashkent.
"Censorship under [former Uzbek leader Islam] Karimov, as well as geopolitical caution under [Uzbek President Shavkat] Mirziyoyev, led Uzbek media, especially TV channels, to continue avoiding coverage of current geopolitical problems," he said.
"If you turn on Uzbekistan 24, there is not a word about the war or Russia's 'special operation' in Ukraine," Rabbimov said.
Russia earned immense profits on oil sales from 2002 to 2015, allowing Putin to build a very powerful and aggressive information empire in Uzbekistan, he said.
One of the empire's assignments is to control sentiment in the post-Soviet space, he added.
Although the introduction of foreign TV channels is a good start in counterbalancing the Russian media's influence, it is not enough, said Rabbimov.
"Information is being broadcast now, but no interpretation is given," he said. "Uzbek media outlets offer no analysis, no answers to the questions 'who is right?' and 'who is wrong?' What's more, there is no information at all about the war. This is abnormal."
Sooner or later, Rabbimov said, Uzbekistan will have to create its own TV programming with analysis.
As an example, he cited neighbouring Kazakhstan, where Russia's influence is much more powerful.
"But they're still not afraid," he said. "[Kazakh President Kassym-Jomart] Tokayev is trying to create free, independent media. Kazakhstan has achieved significant success in this area."
"Kazakh TV channels quite freely cover, analyse, and criticise regional issues and the war in Ukraine," Rabbimov said. "We don't have anything like this in Uzbekistan yet. Here, we are far behind Kazakhstan and Kyrgyzstan."