KHUJAND -- Law enforcement officers from Central Asia are gearing up to participate in the first training seminar at a new US-funded regional training centre in Tajikistan aimed at preventing proliferation of weapons of mass destruction (WMDs).
The US Embassy in Dushanbe donated the $370,000 (3.2 million TJS) centre to the Tajik government March 20 as part of the US Export Control and Related Border Security (EXBS) programme.
EXBS aims to build effective national strategic trade and border control systems to prevent the proliferation of WMDs and the irresponsible transfer of conventional weapons, according to the US State Department website.
Realistic training facilities
The regional training centre comprises four canopied outdoor training areas to simulate border-crossing checkpoints. It is equipped with an inspection booth, an entrance for vehicles, a passageway for pedestrians and a conference hall for classes.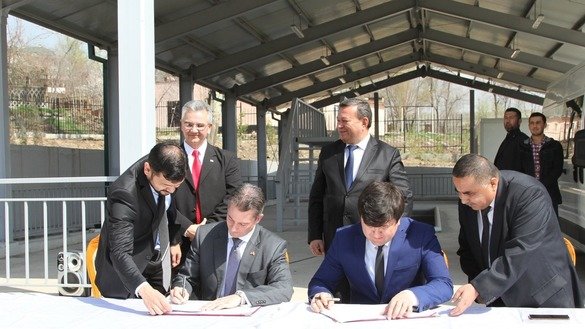 The goal of the centre is to teach law enforcement personnel from Central Asian countries modern techniques for nuclear non-proliferation, export control and prevention of WMD trafficking.
The centre's first seminar is scheduled for April 16-24, said Ilkhom Mirsaidov, director of Tajikistan's Nuclear and Radiation Safety Agency.
Law enforcement officers from Tajikistan, Kazakhstan, Kyrgyzstan and Uzbekistan are scheduled to participate.
The simulated border crossing conditions will increase the effectiveness of the training process, Mirsaidov said.
"The problem of equipping checkpoints and improving the skills of law enforcement personnel, as well as of the personnel of enterprises handling nuclear materials -- is relevant for all Central Asian countries," he told Caravanserai.
"Given the problems that exist in controlling in the region in terms of radiation safety and of export controls on nuclear materials, the United States supports any initiatives by Central Asian countries aimed toward preserving peace and stability," he said.
"The US Embassy ... is pleased to assist [Tajikistan's] Nuclear Radiation and Safety Agency in its effort to enhance its training capacity, which will enable it to better combat the threat of contraband, including the very real threat of weapons of mass destruction," Kevin Covert, the chargé d'affaires at the US Embassy in Dushanbe, said during the inauguration ceremony of the training centre.
"The training facility will not only serve as a centre for Tajikistan and Central Asia, but also as a venue for international training events," according to a statement from the embassy.
This is the second major gift given by the US government to Tajikistan this year aimed at strengthening the national security of Central Asian countries.
In February, the US Embassy in Dushanbe donated a $1.3 million (11.4 million TJS) living quarters complex in Fakhrobod to Tajikistan's Defence Ministry for use by the country's Mobile Forces.
Tightening border controls
Tajikistan is linked to other countries via 33 checkpoints, including three international airports in Dushanbe, Khujand and Kulyab, according to the Nuclear and Radiation Safety Agency.
"Twelve of these checkpoints are fitted with modern equipment that allow full and comprehensive monitoring of shipments delivered across the border, including nuclear materials," Mirsaidov said.
"The government [of Tajikistan] plans to equip the remaining 21 checkpoints by 2021," he said.
"Our objective is to achieve a level of oversight so that the export of nuclear materials complies with [International Atomic Energy Agency] rules," he said.