NUR-SULTAN -- Troops from Kazakhstan and Uzbekistan this month took part in a regional humanitarian mine clearance course co-hosted by the Organisation for Security and Co-operation in Europe (OSCE) in Almaty.
The "Introduction to Humanitarian Mine Action Systems" course took place April 1-5 and trained 31 military and civilian specialists from Uzbekistan and Kazakhstan, according to the OSCE Programme Office in Nur-Sultan.
The classroom part of the training took place at Kazakhstan's Partnership for Peace Training Centre (KAZCENT) in Almaty, while practical exercises occurred at the Kazakh Defence Ministry's Demining Centre in Kapshagay on April 4.
Specialists from the US Army and Air Forces Central Commands, Kazakh Defence Ministry, the Croatian Mine Action Centre and Norwegian People's Aid instructed the Central Asian participants.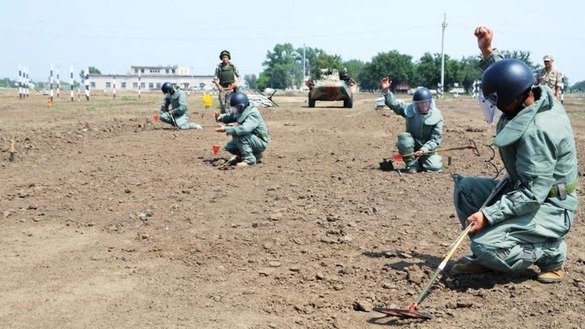 The Kazakh Defence Ministry Arms Reduction Control and Inspection Activities Support Centre, together with the OSCE offices in Nur-Sultan and Dushanbe, jointly organised the course, the Defence Ministry said in a statement April 8. Tajikistan has decades of experience with defusing land mines left over from the 1992-1997 civil war.
The purpose of the course was to familiarise Central Asian states with the basics of humanitarian mine action systems.
"Humanitarian mine clearance involves eliminating threats from unexploded shells, explosive objects and mines," Aleksei Juravov, a veteran living in Shymkent, told Caravanserai.
"It includes analysis of the territory, mine clearance, work with the local population and other measures," he said.
Foreign military specialists' experience is "undoubtedly useful for our military personnel", Juravov added.
Contributing to regional security
"The course is part of the OSCE's long-term support for the development of a co-operation mechanism among states in Central Asia to address concerns and challenges stemming from the disposal of explosive hazards," according to the OSCE Programme Office in Nur-Sultan.
The training is the latest provided by the OSCE to Central Asian countries.
For example, last December, Kazakh police instructors received training in risk-profiling techniques for large-scale events.
Thirty officers from the MVD Karaganda Academy learned psychological techniques for identifying potential criminals, the characteristics of crowd psychology and methods of influencing an aggressive crowd.
"As part of such trainings, experts learn to identify terrorists and lawbreakers by their appearance and behaviour," Aynur Abdykadyrova, a psychologist from Nur-Sultan, told Caravanserai.
"No matter how naturally a plotter tries to behave and not arouse suspicion, he is betrayed by gestures, facial expressions and the tone of his voice," she said.
"Specialists have a set of questions that seem standard, but the answers make it possible to judge a potential lawbreaker," she explained. "Risk profiling takes into account terrorists' psychological characteristics and allows [security personnel] to more successfully perform their tasks."
Countering terrorism, extremism
The OSCE Programme Office in Nur-Sultan also conducts training activities aimed at countering extremism and terrorism.
The office held a seminar on working with convicted violent extremists, including extremist insurgents and their families who have returned from abroad, last December 4-5 in Nur-Sultan.
Specialists from the United Kingdom conducted training for 20 Kazakh officials from the National Security Committee (KNB), the MVD, the Academy of Law Enforcement Agencies under the General Prosecutor's Office, the Ministry of Social Development and civil society representatives.
"OSCE activities in Central Asian countries cover security issues, the fight against terrorism and violent extremism, and resistance to human trafficking, as well as the rule of law and observance of human rights," Leila Baimanova, director of the Altyn Karpygash (Golden Swallow) NGO in Shymkent, told Caravanserai.
"The OSCE Programme Office in Nur-Sultan supports and organises training activities in these areas," she said. "The beneficiaries of the trainings are civil servants, secruity agency personnel and members of civil society with an incentive to go."
"International organisations' contribution to the formation of modern Kazakhstan and to its security is great, and we have yet to acknowledge the amount of assistance we have received during all the years of independence," she added.