TASHKENT -- Uzbekistan is working to reform higher education, responding to perceived deficiencies in quality of instruction and in educational opportunity.
Its plans include having 18% more college students by 2021, giving professors raises, and hiring more foreign faculty, say officials.
President Shavkat Mirziyoyev has been working since taking office last year to reform higher education. The first bill that he signed into law as acting president last September was on youth policy. On April 20, he followed up by signing a decree and long-term higher education reform plan.
The plan sets out policies through 2021 meant to boost Uzbekistan's universities.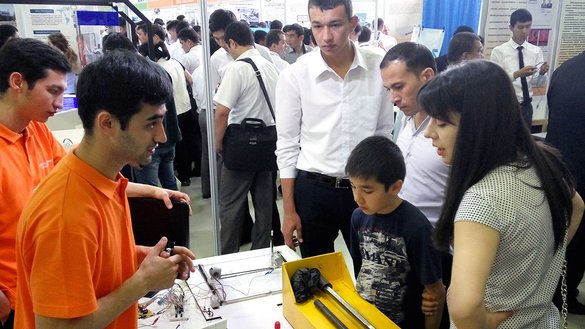 More slots for students planned
One planned reform would expand Uzbekistan's relatively small number of college slots.
"Enrolling in college is the dream of every adolescent," Nadezhda Orekhova, a Tashkent high school teacher, told Caravanserai. "Without a higher education, it is very difficult now to get a high-paid job."
Twelve million Uzbekistanis, about 38% of the population of more than 31 million, are aged 10 to 30, according to the government. Only 0.5% of them study in universities.
That 0.5% of the younger generation means 62,907 students in 65 universities nationwide in 2016-2017.
With slots so few, competition is fierce. The National University of Uzbekistan had more than 9.5 applicants, on average, vying for each space in its 2016-2017 freshman class. Its history department, considered a launch pad for government careers, had 1,017 applicants competing for 45 slots.
Under the plan that Mirziyoyev signed April 20, the government plans to increase the number of college students 18% by 2021. It also plans to develop new fields of study meeting economic and developmental needs.
It expects to spend 1.7 trillion UZS (US $458.7 million) on the 2017-2021 higher education development plan.
Raising quality of education
Higher education is no small expense in relatively low-income Uzbekistan: during this academic year, a year of college cost an average of 7.6 million UZS (US $2,050), according to the government.
That said, students are frequently displeased with what they are paying for, say officials.
"I'm dissatisfied with what I'm learning at my university," Akbar, a student from Tashkent, told Caravanserai. He withheld his last name and the name of his school, fearing an adverse reaction from the school administration.
He is accustomed to teachers "who read material from the internet aloud", he said, adding, "Many students skip the lectures because of this [behaviour] and pay bribes for good grades."
Low pay is a major reason for such poor teaching, say authorities.
Caravanserai surveyed 25 teachers from three Tashkent universities April 26. Their average monthly salary was about 1.5 million UZS (US $404).
Under Mirziyoyev's April 20 resolution, by July 20, the relevant ministries will conclude a study of international practices and then propose a system of pay raises based on teachers' professionalism and quality of instruction.
They also intend to attract foreign professors, who until now have been rare in Uzbekistan.
"We will invite at least 350 teachers per year from Europe, Japan, South Korea and other countries," Javokhir Khatamov, a Ministry of Higher and Secondary Specialised Education spokesman, told Caravanserai. "A special State Inspectorate for Quality Supervision of Education will monitor educational quality."
Education-radicalisation connection
"High-quality college education for young people is not only the key to the country's economic success but a guarantee of stability," Ravshan Kushlubayev, a Tashkent sociologist, told Caravanserai. "A well-educated person with broad horizons not only does not risk falling under the influence of extremists but is a vehicle for secular, democratic values in society."
Caravanserai previously reported about how Uzbekistan is implementing various initiatives to prevent youth radicalisation, including facilitating an open dialogue between youth and the authorities.