KHUJAND, Tajikistan -- Scholars in Tajikistan are calling on imams to take a more active role in fighting extremism.
The message comes as authorities concede that about 1,200 Tajiks have joined insurgents abroad in countries like Iraq and Syria. More than 300 of those Tajiks are thought dead.
Clerics should pay attention to their congregations' moods and help solve personal problems that unaddressed can lead to radicalisation, according to observers like Dushanbe theologian Saidakhmad Kalandarov.
"Radical views don't spring up out of nowhere," he said at a May 11 anti-extremism seminar in Khujand. "People can become radicalised ... if years go by and their problems go unsolved. It's important to listen to them."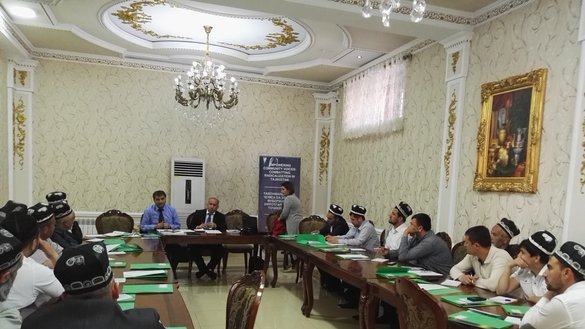 Kalandarov spoke at a seminar called "Raising Society's Potential for Fighting Radicalism in Tajikistan" which the London-based Institute for War and Peace Reporting (IWPR) and the Centre for Islamic Studies under the President of Tajikistan (CISPT) organised. Twenty-five imam-khatibs from Sughd Province participated.
Information vacuum
Other trainers spoke up about Tajik imams' perceived reticence.
"You virtually never hear [Tajik clerics] on radio, TV or the internet," Lola Olimova, the IWPR co-ordinator of the seminar, told the attendees. "Youth who can't find answers to questions that concern them go online."
Extremists take advantage of the information vacuum that clerics create, she warned.
"Your voice could have brought back dozens of boys and girls who went to Syria and Iraq," she added in her speech.
Most such radicalised Tajiks fell victim to recruiting on social networks, Makhrambek Makhrambekov, executive secretary of the CISPT, told Caravanserai.
Such recruiters "exploit our inactivity", he said. "They try to persuade our youth that their version of Islam is the right one ... Everything is subordinated to their purely political goals."
The internet is full of extremist sites, warned Faizullo Barotov, director of the CISPT.
"Experts at the [CISPT] identified more than 80 websites with extremist materials in the past year," he told Caravanserai. "The majority of them regularly talk about creating a 'caliphate' ... We're doing almost nothing against this ideology."
The clergy has plenty of ways to draw on the Koran and on hadiths to refute extremist doctrine, he said.
"Only purposeful efforts to raise the level of religious and secular education can succeed," said Barotov.
Knowledge as weapon
Knowledge is the best weapon against extremism, said Mirmukhammad Mirov, imam-khatib of a large mosque in Bobojon Ghafurov District.
"The chance of anyone with adequate legal and religious knowledge falling for extremist ideology decreases by many times," he told Caravanserai.
Co-ordination of leading clerics and of government can help defeat extremist recruitment, Saidnozim Saidikromov, imam-khatib of the Bobo Khoji mosque in Khujand, told Caravanserai.
"The government in Khujand [late last year] put 37 smaller mosques under the control of five larger mosques," he said. "We devised a plan with the city government."
The plan so far has succeeded, he said. "During the first three months of this year, we didn't record a single instance of a youth [in Khujand] joining an extremist organisation."