TASHKENT -- Uzbekistan is expanding the availability and diversity of Islamic higher education in response to propaganda efforts by extremists and terrorists.
On the one hand, Uzbekistan is shutting down schools operated by extremists, with the most recent closure occurring June 8 in the Fergana Valley. On the other hand, it is expanding mainstream Islamic education.
"Islamic universities help spread scholarly knowledge about Islam, and their graduates become a reliable bulwark in supporting an atmosphere of religious tolerance in society," Administration of Muslims of Uzbekistan spokesman Khabibullo Kamalov told Caravanserai.
"The level of Islamic educational institutions in Uzbekistan is very high," Kamalov said. "Many well-known people received an Islamic education here, including Allahshukur Pashazadeh and Ratbek Nysanbayuly."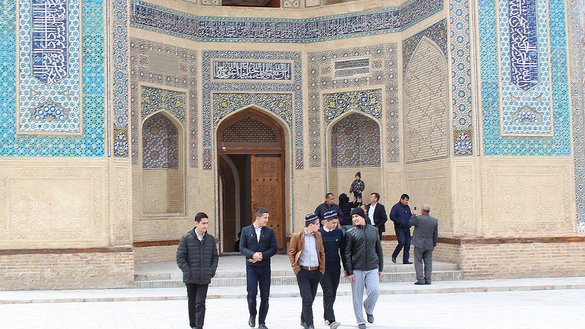 Pashazadeh is grand mufti of the Caucasus, while Nysanbayuly is a former mufti of Kazakhstan.
Until now, Uzbekistan had two Islamic universities -- Tashkent Islamic University (TIU) and the Imam Bukhari Tashkent Islamic Institute -- and nine specialised Islamic high schools.
On June 7, the government designated the Miri Arab Madrassa in Bukhara a "higher [university-level] madrassa", raising the number of Islamic universities in Uzbekistan to three. Miri Arab's long-time secondary school will continue functioning alongside the new university.
Miri Arab
"Miri Arab is the oldest functioning madrassa not only in Uzbekistan but in all of Central Asia," Kamalov said.
The madrassa was founded in Bukhara in the 16th century and has operated uninterrupted except for a shutdown by the Soviet government between the 1920s and 1945.
"[The Miri Arab Madrassa] is of great importance for intensive and in-depth study of the foundations of Islam and for religious tolerance in the country," Uzbekistani Mufti Usmonkhon Alimov said June 7 during a registration ceremony at the Justice Ministry for the new university.
The mufti expressed hope that the new educational institution will cultivate great scholars and thinkers, much like past luminaries such as Imam al-Bukhari, Imam at-Tirmidhi and Baha-ud-Din Naqshband.
Studies in Islamic civilisation
TIU is secular and state controlled, even though its studies are centred on Islam. Its doors are open to members of every faith.
Enrolling at TIU is considered prestigious, so applicants face intense competition. Three hundred fourteen high-school graduates competed for the 20 2016-2017 freshman slots available in the department of socio-psychology of religion, said TIU spokesman Sanjar Razzakov.
"TIU students can major in Islamic law, economics, natural sciences or philosophy," Razzakov told Caravanserai.
Socio-psychology of religion is one of the most popular majors at TIU, with graduates "who rehabilitate former extremists, besides doing other things", he added.
"I am preparing to become a businessman," one new Tashkent high-school graduate with ambitions to enroll at TIU, Sherali Khakimjanov, told Caravanserai. "I'm thinking of applying to TIU's economics department. In the future, I want to develop fair, Islamic principles for doing business ... For example, I will regularly give away a percentage of my revenue to charity."
Students at TIU soon will have another department to consider -- studies in Islamic civilisation.
TIU and Islamic Educational, Scientific and Cultural Organisation (ISESCO) officials signed a memorandum on co-operation during a TIU delegation's visit to Rabat, Morocco, May 22-25.
The memorandum allows ISESCO "to organise an ISESCO-sponsored department for studies in Islamic civilisation at the university," reads the Higher and Secondary Specialised Education Ministry's May 29 press release.
"The aim of creating the department is to study the history and current state of education, science and culture in the Muslim world and to teach advanced special courses to undergraduates," according to the ministry.
The schedule for opening the department was not reported.